Note: Adriana Lisboa was WINNER of the Jose Saramago Prize in 2003.  Saramago called her "An author for the present and for the future."
"wade
through black jade
Of the crow-blue mussel-shells, one keeps
adjusting the ash heaps;
opening and shutting itself like
an
injured fan."—From Marianne Moore, "The Fish," Vanja's favorite poem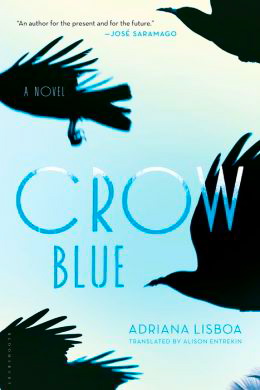 In a novel that is otherwise devoid of poetry, author Adriana Lisboa recreates the perennial search for "family" and "home" by a thirteen-year-old girl who has left Rio de Janeiro in search of her biological father in the United States, following the death of her mother.  In starkly realistic and highly descriptive language, the life of Evangelina, known as Vanja, opens and shuts like the "crow-blue" mussel shells she remembers so vividly from Copacabana Beach in Rio.  When Vanja arrives in Lakewood, Colorado, where her legal father lives, she discovers a place that is completely alien in terms of weather, wind, elevation, and culture.  Though her beloved sea is over a thousand miles away, Vanja takes some comfort in seeing the "shell-blue crows" which fly over Denver, however – new birds that she sees in the open spaces and unfamiliar trees of her new home, birds that are independent, resourceful, and long-lived, even within this urban setting.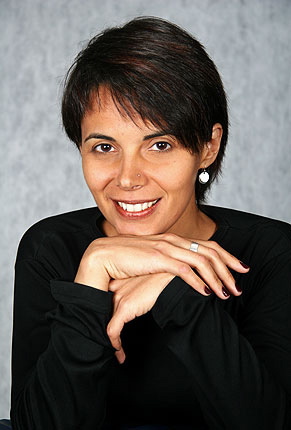 Vanja shares her life with two other "displaced" residents.  Fernando,  legally, though not biologically, her father, is a native of Brazil who has survived the military dictatorship of the early 1970s, the intense guerrilla war along the Araguaia River, in which he participated, and the executions, disappearances, and atrocities committed by the Brazilian army, which violently rejects the socialist and communist goals of the guerrillas working to overthrow the government.  How and why Fernando ended up in Colorado in the 1970s are mysteries, but he is quietly working there as a security guard at the Denver Public Library, and on weekends, he cleans houses.  In an ironic twist, Fernando prefers to remain in Colorado, while his former wife, Vanja's mother Suzana, an American living in Albuquerque, New Mexico, left the U.S. for Brazil when Vanja was two years old.  Though Fernando allowed his name to be put on Vanja's birth certificate and is legally her father, he never saw either his wife or daughter after their move to Brazil – until Vanja's sudden reappearance when she is thirteen.  She now wants to stay with him while seeking her biological father.
Carlos, the third "displaced" character, is a nine-year-old neighbor from El Salvador who has arrived in Colorado with his dysfunctional family, all of them lacking "papeles."  Anxious to improve his English, he seeks out Vanja for help and wants to learn everything, including Portuguese, from Vanja, who enjoys being a mentor to a child with such enthusiasm.
Eventually, Vanja asks Fernando if they can go to Albuquerque on a vacation to look for her father, and, perhaps, visit the house where she, her mother, and, for a time, Fernando all lived.  When he agrees, she says,  "I looked at him, and in my throat I asked, without letting my voice out: Why are you doing all this?"  Fernando "answers," also without speaking, "Because you asked me to," their silent "communication" preserving the emotional independence of each but also indicating a growing interdependence.  They eventually invite the irrepressible Carlos to join them on the road trip to New Mexico as they seek information from Suzana's friends and relatives regarding her biological father.
Within this framework, the novel coils and twists, moving forward slowly, only to shift suddenly in time and place, focusing on dramatic issues in Fernando's life, then twisting back even farther to the even more distant past, before jumping forward into the future, when Vanja is twenty-two and Carlos is eighteen.  Fernando has never been able to escape his memories and nightmares from the political tumult in Brazil during the military dictatorship, which occurred many years before Vanja's birth.  A communist who once studied in Peking, Fernando, a man of many names, was once part of a jungle guerrilla group trying to help the people of the Brazillian north to win their rights against oppression, and he was present along the Araguaia River when General Medici inaugurated the start of the  Trans-Amazonian Highway, which brought about the destruction of the rain forest and a disastrous, unfinished road to nowhere.  The military's violence against the  guerrillas brought about even more destruction of life.
For Adriana Lisboa, history consists of what individuals remember, and individuals from different times have different "histories"  which affect their views of the world. As traumatic as Fernando's memories are, Gen. Medici is just "another name in a history book" to Vanya. "It was as if Fernando and I were from different countries," she observes.  The author also illustrates on many levels that once someone leaves a place, "Home wasn't there anymore, therefore the way back couldn't be either….It wasn't that home was everywhere: home wasn't anywhere."  Later Vanja herself asks, "Was it possible for the people and culture of a place not to be enmeshed in the fabric of time and history?  Was there a people or a culture without time or history?"  Eventually, all the mysteries and the unshared memories of the characters become clear, however roundabout the narrative journey may be.  "One fine day," Vanya comments, "I realized that it didn't matter what country I was in.  What city I was in.  Other things were important.  Not these."  Loving relationships as they occur, the value of sharing feelings with one another, and of not being afraid to love, these are the lessons which Vanja ultimately absorbs.  And when she eventually returns to Rio for a visit seven years after her move to Colorado, she notices that "The city was different and it wasn't.  There were other generations of [crow blue] mollusks on the ocean floor in front of Copacabana Beach  I don't know how long a mollusk lives.  They were probably the grandchildren and great grandchildren of the mollusks of my childhood.  At any rate, we were friends.  Friends that had never met personally.  Friends of friends…"
Note: Alison Entrekin's translation maintains the realism and emotional distance of Vanya while also reflecting the ingenuous enthusiasm of Carlos and the kindness in the heart of the tormented Fernando, in this unusual story of Brazil and its people.
Photos, in order: The author's photo comes from http://archive.constantcontact.com
The small adobe house, similar to the one in which Suzana, Vanja, and Fernando lived, appears on http://westernfictioneers.blogspot.com/
The truck stuck in the mud, during the six months in which the uncompleted Trans-Amazonian Highway is impassible, is shown on http://murderiseverywhere.blogspot.com/
General Medici and President Nixon meet to discuss cooperation in a plan to remove Fidel Castro from office in Cuba and Salvador Allende from office in Chile, an ironic meeting.  Gen. Medici's army has already begun atrocities against the guerrillas along the Araguaia River area. http://en.wikipedia.org/wiki/
Here is a particularly poignant story about a mother acting on behalf of her son who disappeared during the guerrilla war of the 1970s.  She rejects the Brazilian Supreme Court's amnesty granted to government officials and the army for crimes committed during this time, and she has brought suit on behalf of her son with the Inter-American Court of Human Rights.  http://latindispatch.com/
ARC:  Bloomsbury