"McCoy looked at his watch.  Quarter past eight.  The call had come in just before six last night, so fifteen hours or so she had been missing.  The time for her to have got lost or stayed at a pal's was long gone.  A thirteen-year-old girl doesn't go missing for fifteen hours, overnight, without something being very, very wrong."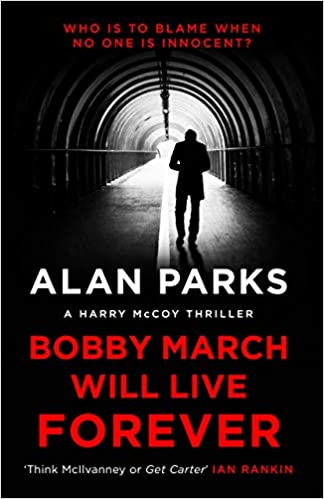 Thirty-year-old Harry McCoy, a member of the Glasgow polis, is about to have a week to end all weeks.  From July 13, 1973,  to July 21, 1973, he will be busy twenty-four hours a day with a series of heinous crimes that will take him from investigations in his native Glasgow to Belfast and back.   Several missing persons and some grisly murders, which seem to be the most efficient way to solve difficult problems among the various crime lords of Glasgow, will keep him and his fellow officers so busy they rarely have time to drink, socialize, or experiment with substances.  Only a few hours (and ten pages) after thirteen-year-old Alice Kelly disappears, McCoy discovers the body of musician Bobby March, "the best guitarist of his generation," a man who was not only asked to join the Rolling Stones, but said "no, thank you" to the offer.  "Twenty-seven," McCoy announces, "Jimi Hendrix, Janis Joplin, Jim Morrison," and now Bobby March.  "All twenty-seven when they died,"  – and all died from drug-related causes.
McCoy will not be heading up the murder investigation and the disappearance, however.  The "big boss," Chief Inspector Murray has been reassigned for the next six months, and Det. Sgt. Bernie Raeburn, an aggressive officer who despises McCoy, will be in charge.  Because he wants to manage the cases getting the most publicity, Raeburn takes those cases and assigns McCoy to investigate some old robberies.  When Chief Inspector Murray returns for a quick visit, however, he seeks out McCoy. His fifteen-year-old niece Laura has disappeared, and he is hoping that McCoy, acting quietly,  "under the radar," will be able to locate her without causing any publicity which might damage his brother John's potential run for MP the following year. McCoy soon discovers that Laura is involved with a young crime lord who is including her in his very dangerous life.  Other investigations show that Alice Kelly, the missing thirteen-year-old, has had some problems of her own, and that a young man who has seen her alive is being implicated, perhaps wrongly, in her disappearance.  Keeping McCoy occupied away from the crimes, a young woman from Scandinavia, anxious to take photographs of the saddest, most pathetic, sections of Glasgow, makes McCoy's acquaintance, and their trips through Glasgow add to the dark atmosphere and tension which is further aggravated by the intense July heat.
Author Alan Parks, whose two previous "tartan noir" novels were highly successful, keeps the focus on the action here, rather than on character development, and the action, often morbidly violent, never lets up.  Only McCoy shows any personal development – a basically thoughtful person who tries to do what is right, despite complex issues involving others he works with.  McCoy is no saint, and he makes mistakes and bad choices, often revealing himself as more of an anti-hero than hero. As more grim murders take place, Glasgow itself becomes the 1970s version of hell on earth for the reader.  Park's sense of description never fails him, be it description of the horrors of some of the places where the action takes place, or the action itself, and though he does not go into psychological detail about his characters – other than, loosely, with McCoy – his physical descriptions of at least one of the characters is especially memorable. On a visit to a hospital, for example, he observes that "The doctor looked more like some sort of woodland creature.  McCoy had never seen so much hair on a man in his life.  Auburn it was, too, It was poking out from under his shirt cuffs, his collar, one big eyebrow right across his brow.  He scratched his nose and McCoy noticed it was all over his hands too.  The man looked like a ginger werewolf."
The world-wide effects of some of the criminal activity in Glasgow are further developed within the novel when McCoy goes to Belfast in an episode related to the father of Alice, the little girl who has been missing.  Irish paramilitaries with connections to Glasgow are involved in the drug trade and the financing of some of the crime in Glasgow, and the widening scope of what was originally a local set of crimes becomes obvious.  On his return to Glasgow, the action ratchets up even more, and one to one face-offs, involving McCoy and his enemies are presented in vivid,  often horrific detail.  Death is the desired outcome by all participants against their opponents, and they will stop at nothing to succeed in their own goals.  The conclusion is, indeed, a conclusion on every level.
A Side Note:  Author Alan Parks has had a long career in the music industry, and it shows here.  In one of the more intriguing features of this novel, Parks sandwiches the dated and italicized memories of guitarist Bobby March, beginning in 1964, among the eight days of the action here from July 13, 1973, through July 21, 1973.  Eventually, the past and present congeal in August, 1973.  Here Bobby March comments on the rock life of the sixties and seventies, including some thoughts about Keith Richards and the Rolling Stones.  On August 25, 1970, Bobby concludes his memories, chatting casually with a drug dealer before going to the Troubadour Club in Los Angeles.  When asked what is on the program there, he tells the dealer that he'll be seeing "Some English guy.  Meant to be good.  The whole town's going…John somebody.  I think."  A further note:  On August 25, 1970, Elton John had his first performance  in the United States at the Troubadour, a life-changing experience for him, the beginning of his world career, and a bit of commentary that adds a little fun to this darkly ironic narrative.  https://www.highdefwatch.com
ALSO by Parks:  BLOODY JANUARY,     THE APRIL DEAD,     MAY GOD FORGIVE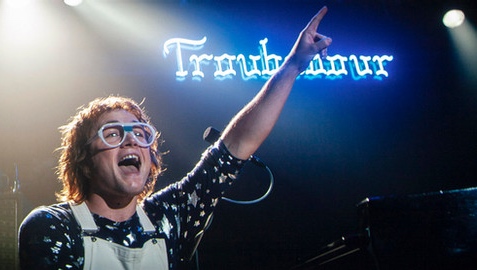 Photos:   The sad photo of poor children is found on https://www.dailymail.co.uk
The author's photo is from https://www.europaeditions.com
The British soldier in Belfast appears in https://www.alamy.com
The Keith Richards photo may be found on https://www.pinterest.com
Elton John at the Troubadour and a story which accompanies it are from https://www.highdefwatch.com
BOBBY MARCH WILL LIVE FOREVER

REVIEW. PHOTOS. Historical, Scotland, Ireland and Northern Ireland, Mystery, Thriller, Noir, Social and Political Issues

Written by: Alan Parks

Published by: Europa

Date Published: 04/06/2021

ISBN: 978-1609456856

Available in: Ebook Paperback Hardcover