Note:  AFTERLIFE was declared a Best Book of 2020 by Kirkus Reviews, the Washington Independent Review of Books, and many other review sites.

"Can you help me find him?/  a new life awaiting her / Can you help me find him? a mystery she cannot by any means solve / nevertheless, she keeps asking / Where are you? / as this is the only way she knows / Can you help me find him/ ? how to create an afterlife for him/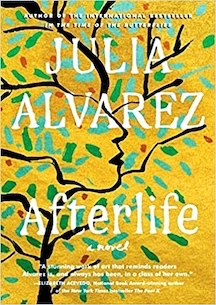 Introducing the event which begins all the physical and emotional action of Afterlife, author Julia Alvarez shows devoted wife Antonia waiting for her husband Sam, who has been dying alone of a heart attack in the minutes that she has been waiting to join him at a restaurant.  And when she finally receives word of his passing, her primary focus is on how to create an afterlife for him, something that will enable her to relive memories and past events with him.  She tries to keep to her routines in rural Vermont, where she lives, "walking the narrow path through the loss, not allowing her thoughts to stray," but in the middle of the night, "she finds herself at the outer edge where, in the old maps, the world drops off, and beyond is terra incognita, sea serpents, and the Leviathan."  Her nearest neighbor, Roger, offers to help her clear the gutters of her house, and soon she is visited by Mario, a young, undocumented worker from Mexico who works on Roger's farm.  Since Antonia is a native of the Dominican Republic who immigrated as a child, she can speak with Mario easily, and when he finishes clearing the gutters, he asks for a favor – Will she please help him call his girlfriend who is now in the US but far away from him?
Developing her themes of love and loss in life and death as they affect Antonia, Julia Alvarez, originally from the Dominican Republic, creates several subplots involving other characters, all reflecting powerful emotions without descending into sentimentality or maudlin self-analysis.  Mario, his girlfriend Estela, and José, his fellow worker on Roger's farm, are one plot, dealing with the problems of illegal immigrants desperate to create new lives in the US.  The second plot line revolves around a get-together of Antonia and her three sisters at a BnB in Massachusetts to celebrate her birthday. The failure of sister Izzy to appear for the celebration, as promised, becomes the all-consuming issue for the other sisters for many days, and the need for Antonia to be present as they and the police all search for Izzy force her to be out of state at a time when some of the issues involving Mario and his undocumented girlfriend back in Vermont are becoming critical. Despite all the money Mario has sent to the "coyote" who was supposed to bring her to Vermont, Estela was left in the South, penniless and pregnant.  Abandonment, betrayal, the sadness of loss, anger, the recognition that there is a difference between acting from a sense of obligation and acting by choice, and the personal growth which enables characters to tell the difference further develop the original themes of love and loss and flesh out this dramatic and sensitive novel.
Though loss by death is the loss felt most powerfully by Antonia at the beginning of the novel, other losses faced by other characters teach her much about dealing with the aftereffects as she works to become a whole person again.  Always, she is thinking about the Afterlife and what it means.  When Antonia returns home temporarily from the sisters' "reunion," with sister Izzy still missing, she is shocked to find that Estela, Mario's now ex-girlfriend, is sleeping in her garage.  As Antonia tries to arrange for a place for Estela to stay, Roger, the farmer next door, is also facing difficulties.  Mario and José live in a trailer on his property, but no one wants Estela there.  Estella is only seventeen, and her situation (and homeowner Roger's) will become even more complicated if the Immigration authorities discover her presence.  When a local policeman tips off Antonia regarding a possible raid about to happen in their town, Antonia is on high alert, particularly nervous when someone suggests that she act as an  "emergency guardian" to Estela.
With the on-going situation with her missing sister Izzy still a priority for Antonia, she slowly reaches a point at which she realizes that she cannot do it all.  With Estela's baby due any minute, she seeks necessary help with that issue at a clinic run by a doctor friend of her husband Sam, gaining a bit of much needed breathing room.  Eventually, the situation with Izzy, too, reaches a conclusion, allowing Antonia some time to recover from Sam's death and try to get her own life in order.  It is refreshing for the reader to discover that despite all the emergencies and trauma Antonia has faced, first, regarding her own life;  secondly, through the lives of Mario, Estela, and the baby; and, finally, through the complexities of her family life with Izzy and her other two sisters, that she is strong enough to power through on her own.  She recognizes what she can and cannot do, and she does not hesitate to say no now when it seems to her to be the best answer.  She is working toward helping those she knows but recognizes that it is her responsibility to take care of herself, too.
The resolution, after all the tensions and traumas that Antonia has faced, feels absolutely right – no wildly improbable decisions by Antonia, no sudden twists of fate, and no new elements added to the on-going stories.  When she makes her biggest decision, she asks herself, "What is the right thing to do? The certainty is not there.  What lies beyond the narrow path, the nibble, the sip, where the dragons be?"  The Epilogue, which takes place at the end of the summer, provides a fuller answer.  Antonia is taking a course in kintsugi, "A Japanese repair technique."  Here her Zen teacher deliberately breaks a plate, sweeps up the pieces, and then reassembles the plate, repairing it with a combination of lacquer and gold powder, as the class meditates.  Antonia closes her eyes, and sees that "All the things she is breaking…are being reassembled, a painter's brush correcting her errors, the lines of repair showing up as lines in poems and stories she has loved, evidence of the damage done."  The damage has been "made visible," and it is beautiful.
Photos:  The young girl trying to get on the bus is from https://www.mediaite.com  Photo credit: PAUL RATJE/AFP via Getty Images)
The trailer on Roger's farm where Mario and Jose live in hiding may have resembled this one: https://www.shoppok.com
The Open Door Clinic:  https://vtdigger.org
Kintsugi art:  https://wam.umn.edu
Author photo:  http://www.middlebury.edu
AFTERLIFE

REVIEW. PHOTOS. Book Club Suggestions, Literary, Psychological study, Social and Political Issues

Written by: Julia Alvarez

Published by: Algonquin Books

Date Published: 04/07/2020

ISBN: 978-1643750255

Available in: Ebook Paperback Hardcover