Note: This novel was WINNER of France's Le Grand Prix de Litterature Policier for Best International Crime Novel of the Year when it was published in Sweden (2008).
"Peace was illusory.  Under the surface there was just as much evil as anywhere else inhabited by human beings….but it was even more sinister here.  Hatred, envy, greed and revenge, all of it concealed underneath a huge lid that was created by sentiments such as: 'What would people say?' "
At age thirty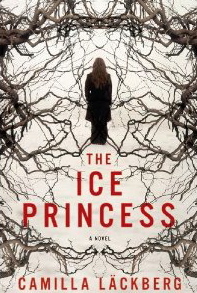 -six, Swedish author Camilla Lackberg is not only winner of  the French Grand Prix de Litterature Policier (2008) but also winner of the People's Literature Award and the Author of the Year Award in Sweden.  Second only to Stieg Larsson in sales in Sweden, she is the sixth most popular author in Europe. Her unique style and sense of plot have made her an international standout, and this book, the first of her seven novels to released in the United States, has already been translated into twenty five languages.
The Ice Princess begins mysteriously with an unnamed person finding the body of a woman in a filled bathtub in a house so cold that ice has formed around her.  Her wrists are slashed in an apparent suicide, but despite the gory scene and the rivers of frozen blood, the visitor believes that "his love for her had never been stronger."  When the body is re-discovered by someone more responsible, who then calls the police, the woman is identified as Alexandra "Alex" Wijkner, nee Carlgren, a gallery owner from out of town who had grown up in the house and whose family still owns it.  Recently, she had been in the habit of coming to this house in rural Fjallbacka on weekends, and she has been dead about a week.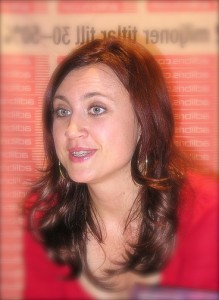 Erica Falck had been her best friend until Alex unexpectedly abandoned Fjallbacka and moved away without warning when she was ten.  When Erica visits Alex's parents to express her condolences, they ask her to write an article about Alex for the local newspaper.  As she begins to look into Alex's life at the time that she and her family suddenly disappeared from town and in the years afterward, Erica begins to find that the writer's block she has been fighting while working on a biography, overdue at the publisher, begins to disappear.  Erica, now age thirty-five, soon finds herself working informally with Patrik Hedstrom, a local policeman who had loved her from afar when they were schoolmates, and this love is rekindled.
In the course of the novel, the lives of many people in town unfold.  Though they are of different social levels, the town is small; everyone knows everyone else and has contact with everyone else.  Lackberg creates her characters from the inside out, letting the characters drive her story.  The plot develops in a leisurely way as the author presents scenes from the characters' lives and lets the reader see them as people.  Each has some secret life that is not shared with the rest of the town.  Eilert Berg, for example, the fisherman who finds Alex's body and reports her death, is henpecked, but he has secret plans to escape after fifty years of marriage.  Anders Nilsson, an alcoholic artist who never bathes or changes his clothes, has been having an affair.  Henrik Wijkner, Alex's husband, may not be the suave and buttoned-up man he seems to be.  Elderly Nelly Lorentz, cold and wealthy,  despises Alex–for unknown reasons–though she seems to like her unlikeable sister Julia.   Artist Anders Nilsson's mother Vera has worked for Nelly Lorentz for many years but wishes her dead.  And Alex, herself, has secrets which, when revealed, will change the lives of many people in Fjallbacka.
For readers accustomed to crime novels filled with macho heroes, extravagant action, chases, shoot-outs, and fights to the death, Lackberg may come as a bit of a surprise, though the novel certainly has plenty of action.  Her characters are not larger than life—they reflect real life.  They are generally ordinary people, rooted in reality, who, when faced with extraordinary events, try to deal with them in their own ordinary way.  On a few occasions, when a character does something that might be construed as "dangerous," the character does so out of a kind of naïve curiosity, rather than through any heroic sense of breast-beating and "doing this to save humanity."  As the various characters live their lives and discover tiny pieces of information, which they sometimes keep to themselves,  thinking them unimportant, the reader, begins to acquire a bigger picture of the circumstances surrounding Alex's death which the police are not privy to.  The suspense is enhanced by five anonymous, first person passages, scattered throughout the novel, which reveal the inner world of one or more characters.  As information is slowly revealed, the source(s) of these meditations become clear.
As in real life, there are some small issues which do not get resolved, and we do not know why one or two people just don't tell the truth.  Did they make a mistake?  Or is this deliberate?  And when two or more people get together here, there are often psychological discordances which the reader feels and which hinder the characters' communication on all levels—as in real life.  Lackberg, the literary juggler, keeps many balls in the air at once, and as an additional death occurs and deaths from the past are explained, resolution, if not reconciliation, occurs.  The final revelation of the biggest secret, which underlies all the action in the novel, stuns with its depth of depravity and the lengths to which certain people will go to preserve secrecy–a sophisticated and carefully conceived mystery which will delight those whose interests lean toward the inner worlds of the characters rather than their willingness to take up the sword.
Photos, in order: The author's photo is from the Gothenburg Book Fair: http://commons.wikimedia.org
Her website is here: http://www.camillalackberg.com
The photo of Fjallbacka is by Markus Kallender, here: http://www.panoramio.com
Steven T. Murray, in the last photo (from his blog: http://www.blogger.com, is the translator of this novel.  Murray has also been the translator for all of the Stieg Larsson novels (under the pen name of Reg Keeland),  five novels by Henning Mankell, three by Camilla Lackberg, and three by Karin Alvtegen, among many others.  His bio is here: http://freshfiction.com A story explaining why he uses a pen name for the Larsson books is here: http://seattletimes.nwsource.c0m