"I have been taking opium for a pain, an agony, that sometimes overcomes me."
Set in Cloiste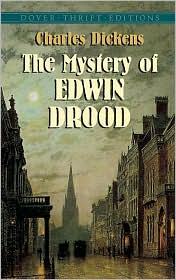 rham, a cathedral town, Dickens's final novel, unfinished, introduces two elements unusual for Dickens–opium-eating and the church. In the opening scene, John Jasper, music teacher and soloist in the cathedral choir, awakens from an opium trance in a flat with two other semi-conscious men and their supplier, an old woman named Puffer, and then hurries off to daily vespers.
Jasper, aged twenty-six, is the uncle and guardian of Edwin Drood, only a few years younger. Drood has been the fiancé of Rosa Bud for most of his life, an arrangement made by his and Rosa's deceased fathers to honor their friendship, and the wedding is expected within the year. Jasper, Rosa's music teacher, is secretly in love with her, though she finds him repellent.
When two orphans, Helena and Neville Landless, arrive in Cloisterham, Helena and Rosa become friends, and Neville finds himself strongly attracted to the lovely Rosa. Ultimately, the hot-tempered Neville and Drood have a terrible argument in which Neville threatens Drood before leaving town on a walking trip. Drood vanishes the same day. Apprehended on his trip, Neville is questioned about Drood's disappearance, and Jasper accuses him of murder.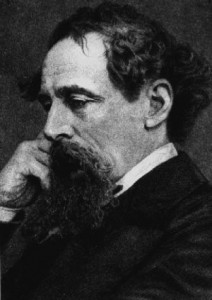 Tightly organized to this point, the novel shows Jasper himself to be a prime suspect, someone who could have engineered the evidence against Neville, but Dickens unexpectedly introduces some new characters at this point–the mysterious Dick Datchery and Tartar, an old friend of Rev. Mr. Crisparkle, minor canon at the cathedral. Puffer, the opium woman, is reintroduced and appears set to play a greater role, since she solicits information from the semi-conscious Jasper and secretly follows him. This is the halfway point in the projected novel, and Dickens clearly planned to develop these new (or reintroduced) characters to deepen the mystery.
More modern in many ways than his previous novels, the characters here are not simple stereotypes–some are good people who have real flaws and make mistakes. Dickens's tying of Jasper to the church choir, where he was a soloist, suggests some examination of the theme of hypocrisy, in which the good Mr. Crisparkle would be Jasper's antithesis. The opium scenes, vividly drawn, carry the unusual suggestion that opium leads to a kind of intoxication similar to that of alcohol, and Dicken does not use these scenes to offer dire warnings about the drug–at least at this point. Especially intriguing because it is unfinished, this novel continues to fascinate mystery lovers and literary scholars more than a century after its first publication.
Also reviewed here are three more Dickens novels:  BLEAK HOUSE, HARD TIMES, AND NICHOLAS NICKLEBY.