"Old ladies who lived next to serial killers for years always tell the papers what a 'wonderful normal boy' he was. You refuse to believe in the presence of evil and go searching for the good 'at the bottom of the soul.' Me and Rosie, we know better now. If there's black tar in that well, you won't find fresh flowers when you drain it."
Darlin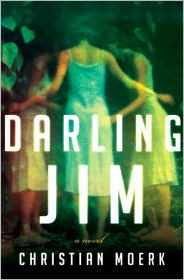 g Jim has every characteristic that I usually avoid in novels–it's melodramatic, gothic, completely unrealistic, filled with horror and romance and magic, and over-the-top with coincidence, bloody medieval battles, and men turning into wolves. And I loved every minute of it! From the opening pages to the absolutely perfect (and perfectly outrageous) ending, I was engrossed, smiling at the author's deliberate manipulation of my feelings, his unembarrassed use of well-worn plot devices, and his comic book style of narrative which kept the action coming and coming and coming—a book to be read for pure, unadulterated fun!
Written by Danish author Christian Moerk, who breaks "the rules" at the outset by setting the novel in Ireland, not Denmark, or any of the other places he has lived, the novel winningly captures the spirit of Ireland's story-telling tradition, with its mysteries, its spirit world, and its fascination with knaves. Four story-tellers—the narrator, two writers who tell stories from beyond the grave through their diaries, and a mysterious central character, who is a traditional Irish storyteller (a seanchai), keep the excitement high and the reader constantly "suspending disbelief" to get to the conclusions of their various stories.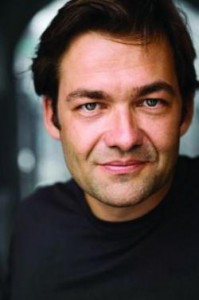 The novel begins when an elderly postman from Malahide peeks through the mail slot while on his route and sees the murdered body of a woman with whom he occasionally had a cup of coffee. The gardai discover two more bodies upstairs–young women who appear to have starved to death inside a locked room. Evidence suggests that a third young woman, now missing, once lived in the basement. Young Niall Cleary, who replaces the distraught postman at the office, finds a thick "letter" from Fiona Walsh, one of the young victims, in the local dead letter bin. Addressed to "anyone at all, post office," the letter is actually Fiona's diary, detailing the three months she and her sister were captives of their aunt Moira, also dead, and the reason: "We loved a man named Jim without knowing his true nature."
Niall, dismissed from his job for not minding his own business, travels from Malahide to Castletownbere, where the major events leading to a series of past tragedies have taken place. Here in this small town on the wild and windy Beara Peninsula of southwest Ireland, he not only learns more about the lives of Fiona, her sister Roisin, and Roisin's twin Aoife, but also about Jim Quick, the storyteller who is at the heart of the novel. Jim has traveled throughout the area, telling one chapter of a story here and the next chapter in another town, and women of all ages have fallen instantly in love under his spell, many of them following him from town to town.  Jim was "a force of nature there's no name for yet."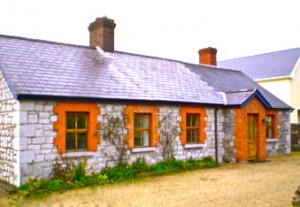 It is in Castletownbere that Niall is eventually able to find and read Roisin's diary, similar to Fiona's in many ways, but adding greatly to the story of Jim Quick. Roisin also describes the story which Jim tells in his travels throughout the Beara peninsula, a story which begins in Ireland in 1177 A.D., and features tales of battles, civil war, and the role of Prince Euan, who killed his much braver brother Ned. Euan was a sadist with a fetish about wolves, and he killed hundreds of them, collecting their heads–so many, in fact, that his castle became known as the Fort of the Wolf. As Jim's story about Prince Euan starts to overlap with the recent crimes in Castletownbere, the several narratives begin to come together, and history and myth begin to be reconciled with the modern mysteries and murders.
Moerk's two diary writers are hip, smart-alecky young women who are well individualized. Fiona, the eldest, is an elementary school teacher about to be married to Finbar, a successful local man. Roisin is a goth who spends hours on her CB radio, a woman who is warned by "Gatekeeper" on the CB that "If he speaks to you about love, run for your life." Aoife, Roisin's twin, is the strongest of all the sisters, a woman who rides a motorcycle and shows no fear of Jim or anyone else, a woman who mysteriously vanishes for three years.  As the book comes to a close, there is no doubt that the author will tie up all the loose ends and resolve the action to the satisfaction of his readers.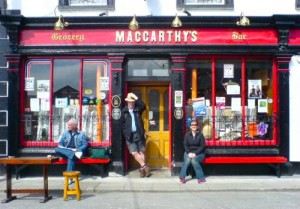 Darling Jim is a unique book in the sense that it is written with the straightforward energy of young adult fiction, but it is written, with all its bells and whistles and magic, for adults—much like an adult comic book.  Over-the-top in its sensational action, the novel succeeds in persuading readers to abandon their preconceived notions about likes and dislikes in fiction and simply yield to the story, in part because the author's prose style is mature–and effective.  Not a word is out of place as author Christian Moerk creates his magic and weaves his spell, bringing to life a character who epitomizes the idea that "happy maidens dancing with leprechauns and fairies on the green meadows of our peaceful emerald island are a load of shite."
Photos, in order: The author's photo from his website:  http://www.christianmoerk.com/ Double click on the photo for a terrific story on how the book came to be written.  Fiona's Diary and Bronagh's Confessional are also depicted.
A Malahide cottage, perhaps the one featured in the novel, is shown here:  http://www.let.ie.
MacCarthy's Bar in Castletownbere, shown here, may have been one of the ones visited by Jim as he told stories throughout the Beara Peninsula. http://www.visitbereisland.com