"In those last years [1957 – 1982]…she is no longer a movie star, a unique icon…or a person who could destroy the dreams of millions if she made a "mistake" in life.  How could she be?  How could anyone live at that fever-pitch for more than a few years?  As it was, Ingrid Bergman was only really Ingrid from Casablanca [1942] to Under Capricorn [1949]—seven years."
In the fi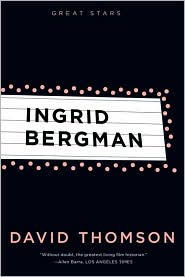 rst biography of his new Great Stars series, which also includes Humphrey Bogart, Gary Cooper, and Bette Davis, author David Thomson examines the career of Ingrid Bergman, from her makeup-free screen test for David O. Selznick (1939) through Autumn Sonata (1978) made with Ingmar Bergman.  Using the plots of her films as a framework for placing Bergman's life and career into perspective, Thomson shows how each film drew on her life experience and increasing maturity to provide added depth to her characterizations.  Thomson, a film critic, film historian, and author of Have You Seen…?":  A Personal Introduction to 1000 Films, is uniquely suited for this role, and as he presents each film and critiques Ingrid Bergman's performances, the reader sees her growing on both the personal and professional levels.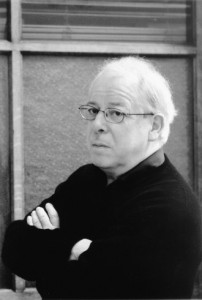 Her breakthrough performance, Casablanca (1942), made with Humphrey Bogart when she was twenty-seven, made her the darling of the American public.  The film was released, coincidentally, just three weeks after the Allied landings on the north African coast—at Casablanca—and it was a blockbuster.  Each subsequent film for the next seven years added to Bergman's luster.  For Whom the Bell Tolls with Gary Cooper (1943), another war film;  Gaslight (1944) with Charles Boyer, for which she won an Academy Award;  Alfred Hitchcock's Spellbound (1945), with Gregory Peck;  Saratoga Trunk (1945) with Gary Cooper;  The Bells of St. Mary's (1945), with Bing Crosby;  Alfred Hitchcock's Notorious (1946), with Cary Grant;  Arch of Triumph (1948), with Charles Boyer;  Victor Fleming's Joan of Arc (1948); and Alfred Hitchcock's Under Capricorn (1949), with Joseph Cotton—an amazing ten huge successes in seven years—attest to her work ethic and her popularity.
Instinctive and na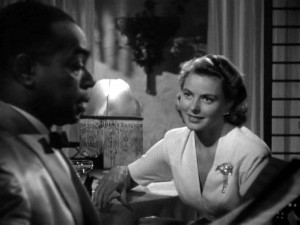 tural as an actress, and impulsive and romantic as a person, Bergman conveyed sensuality at the same time that she conveyed innocence, and the public loved her.  They saw her as Sister Mary Benedict in Bells of St. Mary's and as Joan of Arc, never knowing much about her private life, and ignoring the fact that she left her young child and husband, Petter Lindstrom, at home in Sweden to come to the US to make movies.  Her affairs with Gary Cooper and Victor Fleming were never reported.  Alfred Hitchcock was unabashedly in love with her and was devastated, as was her public, when she became involved with Roberto Rossellini in 1950, while working on the film of Stromboli.  Her flagrant affair, her pregnancy, and her out-of-wedlock child in 1950  became the subject of a speech on in the US Congress and were regarded as a complete betrayal of the public trust which had believed her image.  Bergman stayed out of the US until 1956, when she made Anastasia, with Yul Brynner and Helen Hayes, for which she won another Academy Award, though she did not make any public appearances in the US until 1958.  Her friend Cary Grant to accepted her Oscar for her in 1956, but when she finally appeared in 1958 as an Academy Award presenter, she received a standing ovation from the audience.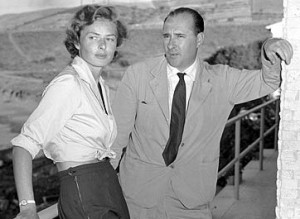 Bergman had entered a new phase of her career by then, never again regarded as the darling of the audience, no matter how well respected she may have been as an actress.  Author David Thomson conveys the turmoil, both in the film world and in Bergman's own life, as new kinds of films, such as Rossellini's neo-realism and Ingmar Bergman's films of darkness and despair, began to receive serious attention.  These non-Hollywood films made audiences more sophisticated but led to a change in the Hollywood studio scene and its star system.  Thomson successfully recreates Ingrid Bergman's career through his attention to her films, leaning heavily on them to convey the ups and downs of her life, without relying on original research to present new information.  The book is a fascinating walk down memory lane, and those who may have regarded Ingrid Bergman as a megastar for most of her career may be as shocked as I was to see how limited this period of her life really was.
SEE ALSO Chris Greenhalgh's SEDUCING INGRID BERGMAN, a fictionalized biography about her relationship with Robert Capa, a war photographer, in 1945.
Notes: The author's photo is from http://www.readings.org
"Play it, Sam."  Ingrid Bergman in Casablanca:  http://www.gonemovies.com
Roberto Rossellini and Ingrid Bergman:  http://specials.msn.com
INGRID BERGMAN

REVIEW. Biography, Historical, Non-fiction, Sweden, US Regional

Written by: David Thomson

Published by: Faber & Faber ()

Edition: Great Stars Series

ISBN: 978-0865479340

Available in: Ebook Paperback