Note: Deon Meyer's Blood Safari was WINNER of the Afrikaans Language and Culture Association (AKTV) Best Suspense Fiction Prize of 2008, and his Thirteen Hours was WINNER of the same prize in 2009.
"Sir, you can suspend me or you can fire me, I don't care…My father used to tell me stories of how he did not dare use his phone, because the security police were always listening.  He was part of the Struggle, Colonel.  Back…when everybody was spying on each other…Today it is happening again…Just like in apartheid times." – Captain Mbali Kaleni.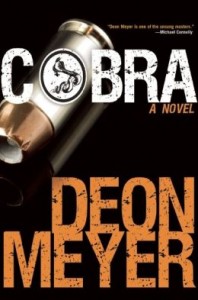 Those who not have been lucky enough to have discovered South African author Deon Meyer's mystery/thrillers, to date, are in for a real treat.  Always among the very best writers of this genre, he keeps getting better and better, but unlike many others who have suddenly become popular, he has not rested on any laurels.  Instead, he has become even more committed to constructing tight, beautifully organized and highly plausible plots in which well-developed characters share their lives in South Africa with all its challenges and triumphs.  Apartheid has been over for twenty years, and the scandal-plagued former police system has been replaced by a new South African Police Service (SAPS) in which blacks, whites, and coloreds – both men and women – work together as they face the growing pains associated with keeping their new democracy healthy and law-abiding.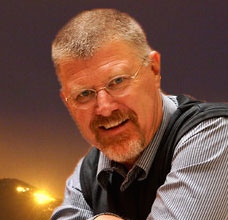 In Cobra, Meyer's new (ninth) novel, set primarily in Capetown, Capt. Benny Griessel appears in his fourth novel, and this time he and his Hawks, who work for Priority Crimes Investigations, must investigate three murders and the disappearance of a college professor who specializes in economics and computer systems which enable countries to monitor trends. The British professor had been staying at a wine farm and guest house in the Franschhoek Valley, and the three murdered men were professional bodyguards hired to protect him from some unknown threat.  Alternating with the story of these murders and questions about the professor's work is the story of Tyrone Kleinbooi, a young "colored" pickpocket who works to pay for his sister's college education so that she can become a doctor.  She thinks he is working as a commercial painter and has no idea of what he really is doing for her.  As cameras become ubiquitous throughout the high traffic areas which are usually a pickpocket's best sources for the phones, wallets, and credit card, Tyrone finds himself struggling more and more to meet the tuition costs for his sister, and he is currently in arrears, looking for a big score.
Before long, however, the story lines increase in complexity, with the many different departments within the South African police system, all with their own agendas, being controlled by the state's security apparatus, at the same time that the identity of "Morris" is being investigated and his involvement in world-wide (and lucrative) economic issues is being discovered.  All levels of government in South Africa, the US, the UK, and the European Union are at risk if the nature of his work is revealed publicly, and some of these countries are working overtime to protect their own interests and reputations.  Griessel and the Hawks are soon told to stop investigating this case on orders of the highest levels of South African government, and they powerfully resent this.
The second plot line adds to these complications when the cold-blooded shooting of five police officers by unknown professional killers takes place when they arrest and try to book Tyrone, the pickpocket.   His escape in the chaos eventually ties the two plot lines together, since he has inadvertently acquired something that could mean life or death for himself and his sister.  Connecting everything is the engraving on each of the bullets used in the killings and kidnapping of "Morris" and on the bullets used later when Tyrone is arrested.  These killings and others in the Northern Hemisphere have been done by someone nicknamed Cobra because the image of a spitting cobra has been engraved on each bullet he has used.
Despite the complexity of the story lines, which eventually overlap, Meyer is able to develop wonderful characters while keeping the reader totally engaged in the action.  Griessel, an alcoholic who has found love, which he is unable to express as strongly as he desires, is revealed as a sensitive man determined to avenge the deaths of his men and assuage the despair of their families because "we are all they have."  In addition to the obvious hatred Griessel has for the killer or killers, "Something inside him revolted against the concept of a hit man with a trademark.  It was sociopathic, arrogant, it represented everything that was wrong with this world.  Everyone was obsessed with money, status, and fame," and Griessel is determined to make things right.  His men and the ambitious female Captain Mbali Kaleni also reveal their inner lives, and Tyrone Kleinbooi, the pickpocket, will steal your heart as he works on behalf of his sister.
The action is fast, and the prose is so beautifully edited that there are no slow spots, not a single moment when the reader wishes that the novel were fifty or a hundred pages shorter.  The climax comes so fast and furiously that I challenge anyone to stop reading the last fifty pages before the end.
Meyer deserves a much wider audience.  He focuses on what he knows – the political, economic, and social tensions of a country undergoing major changes and the people committed to doing their part to keep the country moving in the "right" direction, despite all those who are willing to do what is expedient.  His view of a "hero" is realistic, not necessarily a person without flaws, but a person who genuinely believes that it is possible to make a difference and who is committed to making that difference, no matter the costs to him/her personally.  In this ninth novel, Meyer is still "fresh" for the reader, never relying to the trite or the tried and true, never resorting to what worked in an earlier novel, and never willing to take the easy way out by giving the reader what s/he expects. His novels are carefully considered, written, and produced, and they should serve as examples for some who are churning out bestsellers without attending to the details which great novels – even thrillers – require.
ALSO by Deon Meyer:  BLOOD SAFARI (2007), THIRTEEN HOURS (2009), TRACKERS (2010)

Photos, in order: The author's photo appears on http://rotterdamweek.com/
The house in the Franchhoek Valley wine country where Morris stayed may have resembled this house: http://www.rhinoafrica.com
The Mozambican spitting cobra is shown on http://tarakb.blogspot.com/
Oom Samie se Winkel, an old-fashioned store popular with tourists, proves to have better security than Tyrone was expecting. http://tracks4africa.co.za/
ARC:  Atlantic Monthly Press
The University at Stellenbosch, outside of Capetown, is where Nadia, Tyrone's sister is studying to be a doctor. http://edabroad.uncc.edu/