Note:  Thirteen Hours was WINNER of the AKTV Prize in South Africa for Best Suspense Fiction of 2009.  It is also the first Afrikaans-written novel to be SHORTLISTED for the prestigious CWA  International Dagger Award for 2010.
"I don't discriminate, I sleep with whoever I want, because it's the New South Africa, but you don't want to know about that.  You want to 'brother' and 'sister' us all.  You want us to be a separate tribe, us coloureds; you're the kind who goes around complaining how hard it is to be a coloured…If you don't integrate, you won't.  That's the trouble with this country, everyone wants to complain, nobody wants to do anything, nobody wants to forget the past."—"Coloured" woman to white policeman.
In his best a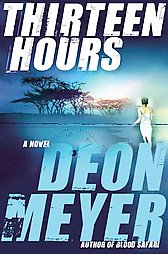 nd most complex novel yet, Afrikaans-writer Deon Meyer recreates a mere thirteen hours of life in Cape Town, South Africa, hour by terrifying hour, and those thirteen hours reveal more about the city's many criminal cultures than you may want to know.  The police are only partially effective.  Following scandals which plagued the police department and resulted in corruption convictions for some key officers, the National Commissioner has established a new police force, the South African Police Service (SAPS), retaining their best and most experienced officers within new departments, the duties of which are not always clear. As one of the force's best detectives says, "I've been working with the Provincial Task Force for four months now, and I still don't have a portfolio.  No people, no job description…I'm getting too old for all the Commissioner's monkey business, the racial quotas that change every year; everything is politicized.  And if Zuma becomes President, the Xhosas will be out and the Zulus will be in and everything will change again—a new hierarchy, new agenda, new troubles."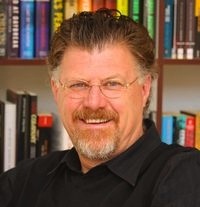 Racial differences, tribal differences, and changing historical roles add to the complexities here as good people try to prevent crimes in a fraught environment in which the Metro Police, considered by SAPS to be "traffic cops," are also flexing muscles over control.  Further complicating the issues, many experienced former police are now working for private security firms, hired out to do some of the same jobs as the police.
Captain Benny Griessel, a long-time police officer, now working for SAPS, has been assigned to mentor several new officers, all in their thirties—four blacks, one black woman, and one "coloured."  Integration of the police is a top priority, and it is Benny's job to see that they all get the maximum possible experience dealing with a multitude of issues from murder to drug trafficking, graft, extortion, and embezzlement.
Meyer involves his reader in the action from the opening pages, in which a young girl, still in her teens, is tearing through the city, begging for help from people she sees, as she tries to escape five or six young men who are pursuing her.  And she's the lucky one.  Her companion lies dead, her throat slit and her backpack stolen.  Benny and his staff are assigned to this case, and soon have their worst fears realized.  The young victim was an American tourist.  At the same time, the body of a music executive, shot in the head with his own gun, is found at home near his wife, an alcoholic who knows of his flagrant affairs and who has been lying passed out for hours. She appears to have shot him.  These separate stories interrupt each other throughout the novel as more information is revealed about each crime.  The author keeps the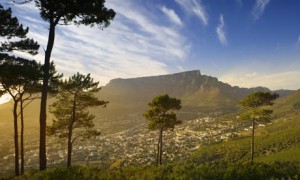 suspense at fever pitch, as Rachel Anderson, the girl trying to escape, manages to evade discovery for many hours as she races through the areas around Table Mountain, and as Benny Griessel tries to keep all the leads for two separate cases, and all the investigating officers, going in the right direction.
The main characters' own backgrounds and family lives unfold and add depth to the novel, showing how they live, for better or worse, in the newly integrated society.  Because the crimes here are endemic to other countries, the focus is on how the police solve them, the research they do, the assumptions they make, the directions they take, and the risks they are willing to take for justice.  As the novel develops further, the ins and outs of the not-always-honest music business, the roles of Russian owners and managers of clubs and bars, the weaknesses of police officers who may be offered enormous bribes, illegal immigration from other African countries whose governments are in total disarray, the problems of a drug culture, and the corruption which seems to be an unfortunate natural result of power all appear as themes and plot lines.  As one old white man says, "The Afrikaner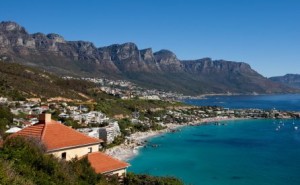 s'…power corrupted them.  The signs are there that the black government is going the same way.  I am afraid they will make the same mistakes.  It would be such a pity.  We are a country of potential, of wonderful, good people who all want only one thing: a future for our children.  Here. Not in Canada."
As always, Deon Meyer has turned an exciting mystery into a heart-pounding thriller with an over-the-top conclusion, but he also has a great deal to say about his country. Despite the darkness which is evident in its plot, Meyer honors people of all races–Benny Griessel (white), bright new detective Vusumuzi Ndabeni (black), no-nonsense female investigator Mbali Kaleni (black), and pathologist, Tiffany October ("coloured").  These are the future of the country and its hope, and Deon Meyer, an Afrikaaner, celebrates them.
Note:    Also by Deon Meyer:  BLOOD SAFARI (2007),    TRACKERS (2010), COBRA (2014)

Photos: The author's photo is from http://petrona.typepad.com His web page is here: www.deonmeyer.com
Table Mountain dominates the western coast of Cape Town.  This photo is by Jon Hicks/Corbis for www.guardian.co.uk.  "The Twelve Apostles" mountain range, the site of a hospital in this novel, is shown here, facing the Atlantic, south of Table Mountain: www.capetown.travel/