"The more knowledge [Marian Evans] gleaned from her studies, the lonelier she felt. There were no other women like her – not even her former teacher, Maria Lewis…who knew the secrets of German verbs and physics and philosophy… and who could understand her love of language. It was as if she had a secret life… belonged to a different species…Most women of her age were married or engaged to be married…[but] she was a stranger among them."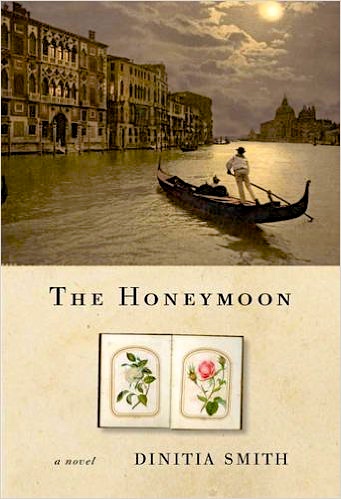 Marian Evans, the author known as George Eliot, is sixty years old as this biographical novel opens in June, 1880, and she is on the train to Venice for her honeymoon with new husband, John Walter Cross, a handsome young forty-year-old. Hiding her face behind a white lace mantilla so that she will not be pestered by fans of her books begging for autographs, she believes that the mantilla, "though not completely hiding her face…distracted from it, from her large nose and broad jaw, and she welcomed this because she believed that she was homely." She had lived happily with philosopher and critic George Henry Lewes from 1854 until his death in 1878, and though she called herself Mrs. Lewes, they had never married. Lewes, already married, had an "open marriage" in which his wife ultimately had four children by another man, all of whom Lewes supported, and he was legally unable to get a divorce.
As the train bearing the newlyweds heads toward Venice and a new life, Evans has reason to be alarmed by her new husband's behavior – "It was as if he were drifting away from her, going farther and farther into his own world, and she didn't know why." He'd been frantically making plans for the wedding and their house in London; he hadn't been sleeping; and he'd hardly been eating. Though he'd been as attentive to her needs as always, he was now hyperactive, operating at a level of speed and intensity she had never seen before, constantly moving and unable to relax.
Author Dinitia Smith, an Emmy Award-winning filmmaker and award-winning author of four novels, recreates much of Evans's life from childhood though her young adulthood and her early experiences with love. She later shows Evans's total happiness with George Henry Lewes and the avante-garde intellectual milieu in which they and their friends live; her near paralysis from grief after his death; and ultimately her new marriage. Basing the novel on extensive research and the letters Evans herself wrote about her life and writing career, Smith recreates the atmosphere in which Evans is able to become a writer of such formidable intelligence and remarkable insight. Well-schooled, with teachers who cared about her future, Evans initially falls under the influence of strict Baptist preachers, but on her own she discovers a book by Charles Hennell, which suggests that the Bible's stories, which are inconsistent, are also mythological. Eventually, she comes to believe in Wordsworth's poetic ideas of Nature as religion, and gradually, under the influence of other writers, philosophers, and educated friends, her ideas become more sophisticated.
Part II tells of the first men to whom Evans is attracted, along with her continuing enjoyment of reading philosophy and theology. Ralph Waldo Emerson chats with her at Rosehill, the home of friends, and a cousin of Lord Byron, Edward Noel, is often in attendance there. Charles Hennell himself appears, impressed that Evans is among the few who have actually read and understood his book on religion. Her new friends seem fascinated by her insights, learning, and her willingness to challenge them intellectually on their own turf. Understandably, she wonders, "What did it mean that these men loved to talk to her? Were they drawn to her as a woman? Or was she simply another man to them?" She learns German and Italian and begins to do translations for publisher John Chapman, attending soirees every Friday night, where she socializes with people like philosopher Thomas Carlyle, author Charles Dickens, and exiles Giuseppe Mazzini, who had been campaigning for a unified Italy, and Karl Marx, who has just published the Communist Manifesto in Germany. Evans also meets George Henry Lewes who is impressed by an article she wrote about William R. Greg's Creed of Christendom, and who goes on to publish it in a "radical weekly" he has cofounded.
In Part III, Evans, now deeply in love with Lewes, travels with him to Germany where they can live as man and wife without having to deal with legalities and the interference of family. While drifting through Europe, they meet Franz Liszt, along with other musicians and poets, and after eight months, they return to England, where Evans writes and publishes her first story, choosing "George Eliot" as her pen name. Soon after that, she publishes her first novel, Adam Bede, to huge accolades, followed by Mill on the Floss, which earns twice as much in royalties. Silas Marner and Middlemarch continue her success, and as she begins Romola, Evans realizes that she and Lewes are now independently wealthy. At their new house, they are visited by Charles Darwin, Alfred Lord Tennyson, Ivan Turgenev, and others, and as her novels become increasingly successful, Evans and Lewes find themselves supporting a dozen people who need help.
As the background information is unfolding, author Smith maintains suspense by inserting scenes which prolong the incipient crisis of the honeymoon, balancing Evans's observations about her new husband with her dismay at how differently he is behaving now compared to the past. At age sixty, Evans is no ingénue, and Smith is successful in making the reader feel the reality of Evans's concern about her husband's mental health.  Though the first fifty pages feel melodramatic and sentimental (and even a bit trite), the novel moves quickly, in the style of a screenplay.  The later sections in which Evans and Lewes share their intellectual and philosophical lives allow the reader to appreciate the social issues of the period and to feel Evans's creative passions and achievements.  The conclusion is abrupt – lasting a mere three pages – lacking the resolution that many readers will expect after spending over four hundred pages sharing Evans's life.  Still, the author's ability to place Evans in history and make the reader feel the turmoil of her life is significant, and many readers will rejoice in having the chance to get to know Marian Evans – George Eliot – as a woman, not just as a writer.
Photos, in order:  The photo of author Dinitia Smith appears on http://www.cunard.com
The photo of Marian Evans at the age of thirty-eight (1858) is from http://ashetler.soup.io
George Henry Lewes, with whom Evans lived from 1854 until his death in 1878:  http://todayinsci.com
John Walter Cross, who became Evans's husband in 1880.  https://adairjones.wordpress.com
4 Cheyne Walk, London, the home of Marian Evans:  https://www.pinterest.com
ARC:  Other Press
THE HONEYMOON

REVIEW. Biography, Book Club Suggestions, England, Historical, Italy, Social and Political Issues

Written by: Dinitia Smith

Published by: Other Press

Date Published: 05/03/2016

ISBN: 978-1590517789

Available in: Ebook Hardcover