"Two vanishing races…the Boston Brahmin and the pure Hawaiian."
When Bostonian John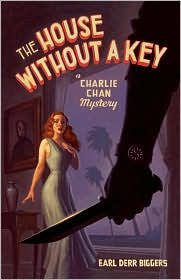 Quincy Winterslip is sent to Hawaii to retrieve his elderly Aunt Minerva, who has stayed with relatives in Hawaii long past the time she (and they) had originally intended, he fully expects to return home quickly. Though his family tree has long had "wanderers," one of whom has settled in Hawaii, John Quincy knows HE is far too sensible to succumb to Hawaii's charms. His Boston Brahmin roots, his successful investment business, and his "appropriate," family-approved fiancee are all luring him back home.
Shortly after his arrival in Honolulu, however, his uncle Dan Winterslip, with whom he is staying, is murdered in his Waikiki home. Assigned to investigate this murder is Honolulu Detective Charlie Chan.
First published in 1925, the House Without a Key broke new ground in American publishing by starring an Asian detective. Charlie Chan is clever and thoughtful – and he is also committed to maintaining his own culture, not simply "passing" in the ha'ole world which has dominated Honolulu ever since American Sanford Dole and the "sugar barons" inspired the overthrow of the Hawaiian monarchy in the 1890s. Like most of the kama'aina (new residents) who have come to Hawaii since then, the Winterslips are somewhat arrogant, believing themselves entitled to privileges not accorded to native Hawaiians and those of other races.
As the investigation unfolds, author Earl Derr Biggers creates a vibrant picture of Honolulu in the 1920s, contrasting it, on several occasions with earlier, less complicated, city life – before the army, navy, and merchant marine turned Honolulu into a busy port filled with foreigners and new residents. Definitely not hard-boiled in his style, he celebrates Hawaii in all its tropical splendor – its beaches and soft moonlight, its glorious flowers and lush growth, its warm and sensitive people, and its multicultural ambience.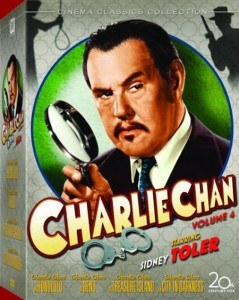 Some inherent racism, seen here on the part of the Winterslips when they meet Charlie for the first time, reflects the times. Biggers is more culturally sensitive than most other writers of the period, however, and in Charlie Chan he creates a unique "hero" who goes on to star in five more novels after this.
The murder investigation is surprisingly complex, and the mystery and suspense are fully developed. The narrative speeds along and keeps the reader completely absorbed. Though Biggers did not intend his novel to be read as a satire, his Boston Brahmin characters, read in the present day, however, are so extreme in their belief that Boston is the center of the universe that modern readers will chuckle, if not laugh out loud, at their sometimes absurd dialogue and behavior. Loads of fun to read, this mystery is surprisingly modern in its complex structure, with a unique and charming hero in Charlie Chan.
Notes: Though only six Charlie Chan novels were written, many popular "Charlie Chan" films were made starring this wonderful character.