"Whatever happens in a house, robbery or murder, it doesn't matter, you must have your breakfast."
From the outset, Wil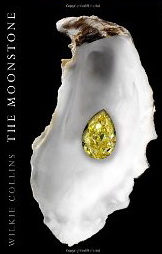 kie Collins's 1868 "sensation novel" keeps the reader entertained and engaged as a priceless yellow diamond, stolen from a Hindu religious statue of the Moon God in India in 1799, works its black magic and controls the action. Rachel Verinder, heir of Colonel John Herncastle, who murdered to obtain the jewel during the battle of Seringapatam, inherits this possibly cursed treasure on her eighteenth birthday in 1848, only to have it vanish before she can put it into the bank.
Drawing on sensational details–three Indian "jugglers" who approach the house to perform a juggling act, the disappearance of the jewel from an Indian cabinet during the night, the certainty that the theft was an inside job, a housemaid with a criminal past, and a paint smudge on night clothing–Collins creates a haunting atmosphere and builds suspense.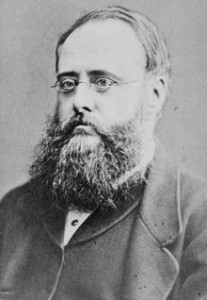 Telling the story is Gabriel Betteredge, the house steward, a man who has been asked to set down his recollections by Franklin Blake, who was present in the house at the time of the jewel's disappearance, and who is in love with Rachel Verinder. Betteredge is a delightful story-teller, providing details, humor, and suggestions about what happened with a conscientiousness that makes him a reliable narrator. As the story becomes more involved and the characters take on lives of their own, other narrators take up the story where Betteredge leaves off and provide new information.
The second narrator, Miss Drusilla Clack, Rachel Verinder's cousin, is a "poor relation" who is also a religious fanatic, and her commentary and her behavior provide some of the funniest moments in Victorian literature. Collins's use of humor, in fact, is one of the ways in which he surpasses his friend, Charles Dickens, in keeping an audience entertained. Franklin Blake, rejected by Rachel, provides additional commentary about the events, as do a doctor and his assistant, a local police sergeant and his investigator, the family lawyer, and a traveler to India.
The use of multiple points of vi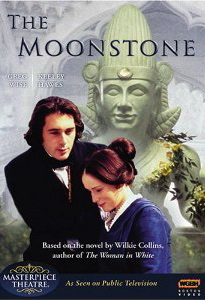 ew is one of the great advances Collins makes in the history of the novel. The fact that this is widely regarded as the first of the great mystery novels (though not dependent on a single detective) is another plus.
Overall, the novel is surprisingly modern in its ability to appeal to a wide audience. Collins is adept at manipulating his readership and in keeping suspense high. His characters are often engaging and frequently humorous, and in its ability to deal with social issues of the day, the novel provides pertinent commentary about colonialism, religious fanaticism, and class issues. Collins never forgets, however, that he is writing to entertain, and in this he succeeds admirably.
Notes: A Masterpiece Theater production of this novel is available.
Also reviewed here:  THE WOMAN IN WHITE