"Make 'em laugh, make 'em weep, make 'em wait, and make 'em come back."
This advice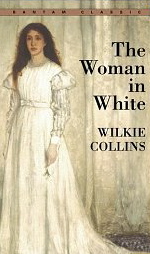 for writing serial romances, alternately attributed to Wilkie Collins, Charles Dickens, and Charles Reade, is epitomized in this 1860 novel by Collins, a story of thwarted love, a marriage of obligation, claims on inheritance, the victimization of women, and, most of all, engaging mystery. Collins, often credited as the father of the mystery genre, creates a fast-paced story of Victorian England, revealing much about Victorian society and its values–the role of women, the laws governing marriage and inheritance, the social institutions of the day, the contrasting attitudes toward the aristocracy and the lower classes, and even the level of medical care and the treatment of psychological illness.
When drawing master Walter Hartright is on his way to teach Marian Halcombe and Laura Fairlie at Limmeridge House, in Cumberland, England, he meets a "woman in white," a young woman who knows Limmeridge House well because she was mentored by Mrs. Fairlie, Laur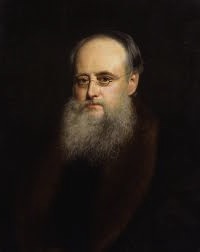 a Fairlie's deceased mother. The "woman in white" is Anne Catherick, who looks just like Laura, but who is an escapee from a nearby mental asylum. Upon his arrival at Limmeridge House, Walter immediately falls in love with the beautiful Laura, but she has made a deathbed pledge to her father to marry to Sir Percival Glyde, someone Anne Catherick despises and blames for her own incarceration. Throughout the novel, Anne visits various characters to offer help in combating Sir Percival and his cohorts.
The story unfolds through documents held by a variety of characters, each of whom tells the story from his/her own point of view. The reader develops sympathy for the innocent and beautiful Laura, respect for her homely but bright half-sister, Marian Halcombe, sadness for Walter Hartright, and hatred for Sir Percival and his friend, the Italian count Fosco, with whom Sir Percival is in business. Sir Percival and the count need financing, and it is Laura's inheritance that is at stake. A series of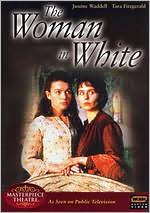 consecutive disasters, along with arguments, revelations of abuse, the fear of exposure, and the contemplation of murder by Sir Percival and Count Fosco, draws the reader irrevocably into the action.
The characters are sympathetically drawn, with Collins showing an early awareness of the influence of psychology on behavior. The descriptions of nature, presented realistically and in minute detail, build suspense, as Collins creates parallels between nature and the details of plot. As is usually the case with romances, chance plays a huge role in the unfolding action, creating cliff-hanging suspense which contributes to the excitement–and pure fun–of this seductive novel. The conclusion, involving a subplot unrelated to the primary action, resolves issues conveniently. The almost-forgotten author of twenty-five novels, Collins was one of the most successful authors of Victorian mysteries, and he is gaining new attention as a result of reprints of this novel and The Moonstone.
Notes: A Masterpiece Theatre production of this novel (last photo)  is available.
Also reviewed here:  THE MOONSTONE