Note: This novel is on the TOP TEN list for the Wall Street Journal's Best Novels of 2014.  It has won similar recognition on seventeen more such lists for 2014.
"Whenever I returned [to Naples], I found a city that was spineless, that couldn't stand up to changes of seasons…especially, storms…The clogged sewers splattered, dribbled over.  Lavas of water and sewage and garbage and bacteria spilled into the sea from the hills…People died of carelessness, of corruption, of abuse, and yet, in every round of voting, gave their enthusiastic approval to the politicians who made their lives unbearable."—Elena, after an absence from Naples.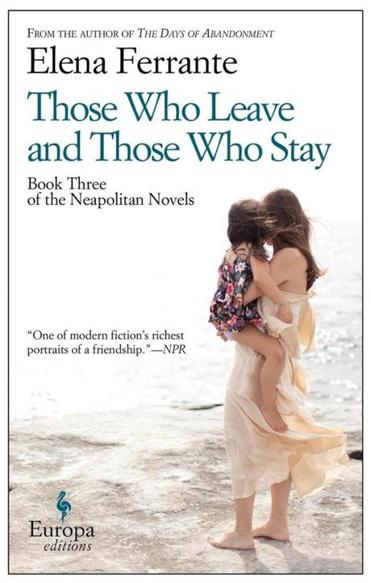 By now, most people who are here reading this review have already read at least one of the first two books in the "Neapolitan trilogy" by Elena Ferrante, of which this is the third novel. (A fourth entry in the series is expected now in 2015).  Dramatic and intense, these novels read like operatic librettos, with two main characters, young girls from Naples who meet as children, sharing their tumultuous childhoods, and then, in succeeding novels, their teenage and adult lives.  Despite their early closeness, the girls move in completely different directions as they get older, living out their different goals and objectives, but remaining friends through the traumas and uncertainties of their early years and the various political movements in which may have been caught up as young adults.  The brighter girl, Lila, or Lina, Cerullo, is not allowed to continue the education which would have allowed her to take advantage of her immense intellect, instead marrying as a teenager.  Her less creative but competent and organized friend, Elena, also a good student and with a supportive family, goes on to college and eventually becomes a writer.  Though she has promised in the past that she will not betray Lila by writing about their own tangled history, Elena appears to be the author of this novel, which begins when both women are in their sixties (probably in the late 1960s through mid-1970s), a time in which Elena is successful and living elsewhere, and Lila has disappeared from Naples, leaving behind her son Gennaro (Rino) as Elena's only contact.
Elena, having left Naples for college, has lived a comfortable life in Florence, where her husband's mother is in the publishing business, and has become an author.  In contemplating her first book, shortly after completing school, she notes that "In a few months there would be printed paper, sewn, pasted, all covered with my words, and on the cover the name, Elena Greco, me, breaking the long chain of illiterates, semi-literates, an obscure surname that would be charged with light for eternity."  Her husband, an unsociable academic with little interest in her ideas and a frustrating inability to recognize the limitations imposed upon her by her traditional role in society, believes that she is well suited to her role as the mother of their two daughters and that she should be happy in that life.  Unfortunately for her, her attempts at a second success with a subsequent book fall short, with few people interested in what she has to say, and her "hometown" readers in Naples remembering her primarily as the author of a book with many risqué sexual passages.   Lila, the daughter of a shoemaker who quit school early, on the other hand, has married a member of the Neapolitan camorra (a Mafia group), discovered his limitations, and is now raising her son with the help of friends while she works in a sausage factory outside of Naples.   There she sides with those who want to take direct action against the factory owners in order to right the wrongs they all feel have been directed against them.
Most of the action in this novel focuses on Elena in domestic scenes, and they are often ferocious in their intensity, as she marries, fights with her husband and others, and later thinks she has found love with someone else, and many readers will be reminded of some of the continuing stories on television as the interrelationships are recreated in colorful prose and passionate love scenes.  The novel creates characters in some depth (moreso here in this novel with Elena than with Lila) and controls the setting so that it also reflects the spirit and the political movements of the times, though the novels have become less thematic, more domestic, over time.  The publisher includes an extensive cast of characters at the beginning of the novel, identifying the characters from ten different families in Naples, including well over sixty individuals, and their long-standing interrelationships with other families, a list which even those of us who have read the earlier novels will need to consult often during this action.  Time is fluid, with the action beginning here when Elena and Lila are somewhere in their sixties, after Lila has been missing for five years, then flashes back to earlier times.  The author leaves the door open to a fourth novel (not part of the original plan but confirmed by the publisher) by not connecting the conclusion of this novel with the opening scene in which Elena discusses their past and her mixed feelings about Lila.  Clearly the fourth novel is being set up as a continuation of Lila's story.
It is through their changing relationship as friends that the author develops her primary theme here regarding the role of women, both within marriage and within society as a whole, as Elena and Lila, separately and within two different social strata, face some of the same issues regarding their roles and their frustrations.  Since the reader knows from the outset that Lila has vanished, however, one must wait in suspense to see how, if at all, her life has resolved itself.  The novels cry out to be made into a mini-series, which many readers may find easier to follow than these separate novels with their huge casts of characters as both Elena and Lila try to find true love and intimacy.  Daunting in their ambition and successful in attracting readers from around the world, these three Neapolitan novels, now up to twelve hundred pages, in total, are breaking new ground drawing huge numbers of readers into their orbit with their emphasis on the role of women and how love changes their perspective.
As Elena herself observes, halfway through the novel, she has not come to major conclusions about her own direction: "[Lila's life] was a life in motion, mine was stopped..and [I thought] about what might happen, what [she] might become…Become.  It was a verb that had always obsessed me…I had become, that was certain but without an object, without a real passion, without a determined ambition.  I had wanted to become something – here was the point – only because I was afraid that Lila would become someone and I would stay behind.  My becoming was a becoming in her wake. I had to start again to become, but for myself as an adult, outside of her."  Book #4 will probably continue her story to show how her decisions at the end of this novel have changed her life.
ALSO by Elena Ferrante:  MY BRILLIANT FRIEND (#1)     and       THE STORY OF A NEW NAME (#2).  Also by Ferrante but a stand-alone, TROUBLING LOVE,    THE LYING LIFE OF ADULTS, a stand-alone.
Photos, in order: The University of Florence, where Pietro, Elena's husband is a professor, is shown here:  http://www.studyihub.com
San Giovanni a Teduccio, the beach-side town to which Lila escapes and then finds work in a sausage factory, is found here:  https://solleviamoci.wordpress.com. It is now seriously polluted, and swimming is prohibited.
Piazza dei Martiri, where the Carracci family once owned an elegant shoe store, which Lila managed during her marriage to Stefano Carracci, and which Elena visits on a return to Naples. http://www.comune-italia.it/
THOSE WHO LEAVE AND THOSE WHO STAY

REVIEW. Italy, Social and Political Issues, Neapolitan series

Written by: Elena Ferrante

Published by: Europa Editions

Date Published: 09/02/2014

Edition: Neapolitan series, Book 3

ISBN: 978-1609452339

Available in: Ebook Paperback