"Adults, waiting for tomorrow, move in a present behind which is yesterday or the day before yesterday or at most last week: they don't want to think about the rest.  Children don't know the meaning of yesterday, of the day before yesterday, or even of tomorrow, everything is this, now: the street is this, the doorway is this, the stairs are this, this is Mamma, this is Papa, this is the day, this the night…"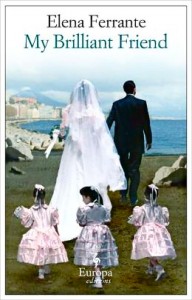 The adults described in this quotation from Elena Ferrante's My Brilliant Friend share their lives in an economically depressed community on the fringes of Naples in the early 1950s, people who are still traumatized by the war and the disasters, both personal and financial, that have resulted from it.  They cannot think too much about the horrors of their war-time past since they must work so hard to deal with the financial emergencies they now face in the present.  Like their children, they live in the moment – passionately, emotionally, and often violently.  They live close to each other in small apartments – in some cases, sharing the same four or five-story building in which each family's hardships are well known to all the other families.  The nine families of this novel live traditional lives which have not changed much in the past century.  They have intermarried over the years, and their children play together and will also, in all likelihood, marry within the families they have known for years.  Though they focus most of their energy on ensuring their daily survival, they are always aware of family histories, resentments, and even feuds that are never completely hidden and which control some aspects of their lives.

The novel opens in the present in a prologue in which Elena Greco, a long-time acquaintance and oftentimes best friend of Lila Cerullo, receives a telephone call from Lila's son, asking for her help.  His mother has disappeared – two weeks ago – taking all her personal belongings, and even cutting her picture from photos she has left behind.  Elena's response is surprising:  "Please, for once behave as she would like: Don't look for her…Learn to stand on your own two feet and don't call me again, either."   Having known Lila for almost sixty years, Elena is convinced that "She wanted not only to disappear herself, now, at the age of sixty-six, but also to eliminate the entire life that she had left behind."  Convinced that Lila "is overdoing it as usual," Elena decides to write all the details of their relationship, "everything that still remained in my memory."
The rest of the novel recreates Elena Greco's relationship with Lila from the time they are six years old in the early 1950s.   Elena, the oldest child in her family, is the daughter of a porter at the city hall, and her mother "was superfluous in her life…I wasn't agreeable to her nor was she to me."  When school begins, "Right away, from the first day, school had seemed to me a much nicer place than home…[the place] where I felt safest, I went there with excitement."   Lila Cerullo, a fellow student, impresses Elena from the beginning because of her atrocious behavior during school.  Still, Elena is fascinated by her, and she is stunned, as is everyone else, when Lila without warning, puts on a powerful demonstration of her unexpected reading ability, having taught herself to read from the age of three.  For the rest of their shared schooling, Lila's ability to read and her ferocious search for knowledge make her a brilliant but undisciplined reader who borrows books wherever she can and remembers everything, including several foreign languages she has taught herself.  Eventually, the girls separate for a time, only to reconnect as they deal with the pangs of love.
Between the beginning and the end of this novel, when the two friends are sixteen, author Elena Ferrante creates a vivid picture of Neapolitan life from the early 1950s to the early 1960s as times change and people must either change, too, or be left behind.  Elena, continuing her schooling, illustrates some of the social changes, inspired by education, that are  taking place during this period in Italy.   Moving easily between the Neapolitan dialect which most people speak at home and the more grammatical Italian which she learns in school, Elena is able to cross the boundaries between one social class and another, and between her less fortunate and less educated friends in the neighborhood, like Lila,  and her scholarly friends who challenge her with their knowledge.  Elena's studies also take her outside the neighborhood into Naples itself for more study, and she is able to take summer jobs in Ischia, another sign of social change, while Lila never leaves Naples at all.  Both women are aware from the outset that it is the men of the family who determine one's social class and who control virtually every aspect of family life.  As a result, the competition for "appropriate" suitors within their small neighborhood, as the girls in the neighborhood reach puberty, becomes fierce.
The first of a proposed trilogy, My Brilliant Friend is a novel which will probably appeal primarily to women, and its cover with its gauzy and cutely romantic wedding picture contributes the unfortunate perception that this might be "chick-lit," that sub-genre which treats women and their issues in a light, sentimental, and sometimes demeaning way.  Ferrante, however, is a serious author whose goal is to develop three novels in a continuing saga about Elena and Lila from age six to age sixty-six, showing the changes in Neapolitan society from the 1950s to the present.  The novel has a broad and well-developed scope, with characters from nine families whose overlapping lives make them human and show the potential conflicts which social and economic changes can wreak.  The women here, in the early 1950s, are limited in what they can do on their own, a condition which Lila has been challenging from the day she was born.
Author "Elena Ferrante," who uses a pen name, is a complete mystery, even in Italy with its voracious paparazzi.  Though some have suspected that "she" is really famed Italian author Domenico Starnone, no one knows for sure.  Ferrante has never given a personal interview, giving interviews only in writing, asserting that once she has completed a novel, her responsibility to the public is over.  Even her translator has never met her. The second novel in this series, The Story of a New Name will be released in the US on September 3, 2013, and many of us, impressed by the depth of this generational saga, will be anxiously awaiting it.
ALSO by Elena Ferrante:  TROUBLING LOVE,   THE STORY OF A NEW NAME,    THOSE WHO LEAVE AND THOSE WHO STAY,    THE LYING LIFE OF ADULTS 
About the author: Some have suggested (in many articles in Italy and some in the US, including both the Boston Globe and Wikipedia) that Elena Ferrante is a pen name for well known Italian author Domenico Starnone, though Europa Editions has published some letters that are attributed to Elena Ferrante herself.

Photos, in order: The Naples Street scene is from http://www.theagedp.com
The small  fruit and vegetable market, similar to what the Scanno family operates, is from http://www.freefoto.com and is the work of photographer Ian Britton
The advertisement for the Fiat 1100 appears on  http://fivesgear.com/
The Piazza Dante photo may be found on http://commons.wikimedia.org
MY BRILLIANT FRIEND

REVIEW. Book Club Suggestions, Historical, Italy, Literary, Social and Political Issues

Written by: Elena Ferrante

Published by: Europa Editions

Date Published: 09/25/2012

Edition: Neapolitan series

ISBN: 978-1609450786

Available in: Ebook Paperback