Note: This novel was SHORTLISTED for the Man Asian Prize in 2012.  It was WINNER of the Tanizaki Prize (Japan's highest) when it was first published in Japan in 2001.
"What the hell was I doing here, on a hillside in some strange fishing town, surrounded by the sea?  [The] figure up ahead of me grew more distant.  His back seemed somehow cold and remote.  Despite the fact that we had come on this trip together…the person moving steadily away from me…was a stranger."—Tsukiko Omachi, on a trip with Sensei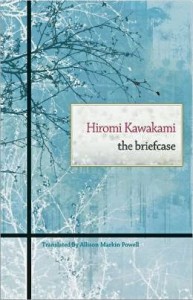 From the opening page of this simply narrated story, author Hiromi Kawakami establishes characters who, in their disarming complexity and iconoclastic actions, behave differently from the expectations that many American readers of Japanese novels may have come to expect.   Tsukiko Omachi, a single businesswoman of thirty-eight, introduces herself as the narrator of the novel by describing her meeting with Mr. Harutsuna Matsumoto at a crowded bar after she finishes work.  Tsukiko is not a traditional Japanese woman, and the man she meets is not her contemporary trying to pick her up.  She is aggressive, accustomed to living by her own rules without interference from anyone else, and, though she eventually joins Matsumoto for dinner, she is not looking for a relationship. Matsumoto, a man about thirty years older than she, has recognized her from the past – she was a student in one of his Japanese classes in high school, years ago.  Though he remembers both her first and last names, she remembers him only as "Sensei."  She recognizes his face and remembers some of the quirks of his teaching style, but she did not enjoy his class, was not a good student, and has no residual affection for him.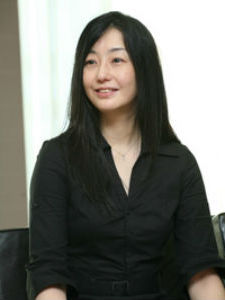 Five bottles of sake later, however, she is seeing him somewhat differently.  "Our food preferences weren't the only things we shared; we had a similar rhythm, or temperament.  Despite the more than thirty-year difference in our ages, I felt much more familiar with him than with friends my own age."  They continue to meet at the bar occasionally after that, always without planning in advance, and they sometimes go on from that bar to another one.  "The few times we got as far as a third or fourth bar, we inevitably ended up having the final drink at Sensei's house," Tsukiko says, though the relationship remains formal.  Divorced for fifteen years, with an adult son, Sensei lives in clutter, with mementoes of his past piled up in every corner – including a collection of "railway teapots," used in the 1950s and 1960s.  Sensei denies consciously collecting these –  "I would never engage in such a crazy whim" – yet he remembers the train trips on which he acquired some of these teapots, such as on his first trip to university and on his honeymoon.
He also has a large collection of dead batteries: "I feel pity for these batteries that worked so hard for my benefit, and I can't throw them away [at] the moment they die," he remarks.  "These batteries have illuminated my lights, signaled my sounds, and run my motors," an obviously symbolic remark, pathetic in its insights into the man himself.  Tsukiko, for her part, "had been alone.  I rode the bus alone, I walked around the city alone, I did my shopping alone, and I drank alone.  And even when I was with Sensei now, I didn't feel any different than when I did these things on my own…[though] doing these things with him made me feel proper."
Sometimes months pass without Tsukiko and Sensei seeing each other.  She sees other people but finds men her own age shallow and uninteresting.  Sensei just continues his lonely life as he has lived it for years.  Whatever relationship they have is turbulent –  always unpredictable. On one occasion they go to a household market, where Sensei, in a moment of delight, makes an unexpected purchase.  On another they have their first fight – about Sensei's passionate interest in the Yomiuri Giants baseball team, whom she cannot stand.  Their mushroom-hunting trip with the owner of the bar and his friend is also fraught.  As the seasons change, the relationship changes, not just for Tsukiko but for the reader, too, sometimes in a good way and sometimes not. Her first trip to a pachinko parlor has subtle and symbolic overtones, as both of the characters try to keep the other guessing so that neither takes the other for granted.
Gradually, the two begin to trust each other, though they remain independent, with neither willing to give up personal autonomy.  After two years of casual meetings, Tsukiko begins to be able to predict what Sensei will say under various circumstances, and when she takes walks alone she begins to wonder what Sensei is doing.  On one occasion, she senses that she has an invisible version of herself hovering somewhere, an obviously symbolic realization.  On another, we see Sensei responding uncharacteristically when Tsukiko is insulted by a drunk at a bar.   Eventually, Tsukiko and Sensei find themselves at a kind of "middle place, perhaps a borderline."
Though some readers may become frustrated by the excruciatingly slow pace at which the relationship between Tsukiko and Sensei develops, with long months often elapsing between some of the key events, the author's ability to show the subtle changes which occur between these two strong and independent people will delight lovers of precise writing and careful development.  Sometimes Kawakami accomplishes these magical changes through her use of obvious symbols, sometimes through quiet observations made by her characters themselves, and sometimes through such precise descriptions of a character's behavior that the reader fills in the blanks and draws his/her own conclusions.  The writing is clean – pristine, even – with every word, every event, and every psychological nuance presented clearly. Rarely have I seen a novel of such psychological acuity, and the emotions it evokes, especially toward the character of Sensei, are strong and empathetic.  Inspiring in its honesty and integrity, The Briefcase is well on its way to becoming a literary classic.
Also by Kawakami, reviewed here:  THE NAKANO THRIFT SHOP     and     THE TEN LOVES OF NISHINO
Photos, in order: The author's photo is from http://www.counterpointpress.com/
The railway teapots are from  http://www.flickriver.com The photo is by Joel Abroad
The Yomiuri Giants, which won the Asian Series in both 2011 and 2012, are pictured on http://web.theabl.com.au/
The Amanita Muscaria mushrooms (dangerous) are from http://jordynredwood.blogspot.com
The pachinko parlor is shown on http://www.investorvillage.com