Note: This novel and a later novel, My Face for the World to See, were re-published by NYReviewBooks in 2013 and are now readily available in shops and on-line.
"Nothing we want ever turns out quite the way we want it, love or ambition or children, and we go from disappointment to disappointment, from hope to denial, from expectation to surrender, as we grow older, thinking or coming to think that what was wrong was the wanting, so intense it hurt us, and believing or coming to believe that hope was our mistake and expectation our error."—The Speaker of this Novel.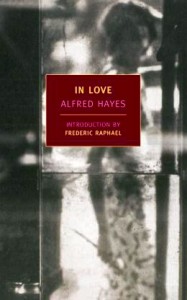 As the novel opens, an unnamed forty-year-old man meets a pretty girl at a hotel bar at four o'clock one  afternoon in the 1950s, and lonely and cynical, and looking to connect with her, he promises to tell her a story.  He confesses, however, that "I don't know anymore, what things signify; I have difficulty now identifying them; a sort of woodenness has come over me," a "woodenness" which leads him to use her as a passive sounding board while he relives his previous relationship with another woman whom he believes he loved. What follows are the maunderings of an insensitive man who has no idea who he is or what he is doing, other than telling a story to a woman at a bar.  Since he is the only speaker in the novel, the primary listener to his story becomes, in effect, the reader, rather than the pretty listener at the bar.  Neither is able to escape from all the excuses and self-justifications of this terminally dense and self-important man.
Here Alfred Hayes (1911 – 1985), a brilliant but woefully neglected author, recreates the failed efforts of this man in his relationships with women in New York in the 1950s.  His most recent failure has been with another, much younger woman of about twenty, whom he also met at a hotel bar, a divorced mother of a child being raised, at that moment, by the woman's parents.  Both beautiful and in many ways vulnerable, the woman, we learn, had come to New York City hoping to find a suitable (and financially secure) lover and, eventually, a husband.  With little education and not quite enough talent to become successful as a singer, she finds that her best chance to meet successful men is at hotel bars.  When the speaker meets her and suggests that they go to his hotel room together, he does so without any sense of commitment beyond a single night.  Her beauty captivates him from the start, however, and they begin an affair. After a time, she finally becomes impatient with his lack of commitment and begins to wonder aloud what would happen if she left him.  "I didn't think her going would have really occasioned in me more than a particularly sharp regret," he concludes, "[but only] an extreme of suffering, or even possibly a gentle attempt to hang myself from some convenient chandelier would have satisfied her [of my love]."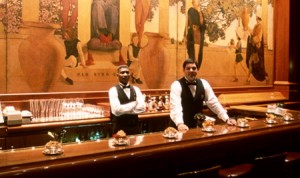 One evening when the two are out together with another couple, she meets stodgy but wealthy Howard, whose success has given him a different view of the world – "One should be born either beautiful or rich, everything else was a handicap, [and] she was left with the feeling that ugliness, poverty, lack of talent, were misfortunes almost all the world, except herself and he, had suffered, and that they were, by these gifts of his money and her beauty, divided from all the unlucky millions."  Eventually, a  turning point is reached for them all, as Howard offers her a thousand dollars for just one night with him, an offer this woman discusses with the speaker.  "It would be all over in a night," she asserts, and the money would be a wonderful gift for her little daughter Barbara. The man then observes to his listener, that what bothered him most about this proposal was that she might sleep with "somebody I could not feel superior to."  With his ego wounded, he now has to decide if he really loves her, and it is here that the novel begins to develop more fully.
As he discusses all this with his companion in the bar, the novel's reader becomes exhausted with the mundane details, the banal "insights," and the ignorance with which the speaker tries to justify his present situation.  The beautiful woman in the bar, however, never interrupts, never comments, and just lets him talk (which reveals a lot about her own desperation).  Eventually, the author realizes that both the listener at the bar and the reader have had enough:  "You'd like to go now, wouldn't you?…It's nice to have someplace to go, like home, and something to do, like eat dinner, and someone to see…and something assured, like a bed to lie down on.  It's what we use as hope."  Since all these "nice," homey aspects of life involve someone else serving him, one can only hope that the next woman he tries to seduce will see him for the person he is but fails to recognize.
Alfred Hayes's insights into human nature and his enormous skill as a writer are challenged to their limits here since this novel has only one speaker, but  Hayes succeeds in making the speaker's situation intriguing enough that the reader wants to know whether he gets his well-deserved comeuppance, whether he learns anything, or whether he simply moves on. As a screenwriter with a flawless ear for dialogue, Hayes creates a speaker whose monologue includes conversations with his lover and the additional commentary he imagines from his listener at the bar.  The speaker sounds like a real person, albeit one so ordinary that he never betrays a sign of unique self-knowledge.  The women in the novel were all children during the recent horrors of World War II, so there are no Rosie-the-Riveters among the un-liberated young beauties who appear here at hotel bars looking for escorts. They are all willing prey for characters like this man, but their lack of prospects and their personal plights create some sympathy.  Far more experimental than either The Girl on the Via Flaminia or My Face for the World to See, this novel features the same kinds of male characters, either naïve (as in The Girl on the Via Flaminia) or self-centered (as in My Face for the World to See).    Ultimately, the speaker asks, "Do I appear to be a man…who doesn't know what's wrong with him, or a man who privately thinks his life has come to some sort of end?  Assume I don't."  A small insight, perhaps.
Also, by Alfred Hayes:  THE GIRL ON THE VIA FLAMINIA,     MY FACE FOR THE WORLD TO SEE,     THE END OF ME
Photos, in order: The author's photo is from http://unionsong.com/
The famous bar at the St. Regis Hotel appears on  http://womenworld.org/
The iconic Jersey Shore House is shown on  http://www.panoramio.com The photo was taken by Adam Elmquist: http://www.panoramio.com/user/
The Steel Pier at Atlantic City, in the 1950s, may be found here: http://vimeo.com/ Click on the link and then the video that appears for a real 1950s rock-and-roll party!

ARC:  NYReviewBooks