"After many decades, I felt, grieving, that…I had not in any way managed to think [my mother's] thoughts from within her, from within her breath.  Already at that point her voice could say to me only: do this, do that."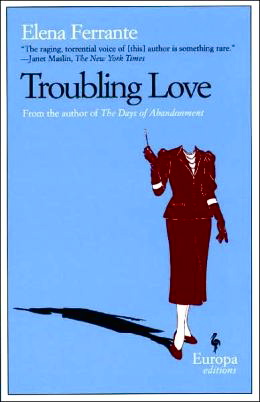 Though I have read and reviewed  My Brilliant Friend,  The Story of a New Name, and Those Who Leave and Those Who Stay, it is this novel, not part of the "Neapolitan quartet" by Elena Ferrante, which remains my favorite, and for that reason I am reposting a review which I posted on another site in January, 2007.  Ferrante impressed me then for her concentration on real life and for her insights into the relationships of mothers and daughters. I was impressed, too, by her ability to compress – to use images and scenes which subtly revealed far more than would be obvious on the surface.  In many ways, My Brilliant Friend and The Story of a New Name reflect a dramatic change of literary focus – a broader, more elaborate one – for the author, and I am posting this here for those who may want to see another more concise, less romantic style by Ferrante.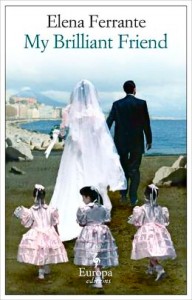 Troubling Love, an intense psychological novel, translated into English and published in the US for the first time  in 2006 , tells of a daughter's efforts to understand her mother following her mother's death.  Delia, a comic strip artist and the oldest of three daughters, receives three strange phone calls from her mother, just before her mother disappears on her way from Naples to Rome to visit Delia.  When the body of Amalia, Delia's mother, is ultimately discovered floating near a beach, she is nude, except for one piece of underwear, an elegant designer creation completely different from anything Delia has ever seen her wear.  Never very close to her mother but curious about the circumstances of her death, Delia leaves her own apartment in Rome to investigate her mother's life in Naples.
There she learns from a neighbor that her mother had been seeing someone she had known for some time, that the water had been left running in her mother's apartment, that there was no underwear in her bureau, and no toothbrush or toothpaste.  There was, however, an expensive shirt belonging to a man, and in a garbage bag, all her mother's old, well-mended underclothing.  While she is cleaning out the apartment, a man telephones to tell her to leave the laundry bag of dirty clothes for him—that Amalia had promised to do so—and says he has left a suitcase of her mother's things for her.  When Delia opens the suitcase, she finds items that are completely new, unlike anything her mother has ever worn.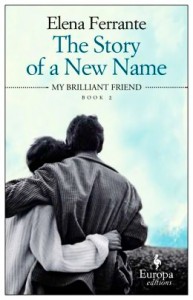 So begins Delia's quest to discover who her mother really was—and, in the process, who she herself is.  Before long, she has re-met a male friend from childhood, learned about the long-time acquaintance her mother had been seeing recently, and revisited scenes from her childhood.  In the process, she is forced to remember early events in her relationship with her mother, to re-examine her feelings about mother's life from her present adult perspective, and to rethink her own role in affecting the outcome of her mother's life.
Author Elena Ferrante, a pen name used by one of Italy's foremost (and most private) contemporary authors, who may be either male or female, creates haunting mysteries from the lives of ordinary people leading seemingly ordinary lives—the kinds of mysteries which always exist for family members when they cannot quite get inside the lives and relationships of people they think they know but whose intimate lives they have never shared.  For Delia, this is particularly difficult, since "Out of hatred, out of fear, I had wanted to eliminate every root I had in [Amalia], even the deepest."  Now that her mother is dead, she knows that many mysteries about her mother will always remain, even as her memories of her begin to fade.
As Delia revisits the places of her past and re-imagines events, Amalia's relationships and her attitudes toward life begin to come into focus, her "friendly, at times even joyful, relationship with the world," despite an abusive husband and a daughter who resented her.  As Delia reconnects with some of the people and places from the past, she begins to realize that she is more her mother's daughter than she expected, that "I didn't want to be 'I,' unless it was the I of Amalia."
Dense with imagery which speaks directly to the reader's own sensibilities about family, the novel recreates the mysteries that will always surround our parents and the personal experiences they have had that we can never fully understand.  At the same time, it reveals the mysteries within the main character, many of which the reader will never fully grasp.  Unique and intensely emotional, the novel is also full of ambiguities which resonate long after this short novel is completed–a dramatic and thought-provoking novel, and one of the only novels of a slender 139 pages that I have ever granted five stars, a ranking that I usually reserve for longer, more fully developed novels.  If you enjoy the recent "trilogy" involving Elena and Lila, which is about to become a quartet in March, you may want to take a look at this earlier, stand-alone novel, too, keeping in mind that it is a more compressed and subtle, less expansive novel.
ALSO by Elena Ferrante:  A "trilogy," which begins with My Brilliant Friend (#1), The Story of a New Name (#2), and Those Who Leave and Those Who Stay (#3).   THE LYING LIFE OF ADULTS