"I'm a guest here, not an inmate."
Wh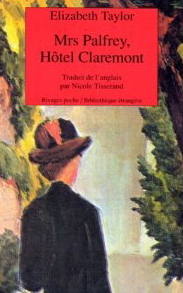 en Mrs. Palfrey, a genteel, elderly widow, arrives with her possessions at the formerly elegant Claremont Hotel in London, she expects "something quite different." Planning to stay at least a month, possibly permanently, she prefers her independence in this aging London hotel to living in Scotland near her daughter, who prefers to ignore her. A variety of elderly eccentrics call the Claremont home, and though the residents put up a good front, their loneliness and boredom are obvious–no one visits them, they rarely leave the hotel, and nothing in their lives changes very much.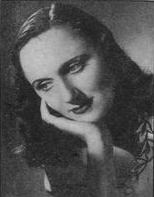 When she falls while walking one day, Mrs. Palfrey is rescued by Ludovic Meyer, a struggling young writer. Because of his kindness and her pleasure in his attention, she invites him to dinner, where the residents assume he is her grandson Desmond. Ludo/Desmond is everything that the other residents of the hotel long for–he genuinely cares for Mrs. Palfrey, he listens to her, and he recognizes her value. Having never known a normal family life, Ludo needs Mrs. Palfrey as much as she needs him, and she happily becomes his much-appreciated "grandmother."
As the two develop a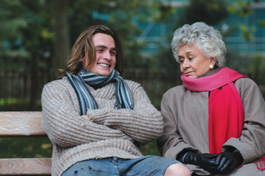 close relationship, Mrs. Palfrey teaches Ludo by example about love and its pleasures, and he, having failed in past relationships, begins to understand what love means, blossoming under her attention. As Mrs. Palfrey reminisces, he takes notes for a story he plans to write about her life and her experiences at the Claremont, where the informal motto is "We Aren't Allowed to Die Here." As time passes and life becomes more complicated for both of them, their relationship is tested.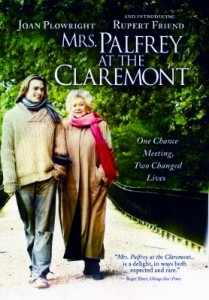 Filled with eccentric characters who respond to aging in different ways, this 1975 novel shows a feisty Mrs. Palfrey challenging convention by reveling in her relationship with Ludo. With an unerring eye for the telling detail and the perfectly revealing comment, the author brings universal themes to vibrant life–the passage of time, the aging process, the compromises we make, and our continuing need to be accepted. The author never resorts to caricature as she makes her wry observations, respecting her characters even when presenting them in sometimes bleakly humorous scenes. In this unforgettable comic masterpiece, old age is shown as a stage in life, one in which rewards and happiness are more important than the inevitable conclusion.  (On my Favorites List for 2008.)
Credits: The author's photo appears on http://www.librarything.com through the courtesy of the New York Public Library.
Just as wonderful a film as it is a novel, the award-winning film stars Dame Joan Plowright and newcomer Rupert Friend.  The photo by Jerome Prebois comes from the film.  http://123nonstop.com/
ALSO by Elizabeth Taylor:  A GAME OF HIDE AND SEEK,




MRS. PALFREY AT THE CLAREMONT

REVIEW. Classic Novel, England, Film connection, Humor, Satire, Absurdity, Literary, VIDEO TRAILER.

Written by: Elizabeth Taylor

Published by: Virago UK

Date Published: 04/01/2006

Edition: Reprint

ISBN: 978-1844083213

Available in: Ebook Paperback Hardcover