"If I don't write, I have nowhere to put my memories, and that's dangerous.  I have a problem.  I don't forget anything.  My forgetting mechanism is completely screwed up.  All the partings, the deaths, the unexploited opportunities.  They are all trapped in my body, and writing is the only way to release them….If I don't occasionally unburden myself …I won't be able to breathe."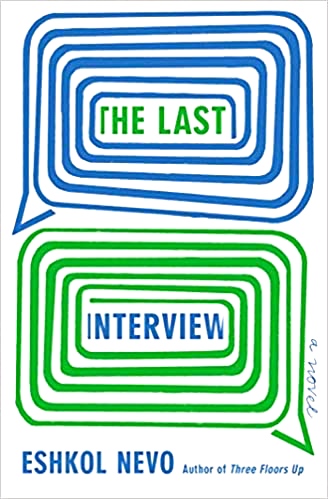 I'm not sure I have ever come across a book which so completely demolished my expectations – in a good way – while creating a unique vision of a writer's life.  Initially, The Last Interview feels like an attempt by a frustrated writer to produce a book which is primarily a series of off-the-cuff answers to common interview questions, an easy way of free-writing to fill pages while explaining to the reader what being a writer feels like.  Author Eshkol Nevo is a highly skilled and very popular Israeli author, however, someone who has no need to resort to literary trickery, and as this book emerges from the familiar questions and answers ("What motivates you to write?" "What is your earliest memory?" "Do you have a recurring dream?"), his true purpose and his underlying themes, especially regarding a writer's connections with friends, family, and his own memories soon emerge.  Answering the interview questions unexpectedly raises more questions for the author himself, however. Determined to be completely honest, while also creating "fiction," Nevo obviously feels the inherent conflict between those two approaches to describing life, and as he slowly edges into some serious self-examination, his skills as a writer get a real workout. Ultimately, his scenes from a writer's life, including, almost certainly, episodes from his own life, challenge him to maintain the true honesty he has promised himself and the reader, while also recognizing the hurt that such honesty can sometimes bring to those he loves and admires.
The novel opens after the speaker, now in his forties, has just returned from a book tour in South America.  While there, he had a brief but passionate affair, something he confesses to his wife Dikla when he returns to Israel in the middle of the night. Though they have been having a few problems recently with their almost twenty-year marriage, she understandably regards this admission as the "last straw" and banishes him.  He bikes to his studio, where a messenger soon delivers divorce papers.  He then visits his closest friend, Ari, who is in hospital with a terminal illness.  There he chats with Ari's mother about Ari's family history, fleeing as immigrants to Israel from Argentina to escape the junta.  He reminisces to himself about his various loves, about his time in the army and his travel, including time in Bolivia when Ari took him to the Witches' Market in La Paz to have a curse removed.   He comments about issues regarding the Palestinians while he was serving in the Israeli army, about behavior he has been ashamed of, about the harassment of women and gays, and eventually about his young daughter's alienation from him.
The novel does not adhere to any particular chronological or thematic pattern, and readers learn to accept the memories belonging to the speaker and store them away for the future, as the speaker has done.  A visit to Jerusalem with "Mustafa-Mordecai" highlights another section of the novel, in which one of his books is used in a class.  A student tells him that her "favorite parts of the book are the white parts," a comment he does not understand until he sees the student's copy of book – white spaces wherever he had included the voice of a Palestinian.  Other episodes involving sensitive Arab-Israeli relationships appear throughout, though the author includes them within other episodes to show that these conflicts are an integral part of everyday life. Later in the novel, the speaker agrees to speak on the "other side of the Green Line," the border between Palestine and Israel, an area still dangerous enough to suggest using a bulletproof car for transportation. While there, he visits with Iris, his hostess, who takes him to the roof to see from a distance the Tel Aviv Azrieli Tower and talk about her enduring love for her dead husband and the Arab community in which she now lives.  The speaker's highly secret trip to Syria to talk with a reading group in Damascus provides additional insights.
The last third of the book is more intimate and more focused on the speaker's personal life with his family – a son and two daughters – from whom he is now separated. It is here that he finally learns why Shira, his sixteen-year-old daughter, has been alienated.  He had "disguised" something from his daughter's private life and included it in one of his books. "When the book came out," she says, "no one really noticed that he stole from his daughter's soul. Except for his daughter, who read a passage from the book on the Internet."  In another thread here, Dikla, a huge fan of David Bowie, is devastated by his death, and she and the speaker attend the lecture on him at the Eretz Israel Museum, after Bowie's death.  They walk out together, arms around each other, "feeling as if we were inside a bubble."  More relaxed and far more insightful than the earlier parts of the novel, this section of the book makes the writer-speaker, his wife, and family feel much more "knowable" and understandable.  Some sections of the book, are almost certainly personal, though the only specific identification of the speaker is that his grandfather was Levi Eshkol, former Prime Minister of Israel, for whom the author was named.
With many references to entertainers throughout the novel, it is no surprise that Zorba the Greek becomes almost an icon later in the novel. After finding the book in his grandfather's collection, the speaker read it with delight long ago, especially for Zorba's philosophy: "To be alive is to look for trouble!" Zorba says.  "There is a devil inside me and he's shouting.  And I do what he says," a way of life that the speaker is not yet ready for when he first reads it.  Later, he comes to new conclusions – epitomized in this book – deciding not to edit, rewrite, rethink, or embellish anything in it.  Filled with insights into life in Israel, life within his family, and life within himself, the author has created a unique look at the writing life and what it means to at least one author, what he has given up for it, and what he hopes to regain from taking it back.  Truly unique.
ALSO by Nevo, reviewed here:  THREE FLOORS UP
Photos. The Witches's Market in La Paz, Bolivia, appears on https://www.pinterest.ch

The Azrieli Tower, the tallest building in Tel Aviv, was a sight observed by the speaker from a rooftop "behind the Green Line."  https://www.dezeen.com
The speaker and his wife Dikla attend a lecture about an idol, David Bowie, at the Eretz Israel Museum Complex. https://www.touristisrael.com
Zorba the Greek, portrayed by Anthony Hopkins, became a model for the speaker's wished-for behavior, with several references throughout the latter part of the novel.  https://kochiread.blogspot.com
The author's photo is from https://mesbelleslectures.com
THE LAST INTERVIEW

REVIEW. PHOTOS. Experimental, Historical, Israel, Literary, Social and Political Issues

Written by: Eshkol Nevo

Published by: Other Press

Date Published: 10/13/2020

ISBN: 978-1635429879

Available in: Ebook Paperback