Note:  Ha Seong-Nan has been WINNER of five major literary awards in Korea, including the Contemporary Literature Award in 2009.
"There was a friend she'd been meeting for the past ten years.  Once every two years, sometimes even twice a week, they would meet for lunch or dinner, ask after one another, and joke and laugh together.  But once she said goodbye and returned home, she wouldn't be able to visualize the friend's face.  It was the same with her daughter." – from "The Star-Shaped Stain."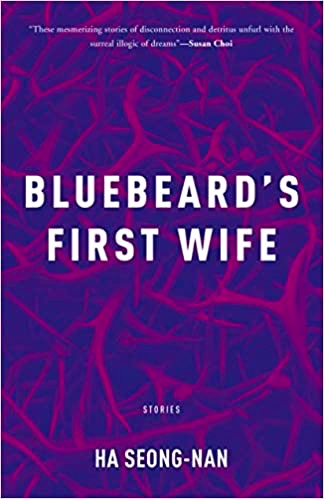 Ha Seong-nan's latest collection of stories, originally published in Korea in 2002, reflects the fresh, dynamic approach to writing which has made her writing so successful both in Korea and internationally over the past twenty years.  Famous for her sharp, penetrating imagery, the author creates stories that capture the small moments which make the lives of her characters so memorable for the reader.  At the same time, however, she often places these characters in circumstances which evoke unsettling thoughts and feelings, often close to horror, as the reader gains sudden new insights into what has happened in the past and what may happen in the future.
The opening quotation from "The Star-Shaped Stain," above, typifies Seong-nan's style as she describes the ordinary get-togethers that long-time friends seem to have all over the world.  The suggestion at the end of the quotation that the main character of this story cannot visualize her friend's face as soon as she returns home feels strange, however.  The further statement that this woman also cannot remember the face of her shy daughter, who died a year ago at the age of six, goes further – even entering the realm of horror – as the reader must suddenly imagine the implications of such a terrible fate, both for the child, when she was alive, and for the mother after her death.  In this story, the main character and other bereaved parents are leaving on a memorial trip to the overnight camp where her daughter and twenty-one other children died in a fire.  An alcoholic storeowner who lives a few miles away from the camp now claims  that on the night of the fire, he saw a small child in a camp uniform, walking on the road and crying for its mother.  Further horrors develop as each parent now wonders, guiltily, if that child was theirs, and then must anguish over what may have happened to that surviving child.
The title story, "Bluebeard's Second Wife," draws deliberate similarities to the old folktale about a serial wife-killer, as a thirty-two-year-old woman marries a man she has known for only three months and moves with him to New Zealand.  As the story opens, the new wife is trying to get a twelve-foot-wide wardrobe into their new apartment.  It is something she has had made from her "princess tree," a tiny tree given to her by her father in Korea when she was born, and harvested and made into a wardrobe many years later for her marriage.  Her family orientation and cultural assumptions are quickly challenged when her husband decides to use an English name, not his Korean name, and has his Chinese friend Chang spend most of his time with them as part of a threesome.  Eventually, the connection with Bluebeard becomes real as this story reaches a shocking conclusion.
"Night Poaching" introduces additional violence.  A new detective begins work in a small, rural community, its borders emphasized by Korean totem poles. This detective has inherited a previous case involving a man who died from a "hunting accident" in an area in which nighttime hunts are common.  The detective cannot tell if the man's death is the result of suicide, homicide, or accident, but gradually he makes connections as the story's narrative reveals its surprises.  In "A Quiet Night," a married couple moves to the countryside so the husband can stop being a banker and become instead a carpenter.  Though they enjoy their apartment, the people upstairs and their young children keep the husband awake at night.  When disasters begin to happen to the people upstairs, the wife suspects that her husband may be the cause of their problems.  In both of these cases, in addition to "Bluebeard's First Wife, the violence happens externally.  The speaker/victim is not directly involved and has no control over it.
 "Joy to the World" offers a grim twist on the Christmas story when a young woman, who has become engaged after "our relationship started to feel a little boring," plans a birthday party for her fiancé.   Three men she does not know have been invited by her fiancé, including a silent man who works for a mysterious organization and wears a huge moonstone ring.  Friends for more than fourteen years, all of the men, it develops, share a long-time secret, and while they speak of it, they do not share any details with her.  After many drinks, she passes out.  When she discovers a month later that she is pregnant, she has no way of knowing who the father is, and must make some sudden decisions.
All of these vibrant stories "start small," and gradually develop strong themes related to marriage, family, sin, secrets, innocence, guilt, and sometimes new beginnings. The role and responsibilities of women, very carefully circumscribed in most cases, may or may not be reflective of current Korean culture, since the collection was originally written twenty years ago. Still, the sense of obligation and the sense of failure when obligations cannot be met are human characteristics, regardless of culture, and Ha Seong-nan manages to convey the inevitability of these without any sense of resentment or anger.  Provocative and and often exhilarating with its surprises, this collection is high on my Favorites List for the year.  Artfully translated by Janet Hong.
Photos.  In "The Star-Shaped Stain," the bereaved parents wait for their buses in front of the Deoksu Palace entrance.   http://english.visitseoul.net

In "Bluebeard's Second Wife," the recent bride in New Zealand brings a wardrobe made from her "Princess Tree" (Paulownia tomentosa), given to her by her father on the day she was born.  https://en.wikipedia.org/
In "Night Poaching," totem poles mark the boundaries of the small community. https://en.wikipedia.org
In "Joy to the World," a mystery man, who is part of a secret organization, wears a huge moonstone ring.  https://www.indiamart.com
The author's photo appears on  https://inews.co.uk
BLUEBEARD'S FIRST WIFE

REVIEW. PHOTOS. Book Club Suggestions, Korea, Literary, Short Stories

Written by: Ha Seong-Nan

Published by: Open Letter

Date Published: 06/16/2020

ISBN: 978-1948830171

Available in: Ebook Paperback