"You had better not meddle with little American girls who are uncultivated."
One of He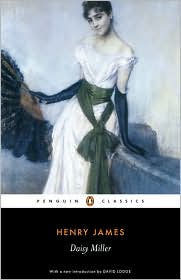 nry James's earliest novellas, Daisy Miller (1878) follows the activities of a wealthy, and brashly confident, young American woman as she audaciously challenges European society in Vevey, Switzerland, and in Rome, having fun, doing what pleases her, and leaving staid European society gasping in her wake. Daisy Miller, whose father is in the US and whose mother is her ineffectual "chaperone," is a free spirit in a society bound by unstated but rigid "rules," determined to do whatever she wants, whenever she wants, with whomever she chooses.
Frederick Winterbourne, an expatriate who has spent most of his life in Geneva, is attracted to Daisy, but his bonds with his stuffy aunt, Mrs. Cosgrove, and her friend, Mrs. Walker, both of whom govern ex-patriate society in Europe, leave him ill-equipped to deal with Daisy's flouting of society's conventions. When she is obviously attracted to Mr. Giovanelli, a singer/musician of no social standing, and when she is seen with him publicly in places that a "nice" girl would not grace at night, her reputation is threatened, and anyone associated with her is tainted. Winterbourne is uncertain how to protect her, while, not incidentally, protecting his own reputation.
Developing his most famous theme, James considers the conflicts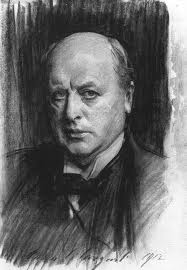 between American and European values and the naivete of the Americans and their spontaneity as it contrasts with the old world formality of the Europeans. Daisy, who is often foolishly naïve, is also seen as brash and ego-centric, a young woman whose destiny cannot be avoided (or even predicted) because of the strength of her own, often wrong, willfulness.
James focuses on two characters here–both Daisy and Winterbourne–and though the story is told from Winterbourne's point of view, Daisy is often the more vibrant of the two characters. Though she is shallow and assertive, he is hidebound by convention, leaving both characters with limits in terms of reader identification. When a night-time dalliance leads to serious consequences for Daisy, the reader is neither surprised nor shocked.
Filled with pointed o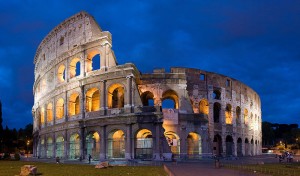 bservations about Americans and their differences from Europeans, the novel incorporates significant symbols–the Colosseum (associated with innocent Christian martyrs), malaria (to which Americans are particularly susceptible), Randolph (Daisy's rude and undisciplined 10-year-old brother, the ugliest of Americans), and Mrs. Cosgrove and Mrs. Walker (converts to the European way of life). Carefully observed and critical of American naivete, Daisy Miller is the "preface" to Portrait of a Lady and many of James's more fully developed novels.
ALSO reviewed here:  ALSO reviewed here:   THE BEAST IN THE JUNGLE,      THE BOSTONIANS (DVD) ,      DAISY MILLER,      THE GOLDEN BOWL (DVD),      PORTRAIT OF A LADY,      THE TURN OF THE SCREW,      WINGS OF THE DOVE (DVD)
Notes: The portrait of Henry James may be found on http://www.everywritersresource.com/writingsense/category/pics/page/4/
The photo of the Colosseum is from Wikipedia.