"Will you be my friendly friend forever and ever?"
Set in 1875, this Merch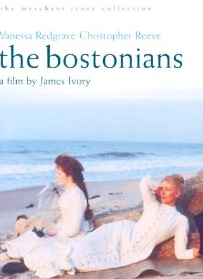 ant-Ivory film focuses on the post-Civil War intellectual community of Boston and Cambridge, bringing to life the suffragist movement, which passionately involved many of its women. Verena Tarrant (Madeleine Potter) is a beautiful and charming young woman who draws large, paying crowds to hear her speak about "the just revolution," which would free women from their second class status. Though Verena describes herself as "only a girl, a simple American girl," her strength as a speaker quickly brings her to the attention of Olive Chancellor (Vanessa Redgrave), an older woman whose dedication to the movement, and eventually to Verena, is single-minded and all-consuming.
When Verena moves in with the overly protective Olive, Olive wants her to promise that she will never marry, but the inevitable happens. Basil Ransom (Christopher Reeve), Olive's cousin, arrives from the south, and is immediately smitten by Verena. Soon Verena must face the conflicts between her loyalties toward Olive and the movement, and her growing love for Basil.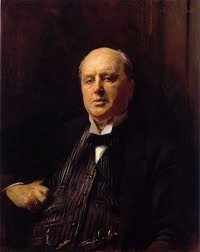 The script by Ruth Prawer Jhabvala, based on the novel by Henry James, brings the passionate commitment of the suffragists to life, and the direction by James Ivory shows the pervasive effects of the movement on both men and women, from Harvard students to elderly matriarchs and pioneering female doctors. The costumes, which were nominated for an Academy Award, and the settings in Boston's Back Bay drawing rooms and shore-side summer homes give a liveliness and reality to the period which James's own intricate, philosophical prose sometimes lacks. Supporting roles by Jessica Tandy, Linda Hunt, Wally Shawn, and Nancy Marchand add power and dramatic intrigue to the emotional tug-of-war for the soul of Verena.
Redgrav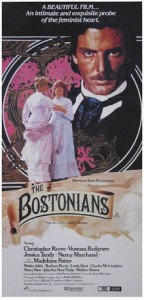 e won an Academy Award nomination for her role as Olive, a woman whose need for the naive and somewhat simple Verena is overwhelming. Her fear of being left alone, her jealousy of the men who court Verena, and her desire to use Verena to advance her own suffragist message are beautifully acted. Madeleine Potter effectively conveys Verena's innocence, her almost child-like nature, and her growing awareness that she has some freedoms that she has never explored. Reeve, with his southern accent, is a bit difficult to understand at times, and his love scenes with Verena are wooden, lacking the spark which would have made them seem real. A fascinating period piece, the film lacks the philosophical depth of the novel but gains greatly in drama.
ALSO reviewed here:  THE BEAST IN THE JUNGLE,     THE BOSTONIANS (DVD) ,      DAISY MILLER,      THE GOLDEN BOWL (DVD),      PORTRAIT OF A LADY,      THE TURN OF THE SCREW,      WINGS OF THE DOVE (DVD)
Notes: The author's portrait may be seen at www.jssgallery.org
The poster showing Christopher Reeve as Basil Ransome is found on Wiki:  http://en.wikipedia.org