"A man who could satisfy a woman's desires that even she was unaware of, who could draw them out from deep within her heart – that was Nishino.  None of which seemed very significant.  Calling on the phone at the desired time.  Calling at the desired frequency.  Using the desired words of praise.  Offering the desired kindness.  Scolding in the desired way.  Things so insignificant that no man could pull them off.  But Nishino did all of these things with ease.  He was detestable – both to men and women."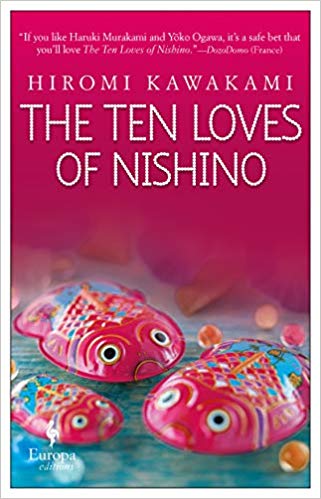 One thing a reader can often count on in a book by Hiromi Kawakami is that her main characters will be independent, but deliberately "ordinary," and that her plot lines will also be unpretentious and solidly realistic.  In this story collection, however, the author blurs the lines between reality and imagination in new ways, drawing the reader further into her plots, themes, and characters. In ten stories about the loves of Nishino, a man whose primary purpose in life is to seduce and "love" the women he meets, author Kawakami introduces his lovers, women who appear to be in charge of their lives, living independently. Their meetings with Nishino, sometimes by accident, are usually the catalysts for change, at least temporarily, and it is usually the women who end the relationships.  Though this sounds as if it might be a feminist theme, Kawakami, a witty and insightful author, also fills her stories with ironies, since the women also become willing victims of a man who, as the lead quotation indicates, does not have to do much to win their approval or even their love – telephoning on time, calling as often as they want, praising them, and being "kind."  Nishino's primary talent is in tailoring his behavior to whatever each woman wants in order to get whatever he needs.  As a result, Nishino is a cipher – someone the reader never really gets to know – though he provides whatever the women seem to want for however long they want it – as long as he is not otherwise occupied.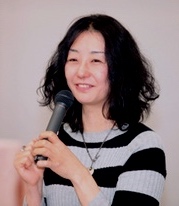 Time shifts throughout the book, and Nishino moves back and forth from being a young man to someone in his sixties, which is his age in the opening chapter.  Here, Natsumi, the married mother of Minami, reminisces about the days when her daughter was seven and she herself was in her twenties.  Natsumi was a decade younger than Nishino when she fell in love and began a three-year affair with him. Whenever she and Nishino went out during the day, they would bring her daughter Minami with them, and her husband never asked any questions.  Eight years after they stop seeing each other, daughter Minami, now fifteen, finally asks her mother to confirm whether she and Nishino were lovers, but Natsumi "no longer knew."  In fact, she says, "I no longer knew whether Nishino and I had been in love, or whether I had really liked him, or even whether or not someone named Nishino had ever actually existed."  That question is answered few days later, when Minami calls her mother from the grassy verge of the garden to tell her mother about  "the shape of someone who seemed like Nishino" who was sitting quietly in the dense weeds. 
In this strangely beguiling scene, Natsumi refuses to come close to Nishino, until he, lying on the ground, reminds her of a promise she made years ago.  This scene, which leads to basic questions about Nishino, also leads the reader to question Nishino's presence in the lives of the nine other women whose memories are relived in the remaining nine chapters of the book. Some of these women feel they have experienced total love with Nishino; others believe that true love cannot exist unless it is reciprocated. Memories, of course, are personal, fragile, and sometimes faulty, and as Nishino's responses to the women's individual needs for love are always exactly what these women are hoping for, the reader cannot help but wonder how much of each additional story is real and how much is imagined.  Some women even question whether Nishino himself is real or simply a ghost from the past.
The second story, "In the Grass," tells of a fourteen-year-old girl, Shiori Yamagata, whose mother left her father, four years ago, and disappeared with another man. Now fourteen, Shiori, has been in middle school with young Nishino for several years, and she is stunned one day to see him in the vacant lot beside her house with a woman who looks exactly like her long-missing mother.  A short time passes, and when she goes to the vacant lot, she again sees Nishino,  engaged in activity she sees as obviously sexual with another woman, twelve years older than he.  Shiori's confusion is somewhat resolved, however, when the woman departs and Nishino turns and kisses Shiori so "fervently" that "from now on, [she] won't be afraid of growing up."  "Good Night," the third story, takes place years later. Manami Enomoto, deputy head of the division of the company they work for, has been in love with Nishino "from the beginning."  She is three years older than he, has worked for the company five years longer than he, and is his superior at work.  She admits to experiencing "Foolish love.  Love that makes you go numb, that paralyzes you, that doubles you over like a wounded animal."  Her love story, which overlaps with her professional life, provides insights into yet another environment of love.
An additional story describes Nishino's relationship with a long-time girlfriend, Kanako, who appears first in "Good Night,"  reappears in "The Heart Races, " and reappears, finally, in "Mercury Thermometer."  Gradually, the love stories develop new angles, with Nishino continuing to inspire love in its infinite variations. One story concerns the love between Nishino and two female roommates; another is a love story in which Nishino joins a cooking club and stuns a woman with his magical ability to "slip so smoothly into a woman's sensibility." Information is revealed about the fate of Nishino's sister, whose early appearance no reader will forget, and Reiko, a writer who truly loves Nishino, shares Nishino's thoughts about death, thereby connecting this story with the opening story.  A strange and elusive collection of love stories on many levels, The Ten Loves of Nishino also raises questions about memory, commitment, and the different environments in which love is possible.  Ultimately, we readers must share the questions a lover asks in the last chapter, "Did [Nishino] ever learn what is on the other side of the expanding universe?  Was he able to live out his life, and to love someone? Did he ever find a place for himself in this relentless world?"  Those questions remain tantalizingly unanswered.
Also by Hiromi Kawakami:  THE BRIEFCASE    and    THE NAKANO THRIFT SHOP
Photos:  The author's photo appears on https://www.wochikochi.jp/
In "Good Night," Manami realizes that Yukihiko Nishino is in love with her when they see the "marionette clock" and discuss the figures on it.  https://kissho-yamanaka.com/

"Night Fishing," a print by Kawase Hasui.  Kanoko, a former girlfriend is spending the night at an inn with Yukihiko Nishino, though she has a boyfriend. It is on this trip that she realizes it is completely over with Nishino.  https://www.trocadero.com

When Tama and Subaru, a former girlfriend of Nishino, meet with him at their apartment, Subaru says that if she had money she'd live next to Osaka Tower. They discuss the old tower (from 1930) which looks like the Arc de Triomphe on the bottom and the Eiffel Tower on top.  http://www.oldtokyo.com
THE TEN LOVES OF NISHINO

REVIEW. PHOTOS. Literary, Psychological Study, Japan

Written by: Hiromi Kawakami

Published by: Europa

Date Published: 06/04/2019

ISBN: 978-1609455330

Available in: Ebook Paperback