"The nightingale is the most important bird in literature.  No mediocre poem without its nightingale, no good poem either.  The nightingale sobs, the nightingale cries, the nightingale toots and whistles.  For hundreds of years, poets have been dining off nightingales….I assume the subject of nightingales has been green-lighted and not censored by the greater part of our current German dictatorships." – Ferdinand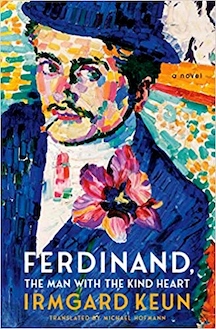 Author Irmgard Keun firmly established her reputation in Germany in 1932, with the publication of the hugely popular pre-Nazi era novel, The Artificial Silk Girl, a celebration of youth and the fast life lived to its fullest.   In 1950, almost a generation and a world war later, Keun published Ferdinand, The Man with the Kind Heart, depicting the aftermath of the war and the separation of Germany into two nations, East and West.  "Ordinary" citizens of this time and place do not know what to expect in the future, what goals make sense in this destroyed society, and how to live a real life.  These are some of the very real goals of main character Ferdinand Timpe.  A former POW and fiancé of a girl who is almost a stranger to him, Ferdinand himself is not intrinsically very interesting, but author Irmgard Keun is such a high-powered, energetic writer, so wild in creating scenarios filled with irony, humor, and constant surprises, that once a reader starts exploring her novel, it becomes all-encompassing.  Her tornado of images and actions never lets up, bringing even Ferdinand to reluctant life.
As the novel opens, Ferdinand has just been hired to write an article for Heinrich, editor of "an apolitical weekly paper called Red Dawn," which has yet to produce a single issue.  Ferdinand, after obtaining a 50-mark advance, then begins to explore some of the subjects he could write about – even including nightingales, though he knows nothing about them.  Still, "the daily press likes it when authors write about a thing of which they have no knowledge.  Profound ignorance persuades great circles of readers." While considering a subject, Ferdinand catches a pickpocket who is trying to rob him.  When he lets him go, his cousin Magnesius cannot understand why.  For Ferdinand, people all over the world have been trying to destroy him, with big and small bombs, atom bombs, death rays, poison gas and other vileness.  At this point, he even feels guilty about disappointing the pickpocket.  He wonders if he should write an article about Magnesius, who is working with "non-ferrous metals," then decides not to because "by his existence or the mere account of it, Magnesius could make militarists even of those who hated the war as much as the voice of their sergeant majors."  He then goes on to consider writing about actresses, animals (though the cockroach is the only one he knows well), a love story, or a story about barns.
Subsequent chapters focus on several repeating characters, one of the most intriguing of whom is Johanna, a cousin, who has had an unknown number of marriages and relationships and who is now trying to convince a young man named Anton to be her "first true love."  Ferdinand's large family of seven or eight brothers and sisters, in addition to parents, numerous cousins, aunts, and uncles, provides an unlimited number of associations and stories within stories here, to the point that Ferdinand can only dream of solitude.  He reminisces about the POW camp where he was held and tried to appear cheerful and comradely to others, "but privately my thoughts were tangled and ugly.  My only comfort was the hope that I was just as infuriating to others as they to me. And I always, always wanted to be alone."  To escape, he imagines "a little room attached to a balloon high up in the sky, [with] a bed with me lying on it," along with a few essentials – drinks, cigarettes, and food.  He even imagines staying up there for weeks on end, and regrets that at the present that's impossible – he has a fiancée, Luise, who seems as ambivalent about him as he is about her.  He knows that if he is to obtain the solitude he desires, he needs to find another suitor for her.
Ferdinand has had many jobs, from an electrician to pub chef, tailor, car mechanic, actor, swimming teacher, ice-cream salesman, designer of rock gardens, breeder of canaries, cow milker, and ladies' hair stylist.  His happiest time, however, was as a bookseller in the old city of Cologne, where he inherited the bookshop and stamp collection of an uncle before the war, and where he tried to live as his uncle did – as a hermit.  During the war, however, Cologne was heavily damaged, with ruins all over the city now, and the bookshop is destroyed.  Moving to Bonn, he becomes a "cheerful adviser" for a business which specializes in the occult, clairvoyance, dreams, and even podiatry.  He has his own office and becomes an expert in offering advice on virtually any subject, concluding that "most of my female customers haven't come to me for advice at all, but for some affirmation of their good points [or] to dump their emotional garbage and use me as a type of human dustbin."  This gem of a chapter gives a view of life from several points of view in the postwar era, focusing on the love stories and needs of both women and men, and when his cousin Joanna comes to talk about her love for Anton, another story unfolds.
This book never quits, with non-stop characters, action, and observations about life, often satiric on the part of the author, though sincere on the part of the innocent main character.  Clearly reflecting the author's own character, independence, and refusal to accede to the powers of Nazism, her earlier novel, The Artificial Silk Girl (1932), is said to be for pre-Nazi Germany what Anita Loos's Gentlemen Prefer Blondes (1925) has been for Jazz Age America, celebrating everything the growing Nazi leadership rejected.  When her books were banned and confiscated and her own life became endangered in 1930s Germany, she left the country, living under another name in other European countries.  She then faked her own suicide and returned to Germany in 1940 under a false name, living there, undetected, until 1945.  In 1950, when she published this novel of Ferdinand, she used Ferdinand as the icon around whom the still very real cultural and social conflicts in Germany revolved.  The novel speaks for itself.  There are no nightingales here.
ALSO by Keun:  THE ARTIFICIAL SILK GIRL (1932)
Photos.  The nightingale photo appears on https://www.economist.com
The balloon with a room below, a place of total privacy, is an image which tantalizes Ferdinand.  https://www.pinterest.com
Ferdinand loved the bookshop with philatelic collection in Cologne which his uncle left to him, his favorite occupation ever.   https://stampauctionnetwork.com
The photo of Irmgard Keun, taken when she was twenty-six, is found on https://www.welt.de
The Cologne ruins, 1953:   https://www.ebay.com/i/202806606367?
FERDINAND, The Man with the Kind Heart

REVIEW. PHOTOS. Book Club Suggestions, Germany, Historical, Humor, Satire, Absurdity, Literary, Social and Political Issues

Written by: Irmgard Keun

Published by: Other Press

Date Published: 12/08/2020

ISBN: 978-1635420357

Available in: Ebook Paperback