"[My mother] thought anyone who was educated was unnecessarily difficult.  An idler, a know-it-all, a hair-splitter.  But I believed that the greatest knowledge lay in words…facts, stories, fantasies…What mattered was being hungry for [words] and keeping them close for times when life got complicated or bleak.  I believed that words could save me." – Trina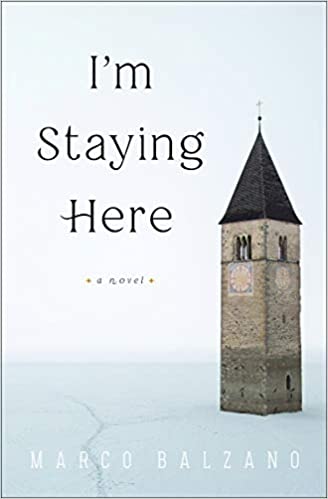 Set in tiny Curon in Italy's South Tyrol, Marco Balzano's latest novel brilliantly dissects the effects of words on individual lives, communities, and ultimately countries, and does so without even a trace of affectation or pretension.  Here the author tells a dazzling history, and he does so by keeping things simple, letting the action tell most of the story, and keeping his characters and their problems very real.  In 1923, Curon, situated near the head of the Adige River, about ten kilometers from the meeting point of Switzerland, Austria, and Italy, is part of an autonomous Italian province in the northern mountains.  The hardworking farmers and herders of Curon do not speak Italian, however – they have always been German speakers.  When Mussolini becomes prime minister in Italy in 1922, Italian suddenly becomes the required language for the entire area, and the requirement is rigidly enforced.  Curon changes from being a German-speaking village in Italy, to a very reluctant Italian-speaking village under the control of the fascists.  Years later, when Mussolini ultimately loses power and Hitler and his Nazis intrude, however, the village returns, once again, to speaking German.  Language here becomes a primary weapon used by both the residents and the fascists in their attempts to control Curon, its geography, and its people, over the years, and by the time the novel ends, in 1950, all aspects of society have changed.
In straightforward language, speaker Trina describes her life in Curon, beginning in 1939, when she is almost forty, and flashing back to the 1920s, composing a vivid letter to a missing daughter about life in Curon from the spring of 1923 forward.  It was in that year that the fascists marched on Bolzano, the biggest city in the South Tyrol, burning public buildings, beating residents, renaming buildings and streets, Italianizing people's names, and even changing inscriptions on tombstones.  Trina and her friends have just graduated from high school in Curon, and have no idea of what they will do for jobs.  The fascists have occupied the schools, town halls, post offices and courts throughout the area, and "nothing is ours anymore."  Most importantly, the Italians under Mussolini now plan "to get the [Curon] dam project going again," taking advantage of the river's current to produce energy.  Originally proposed in 1911, the dam, as planned, will drown their farms, churches, workshops, and pastures, but it will allow the fascists to turn Bolzano and Merano, the two largest cities in the province, farther along the river, into industrial centers.
In the meantime, the residents try to survive their immediate issues, and when a local priest suggests that new graduate Trina consider teaching young children, Trina is happy to do this – primarily to impress Erich, an orphan who works for her father.  Her teaching is done in secret, at night, and in German, and classes are held in a cellar-catacomb, hidden from their fascist rulers.  After Erich is severely beaten and disfigured with knives, she and Erich decide to marry quickly.  Time becomes compressed, and over the next few years (and pages), Trina has two children, daughter Marica, and son Michael.  Many friends escape Mussolini's threats and punishments by resettling in Germany, and when Germany annexes Austria, Erich's sister and brother-in-law come from Innsbruck to visit to try to persuade them that they should all join in escaping to Germany.  Erich and Trina, however, plan to stay at their almost desolate farm, and are publicly ridiculed and mocked.
Part II dramatically incorporates the war years, a time in which the plans for the dam on the lake and river expand and become priorities for the fascists.  When war is declared, Erich, like other men his age, is drafted and sent to Albania, then Greece, leaving the flocks in Curon to be tended by the elderly, as Trina and Michael do the best they can to keep the farm alive.  Still teaching informally, Trina notes that even language has changed.  Where once the valley might have become a crossroads for people who tried to understand each other, now, "Italian and German were walls that grew higher and higher.  By now, the languages had become racial markers.  The dictators had turned them into weapons and declarations of war."  An injury leads to Erich's return to Curon from war, and eventually he and the family go up into the mountains to avoid the German soldiers, finding refuge with several other families who are also escapees.
Part III concerns the return of Trina and family to Curon after the war is over.  By this time, nothing remains the same, and words do not help.  Worst of all the changes is the dramatic forward progress made in the building of the dam, and the specific plans involving their farm.  The site manager, "the man with the hat," answers their questions, and the Curon Town Hall does hire a lawyer to help them.  They also consult the priest and get a meeting with Pope XII.  In all these cases, too, words do not help them, and actions of sabotage do not succeed.  As the water rises higher, Trina realizes that her only alternative now is to accept the inevitable.  "It took almost a year for the water to cover everything," she notes.  "Slowly, inexorably, it rose halfway up the bell tower, which from then on looked out over the rippled surface of the water like the torso of a castaway."  In simple, clear language, author Marco Balzano has created a gem of a novel which deals with essential themes related to power and compromise and choices and the ways people address the future – with words or with actions, or both.  Words between individuals were not enough to solve the complex problems of Curon and authoritarianism, but they are preferable to war and bloodshed, and the bell tower of Curon, emerging from the water of Lake Resia, is a permanent visual reminder – at least for now – that times change, people change, and the power of words must always be in the forefront if society is to be "civilized."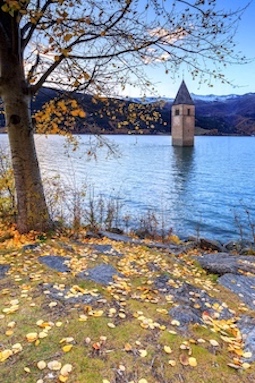 Photos.  The author's photo appears on https://1.brf.be
The cellar/catacomb similar to where Trina taught children in German is found  on https://alchetron.com
A rare photo of the construction of the dam at Lake Resia and the Adige River:   https://wikimapia.org
Pope XII, who met with Erich and some anti-dam residents:  https://en.wikipedia.org
The bell tower, dating from 1357, remains as a symbol of what was lost when the dam was built.  https://dissolve.com
 

I'M STAYING HERE

REVIEW. PHOTOS. Book Club Suggestions, Historical, Italy, Literary, Psychological study, Social and Political Issues

Written by: Marco Bolzano

Published by: Other Press

Date Published: 12/01/2020

ISBN: 978-1635420371

Available in: Paperback