Note:  This collection was WINNER of the DSC Prize for South Asian Literature, the first time a book in translation has won this prize.  Translated from the Kannada by Tejaswini Niranjana.
"On working days, the parking lots were full of vehicles and crowded with street vendors, but today the same space looked wide and bright and new.  It was as though the bustling city had put on an undershirt and was sitting quietly by itself in a private domestic moment."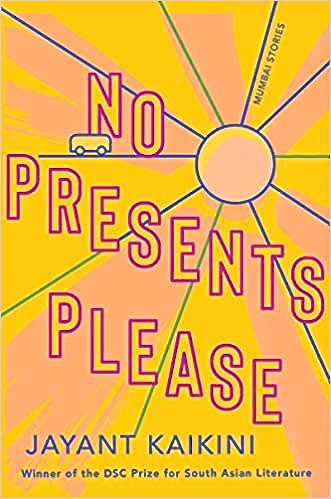 Everything I have learned about Mumbai, over the years, I have learned from books, but this is the first time that I have ever felt that I have been given real insights into the nature of this dense and vibrant city and its multitudes of people of all cultures.  Author Jayant Kaikini, who obviously loves Mumbai, presents dozens of characters who live their lives on these pages, sharing their inner thoughts with the reader, living through often stressful moments, and supporting their friends in times of difficulty.  His characters are so fully drawn and so "human" that many readers will simply sit back, settle into their reading, and let the stories tell themselves – as if socializing with a group of friends – however different the characters' lives and conditions may be from our own.  As their stories develop and relationships begin to intensify or fray, as in real life, the reader may find that sometimes there is no complete closure to conflicts or a totally satisfying "answer" to the fates which may be guiding these people.  Author Kaikini, however, provides enough information that readers will appreciate the choices available to the main characters and feel secure enough to draw their own conclusions, when necessary.
Always reflecting a kind of warmth and acceptance toward his people as they share their intimate thoughts with the reader, Kaikini focuses on the subject of marriage in the first two stories. "Interval" opens with Nandu, a young, new resident of the city, working at a cinema where he and the other attendants sleep overnight.  Working hard to keep the place clean, they have little time to themselves, but they have jobs and can, at least, afford to eat. One night he sees a young woman, Manjari, running in and out of the theatre, before she finally tells Nandu that she is trying to find her missing purse.  He finds, saves, and gives it to her the next day, and they begin an almost silent relationship.  At one point, however, he steps up and buys her some ice cream, something she does not offer to share with him, happily accepting a second serving, which she also devours alone.  Both Nandu and Manjari are unhappy with their living conditions, their relentless hard work, and their lack of warm family relationships. Ultimately, one of them suggests that they run away together, an unexpected possibility which leads to an unusual and surprisingly satisfying ending.
A second story,  "City Without Mirrors," continues the marriage theme, describing the life of Satyajit, a single man of forty who is so reserved that he prefers to live alone, saying when someone teases him about not being married, that he is "married to this city.  Where's the space for another relationship?"  When an old man, a stranger, trudges up to Satyajit's third-floor flat, he comes with a proposal of marriage between Satyajit and the man's daughter Shalini, who is also about forty.  Neither Shalini nor Satyajit have ever met.  A seemingly unrelated interlude involving a sad and tattered ten-year-old boy, who appears to be a runaway looking for his father, establishes the misery of children on their own, and, importantly, gives Satyajit a new way to look at the question of marriage, the plight of the old man's daughter Shalini, and the outcome.
Some stories overlap.  "A Spare Pair of Legs"  is the story of a distressed family from Goa who have a six-year-old son, Chandu, who is totally out of control.  He beats up his schoolmates, attacks his teacher, pees into a pot of saaru being prepared for a wedding reception, and even holds down an infant in a bucket of water.  His parents are at their wits' end, beating him and even taking him to the police to be yelled at.  His one friend is a legless man on the street who always greets him with pleasure.  Desperate, his parents finally decide to put him in a "remand home" in Mumbai, eventually making arrangements for the long journey there to leave him until he learns to behave. While in Mumbai waiting for the trip to the remand home, Chandu sees, for the first time, the kind of life led by other boys his age, orphans totally on their own within the city.  Impressed by how "brave" these boys are, he wishes his teachers and acquaintances in Goa could appreciate their independence, especially one particular boy, Popat, who has been friendly with him in Mumbai.  Then an emergency gives Chandu a chance to use his own talents to save a man's life, and, ultimately, his own.
Chandu's orphan friend, Popat, from Mumbai later becomes the main character of the title story, "No Presents, Please," at the end of the collection, which takes place more than fifteen years later. Popat and his girlfriend, also a street orphan, are planning their wedding.  As they deal with issues such as the fact that they have no parents whose names can be on an invitation, and, in fact, do not even know their own real names, they also raise issues of caste for the first time in this collection.  Just how much of human value they have learned from their lives on the street, as they talk about marriage and their feelings for each other, provides an inspiring end to the collection.
Presenting a broad picture of daily life in Mumbai for those who must make their own way – often from childhood – author Kaikini shows the inherent thoughtfulness, kindness, and care which these neediest of young people have for each other. No trace of self-pity arises here as the characters must often change their plans, find new directions for their efforts, and experience satisfaction within the narrow limits of their environments and lives.  Written between 1986 and 2006, these stories reflect inspiration and hope for the future, and readers of this unforgettable collection cannot help but be inspired and hopeful along with them.  When Kaikini's more recent stories become available, I hope they will be as positive. 

Photos.  The photo of the old Regal Theatre in Mumbai appears on  https://www.bachilleratocinefilo.com
The Kennedy Bridge, a landmark that appears here several times is from https://www.flickr.com/   Photo by Anannya Deb.  May 6, 2012
The children's remand house may be found on https://www.livemint.com
For some wealthy weddings, the groom rides in on a horse, as discussed in an earlier story, but Popat and his bride do not even consider this.  https://www.pinterest.com/
The author's photo appears on https://bangaloreinternationalcentre.org
NO PRESENTS, PLEASE

REVIEW. PHOTOS. Historical, India, Literary, Social and Political Issues

Written by: Jayant Kaikini

Published by: Catapult

Date Published: 07/28/2020

ISBN: 978-1948226905

Available in: Ebook Paperback