"What the foreigners did among themselves had nothing to do with her…They were animals in their hearts, untouched by the grace of Lord Buddha and his bodhisattvas, touched instead by something subtly demonic and alien.  Even their kindnesses were odd.  They existed in a prison of their own making, and she entered that prison only to make a living." – Goi, a maid at the Glass Kingdom.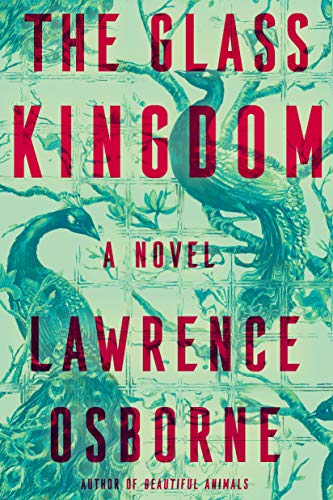 The Glass Kingdom, a large high-rise community in Bangkok, has seen better days.  A once-fashionable community built in the 1990s, consisting of four towers connected by glass walkways, gardens, and a swimming pool, the Kingdom today is "a corner of upperclass affluence hidden within a forgotten ruin."  The original atmosphere and ambiance have been altered over the years by military coups and counter-coups, and the area surrounding the Kingdom is a constant construction site with poor drainage, sluggish fountains, and local police known for "their enormous indifference to crimes and punishments."  Mrs. Lim, "the landlady," and her recently deceased husband were once owners of the entire site and all the surrounding land, but like the Kingdom, which is far less elegant than it once was, Mrs. Lim's life, too, has changed for the worse.  Into this scene comes Sarah Mullins, now using the name of Sarah Talbot Jennings, a thirty-something American who left New York just a week ago, with newly dyed white-blonde hair, blue contact lenses, and an intention of making herself "invisible" in Bangkok.
Though Sarah is the main character, she is by no means a heroine, nor is she an insightful long-term planner.  She often makes major mistakes in her life.  While in her twenties in New York, she was a great admirer of elderly novelist April Laverty, with whom she managed to finagle a job as her assistant.  When the eighty-five-year-old Laverty developed problems with mental clarity and memory, Sarah  began to take advantage of her.  Ultimately, she learned to duplicate Laverty's handwriting and style, and when a collector of memorabilia in Hong Kong offered a high price for twenty-eight letters written by Laverty, Sarah became the seller of those letters on Laverty's behalf.  Unable to resist temptation, however, Sarah also included forty short letters to famous people which she wrote herself in Laverty's style and handwriting.  After flying from her home in New York to Hong Kong to conduct the sale, she deposited the money from the real letters to a bank account in Laverty's name, but kept the larger sum paid for her forged letters – two hundred thousand dollars – for herself. Already in Hong Kong, she then decides to abandon her home in New York and take off for Bangkok, where she quickly establishes residence at the Kingdom.
There Sarah tries to remain aloof and avoid questions, but she soon becomes friendly with Mali, a woman whom she meets at the pool.  Mali claims to be a single woman and the assistant to a financial manager.  Drinking from a thermos of gin and tonic at nine a.m., Mali invites Sarah to join a group with whom she sometimes plays poker, each person bringing her own bottle and any other "spirits" she might want.  There Sarah meets Ximena, from Chile, who is working as a chef at an elegant French restaurant, and Nat, a forty-year-old married woman who lives in the penthouse with her husband and works as hotel manager at a local Hilton-Marriott.   The poker game, accompanied by both alcohol, joints, and speed, leads to incautious revelations by Sarah, and doubts about her overall story arise among the other women.   Sarah continues to meet Mali regularly for gin and tonics and croissants before their nine-o'clock sessions at the pool, and they begin to shop together at elegant boutiques nearby. Though Mali has figured out that Sarah is "making herself up day by day," Sarah is discovering that Mali is not telling the whole truth, either.
Having established the characters and their values – or lack of them – author Lawrence Osborne freely shifts points of view back and forth among them, establishing in more detail the atmosphere of the Kingdom and of Bangkok, though he never gives an exact date for the action.  There have been several financial crashes, and Bangkok has developed into a "money-laundering machine."  Military coups in 2006 and 2014 have led to tightened military control, even as students from a nearby university are protesting and facing brutal counter-reactions from the police.  Most residents at the Kingdom believe that their high "connections" and the army will protect them.  Nervous from occasional bombs going off and the general turmoil, Sarah is concerned about the fact that the only "safe" place she has to store her ill-gotten fortune is in a suitcase under her bed, and she is not sure about the maid, hired through Mali, especially when she learns that the maid is stealing small things from other apartments and apparently has access to all the residences.
The book eventually veers away from its study of everyday life at the Kingdom and the specific social and political issues related to it when a shocking murder takes place there.  Sarah is implicated in several different ways, as she tries to help a friend, but the succeeding action shows just how carefully her much smarter friend has set up the murder scene and all its details to divert attention from herself to Sarah.  Because the focus of the novel has been primarily on the Kingdom in general, the individual characters do not inspire much self-identification on the part of the reader, but the conclusion, when it happens, is, at first shocking. Later, the reader realizes that the horrors are all integral to life in the Kingdom and the people who have been attracted to it.   Ultimately, an omniscient narrator steps in on behalf of the now broken "glass Kingdom," declaring that "like karma, life itself always went on, unending and unfair in equal measure, like all things that have been ordained and yet are impossible to see in advance."
Photos.  The author's photo appears on https://www.irishtimes.com
The EmQuartier, an elegant shopping area in Bangkok.  https://www.airbnb.fr
Thailand's Grand Palace, a place Sarah visited with Mali.  https://commons.wikimedia.org
The skeleton flower is a white flower which turns transparent when it rains.  It appears on a neighboring balcony when Sarah finds out about the murder.  https://www.ebay.com.au
 

THE GLASS KINGDOM

REVIEW. PHOTOS. Literary, Mystery, Thriller, Noir, Psychological study, Social and Political Issues, Thailand

Written by: Lawrence Osborne

Published by: Hogarth

Date Published: 08/18/2020

ISBN: 978-1984824301

Available in: Ebook Paperback Hardcover