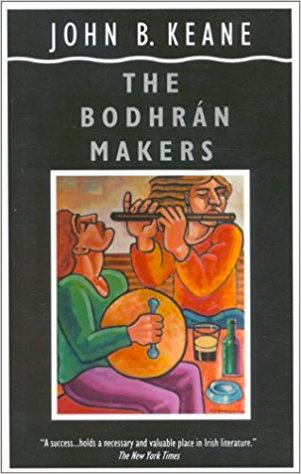 The "clan of the round collar" challenges "wrendance" traditions of rural Irish village.
With the liveliness of a stepdance and the simplicity of a Dingle Peninsula landscape, John B. Keane introduces us to the harsh life of the close-knit community of Dirrabeg, a community facing extinction in the mid-1950's. Many of the young have left for England or America, where there are opportunities and chances for secure lives. Those remaining behind love their land and their independence but fear for the future as the bogs get thin, the yields are poor, and the children have little hope of success. For Donal Hallapy, devoted father of a large family, times are very tough.
Hallapy is a bodhran player, however, an expert in the ancient drums of his Celtic forebears, a musician in great demand whenever the once-a-year wrendances take place, all-night singing and dancing hooleys which can be traced back to pagan times. This paganism, the secret nature of the celebrations, the drinking that takes place, and the fact that the church has no control over them has made them anathema to "the clan of the round collar," in the person of Canon Tett, an ultraconservative and downright sadistic priest determined to bring the free spirits of Dirrabeg to bay by ending the fun of the wrendances.
The prose is straightforward and earthy, the dialogue salty and realistic, and the interactions of the characters so natural that one can share the joys and sorrows, the humor and anger, and the frustrations and all-too-brief personal satisfactions. The natural world, which is exquisitely described, even in its harshness, takes on almost human dimensions, influencing the action directly, while providing a vivid canvas upon which the contest between church and village is played out. The humor is broad, almost slapstick, but tempered by an overarching feeling of melancholy and impending doom. Though some may find the clergy to be caricatures and the message a bit too didactic, Keane provides us a rare glimpse of the last days of a now-vanished world.  (Reprint of my Amazon review from 2009.)
Photos.  In the author photo, Keane is seen at his bar in Listowel, Kerry.  https://www.facebook.com/JohnBKeane/
The Irish bodhran is seen in a video here:  https://www.youtube.com/watch?v=z2XzyQwXnj8