Note:  Patrick Modiano was WINNER of the Nobel Prize for Literature in 2014.  This novel, Modiano's debut, was WINNER of both the Prix Fénéon and the Prix Roger-Nimier in 1968, when the author was twenty-two.
"In June 1942, a German Officer approaches a young man and says, 'Excuse me, monsieur, where is the Place de l'Etoile?' The young man gestures to the left side of his chest."—epigraph to La Place de l'Etoile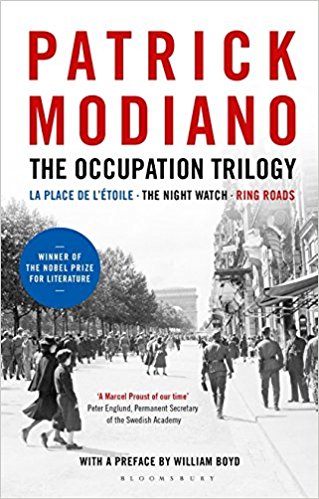 When Patrick Modiano won the Nobel Prize for Literature in 2014, he had been a huge literary success in his native France and throughout Europe for decades. Almost none of his novels were available in English, however. US and UK publishers immediately accepted the challenge to provide translations in English, especially when the sudden popularity of these novels in England and the United States created a completely new literary market. Most of Modiano's writing is now available, but until recently, Modiano's debut novel, written when he was just twenty-two years old, was unobtainable in English. With Bloomsbury's publication of The Occupation Trilogy – one volume containing Modiano's first three novels: La Place de l'Etoile, his debut novel, written when he was twenty-two; The Night Watch, written when he was twenty-three; and Ring Roads when he was twenty-six – those novels are now available in both hardback and paperback. For readers who have become fans of Modiano, this trilogy will answer many questions about Modiano's early life and career, expanding what readers have already gleaned from his other semi-autobiographical novels about his unconventional upbringing and his alienation from his parents.
Lovers of Modiano's work have probably already read his Suspended Sentences, the most revelatory of his titles in terms of his parental situation and his early schooling. Modiano, at age ten, and his brother Rudy, a couple of years younger, were completely interdependent upon each other at that time. Their mother, an actress who performed all over the world, had been missing from their lives for years, and their father, a Jew who co-operated with the Gestapo during World War II and who was engaged in black-marketeering in the aftermath of the war, often lived abroad. When Patrick and Rudy were still in primary school, their father turned them over to a group of circus acrobats who lived near an abandoned chateau, which Modiano and his brother sometimes explored. Young Patrick's father occasionally appeared at that abandoned chateau for late night, secret meetings with his gang, thought to have been the Rue Lauriston gang, while the acrobats, responsible for the boys' welfare, did the best they could to care for them, under the circumstances. The arrest of the acrobats for criminal activity and the eventual disappearance of Rudy from his life leaves Patrick Modiano emotionally destitute. In boarding school as a teen, his exceptional literary skill brings him to the attention of author/educator Raymond Queneau, who then becomes his mentor. Still, lacking a mother and father, Modiano is on his own for nearly all of his education and cultural learning.
La Place d'Etoile, Modiano's debut novel at age twenty-two, explodes with the pent-up creative energy of an immature but sensitive young man, highly educated in literary traditions but perhaps naive about the implications of some of the philosophies he espouses. Within a maelstrom of wild activity, Modiano creates a narrator, Raphael Schlemilovich, a young Jew turned Nazi sympathizer, who quickly reveals himself as unreliable as he espouses his ideas, lives or imagines a life for himself, explores literary movements, travels, and draws conclusions based on his (very) limited personal experience. All these ideas and many of the (real) people the main character mentions here existed in the waning days of World War II in which much of France was cooperating with the Gestapo and punishing their own citizens for believing in freedom. Modiano was born just after this period, and he has always believed that his own problems regarding his father, his father's association with the Gestapo and black marketeers, and his father's disinterest in his own life originated somehow during the war years, before he himself was even born.
Dedicating this debut novel to his brother Rudy, as he did every novel he wrote for the next fifteen years, Modiano describes his speaker, Rafael Schlemilovich, as definitely "not a son of France with a grandmother who makes jam," further saying that as a child Schlemilovich had a governess, belonged to the Pony Club, played polo, and possessed a salmon pink Maserati and yachts on the Sea of Galilee. Claiming that society columnists praised his writing, even comparing him to F. Scott Fitzgerald as "the young Gatsby," Schlemilovich befriends other Jews who are collaborators with the Gestapo, praises those who traffic in gold, "trades butter for sapphires," and decides that he will be the greatest Jewish French writer since Montaigne, Proust, and Celine.
Time in this novel is flexible, to say the least, and the truth about the speaker is even more flexible. He claims to have inherited a large amount of money from an uncle who lives in Venezuela, to have bought a yacht and converted it into a brothel, and to have traveled widely, using false names. He dreams of becoming a teacher and insists that he is six feet, six inches tall. He also says that he has been put in charge of the procurement (and kidnapping) of high class women to work in the sex trade. Asserting also that he has been a longtime lover of Eva Braun, he indicates that he has traveled to Poland, Vienna, Istanbul, Egypt, and Palestine, laundering counterfeit money and trafficking in gold.
Filled with the kind of imagination which young writers delight in exploring, Modiano here "lets things fly," creating one of the wildest debut novels I've ever read as he obviously imagines himself in the role of Schlemilovich, committing every crime, betraying anyone who crosses him, and acting on every resentment that a talented, but personally neglected, twenty-two-year-old author might harbor against the rest of the world. Modiano does, however, reveal much from his own life through the voice of his narrator – his love of writing and fine literature, his difficulties with an absent father and equally absent actress mother, and his enduring sense of irony and, remarkably, his  humor.  It is through these qualities that a sense of reality does intrude within the obvious fantasy of this picaresque and out-of-this-world novel. Fans of Modiano (and teachers of writing) will especially love this entrée into the mind of a very young man with big ideas who grew up to win the Nobel Prize for Literatur
ALSO by Modiano: AFTER THE CIRCUS ,     DORA BRUDER    FAMILY RECORD,      HONEYMOON,     IN THE CAFE OF LOST YOUTH,     (Patrick Modiano and Louis Malle–LACOMBE LUCIEN, a screenplay,      LITTLE JEWEL,     PARIS NOCTURNE,     PEDIGREE: A Memoir ,       SO YOU DON'T GET LOST IN THE NEIGHBORHOOD,          SUCH FINE BOYS,    SUNDAYS IN AUGUST,     SUSPENDED SENTENCES,   VILLA TRISTE,     THE NIGHT WATCH (Book II of the Occupation Trilogy),     RING ROADS (Book III of the Occupation Trilogy)        SLEEP OF MEMORY,    YOUNG ONCE
Post-Nobel Prize books:  SLEEP OF MEMORY (2017), INVISIBLE INK (2019)
Photo credits:  The photo of young Patrick Modiano appears on https://www.newstatesman.com/
A dilapidated, abandoned chateau, similar, perhaps, to the one in which Modiano's father met with blackmarketeer comrades may be found on http://www.messynessychic.com
Eva Braun, Hitler's mistress, is shown here:  http://www.evabraun.dk/evabraun1.htm
Patrick Modiano, photographed a few weeks after winning the Nobel Prize or Literature, is from https://en.wikipedia.org/wiki/Patrick_Modiano
LA PLACE de L'ETOILE (Book #1 of the OCCUPATION TRILOGY)

REVIEW. PHOTOS. Nobel Prize, Experimental, France, Historical, Literary, Psychological study

Written by: Patrick Modiano

Published by: Bloomsbury

Date Published: 05/18/2017

ISBN: 978-1408867907

Available in: Ebook Paperback Hardcover