"I was still young when I lived with her and in many ways depended on her, even as a woman; she cooked and cleaned for us, she patched Antal's clothes.  But now she can't see that I have fully grown up and don't need to be mothered.  She has aged and grown weak, she needs support and advice.   If I want her to be happy with me I have to pretend to be a child."  Iza Szocs discusses her mother.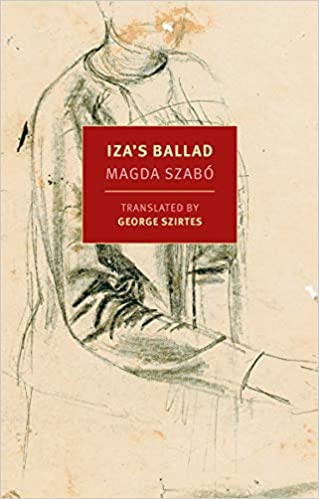 Few authors convey the inner thoughts of characters with the insight and sensitivity of Hungarian author Magda Szabo, and this novel may be one of her most insightful.  Setting the novel in Hungary in the 1960s, the novel is surprisingly non-political, though the failed revolution of 1956 against their Soviet occupiers is a recent memory for her characters.  The novel, dealing with the subject of love and how one expresses it, focuses not on one main character, but on four main characters, two men and two women of different generations and commitments.  Creating a novel which is almost totally character-based, Szabo uses the plot primarily to provide incidents which reveal character.  Ettie (whose actual name is not mentioned for almost the entire book) is an elderly homemaker who has been a devoted wife of Vince, and mother of Iza. Vince, a magistrate with a conscience, ran afoul of the communist government and was blacklisted, unable to work in the legal field for many years before his death.  Though the family struggled in every way, Ettie's own background in poverty allowed her to be supportive and resourceful in helping to keep the family secure.
With the death of Vince, wife Ettie might have come into her own as a personality, something she sets out to do in creating a cemetery monument to her husband Vince, but daughter Iza soon decides to become heavily involved in "helping" her mother in her day-to-day life.  Iza, a super-conscientious physician works late and stresses over her patients and over the life of her mother, and she cannot bear the thought that her mother is alone.  She decides that moving her from her life-long village to Budapest, where Iza works, would solve a lot of problems, and their relationship becomes the major crux of the novel's action.  On a parallel track with Iza and Ettie are Anton, Iza's former husband, a physician who has left the marriage unexpectedly, and Lidia, a nurse, whose kindness and sensitivity are crucial to Vince when he is in the hospital on his deathbed.  As the separate, and eventually combined, lives of Anton and Lidia unfold and often interact with the lives of Ettie and Iza, the values and relative sensitivity of all four main characters can be seen, compared, and contrasted as they deal with personal issues of love.
Overlaps among characters make scenes come alive and comparisons clear. In one key scene, for example, as Vince is dying, Ettie goes to visit him in hospital. Ettie fears that Vince "would leave her without a word, that he might cast his terrified conscious eyes on her one last time and, after having dozed off with pain or with the assistance of drugs, his thoughts might turn to silent accusation or complaint." Lidia is with Vince when Ettie arrives, and she leaves when Ettie enters, something Ettie finds strange – as if Lidia was "without sense that she was part of this."  When Lidia returns to the room, it bothers Ettie "having a strange pair of eyes on her so she turned her back."  When Vince eventually speaks, Ettie insists he is calling for water, and she was "rejoicing because the nurse didn't know what to do and it was only she who could hear Vince's words."  She demands water for Vince and resents Lidia's refusal to respond.  Ultimately, Lidia informs her that Vince did not want water – "he wanted, his daughter Iza."
The mystery of Anton, Iza's former husband, pervades the novel, and when he offers to buy the village house which had been owned by Ettie and Vince, and where Iza grew up, Ettie is thrilled, feeling that even though "Antal, it is true, had abandoned them…in some ways he did belong here," even after the end of his marriage to Iza.  For Ettie, the idea of having someone she knows living in her house is a blessing because she believes that he will take care of it and some of her favorite possessions in ways that she will approve.  He will also take care of Vince's dog. Eventually, the story of Antal's sad childhood, schooling, and eventual courtship of Iza emerges, and the contrasts between his early life and his later life with Iza, Ettie, and Vince become clear.  The shared professions of Iza and Vince and their later desire to create a spa/sanatorium give them much to do, and when Antal eventually decides to leave Iza, the reader has enough information about his real emotional life and needs to understand completely why he does so.
Throughout, the details of the move of Ettie to the city and the tensions that evolve between Iza and her mother as a result, become more and more obvious.  Each tries to do what is "right," but so many gaps exist in their understanding of each other, based, in large part on their very real differences in background, history, personality, and generation, that their connection becomes frayed. Iza's new boyfriend Domokos becomes especially helpful to her during one emergency which also involves Antal, Lidia, and Gica, a helper in the village.  All have opinions of Iza, and as the book moves to a conclusion, so, too, does the reader. It is in this section in which the song/poem, Iza's "Ballad," important enough to have become the title of the novel, is quoted, explained, and presented with dramatic irony, an image which no reader will forget for its impact and insights into Iza and the characters around her.  Presented honestly and personally, author Magda Szabo creates her characters and their stories, giving them additional depth and universality by organizing them into four parts – Earth,  Fire, Water, and Air, as she tells their stories of elemental love.
ALSO by Szabo:  ABIGAIL    and   THE DOOR
Photos.  The author photo appears on https://www.alamy.com
The stork on thatched roof is from https://www.bigstockphoto.com
The photo of the old National Theatre may be found on  http://old-time-budapest.blogspot.com   That theatre has since been razed.
The statue of Sandor Petofi appears on https://www.featurepics.com
IZA'S BALLAD

REVIEW. PHOTOS. Historical, Hungary, Literary, Psychological Study

Written by: Magda Szabo

Published by: New York Review Books

Date Published: 10/18/2016

ISBN: 978-1681370347

Available in: Ebook Paperback