"You must tell absolutely no one," [her father] said, addressing her not in his usual tones but as to a soldier receiving orders.  "I will take you to visit Mimó, but there will be goodbyes to no one else – not your girlfriends, not your acquaintances, not even the domestic staff.  You will never mention the fact that you are leaving Budapest.  We'll shake hands on that."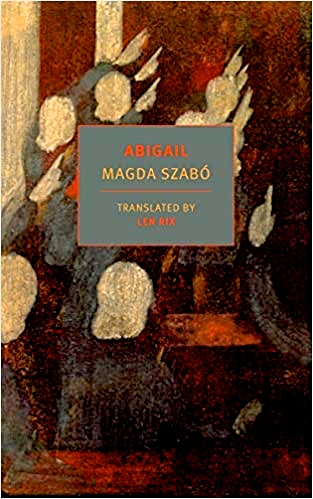 Described by Culture Trip as "the most prominent female writer in twentieth century Hungary," Magda Szabó (1917 – 2007) was almost unknown in the English speaking world until 2016, when The Door, translated into English for the first time by Len Rix for New York Review Books, won two translation prizes. Shortly after that, two more newly translated novels,  Katalin Street (2017) and Abigail (2020), were also published in English to rave reviews and resulting public attention in the media and on Amazon.  Szabo's novels are dramatic, psychologically intense, and historically focused, emphasizing everyday life and its trials and complexities, often in particular historical moments. A resident of Budapest when the Nazis occupied the country in 1943, author Szabo writes from experience about that fraught time in Abigail.  Main character Georgina Vitay, an independent girl of fourteen, is secretly removed from her home and everyone she knows in Budapest and driven overnight by her father to a severe, almost cult-like boarding school in Arkod, eastern Hungary (now Serbia).  From the day she arrives, the school controls every aspect of her life, keeping her safe from any major conflicts or warfare to come.  Her father, a general in the Hungarian army, also works as a secret agent against the Nazi occupation, and he knows that if the enemy learns where Georgina (Gina) is living, that she could be captured and used as a pawn to force him into betraying his own goals of a free Hungary.
The novel which follows, full of mystery and personal crisis, depicts Gina's life at the school and her coming-of-age during a traumatic time, including many crises of her own making. Strict, in the harshest sense of the word, the leaders of the Bishop Matula Academy require all the girls to participate in the same classes, attend group activities, wear the same uniforms, and even have the same severe haircuts.  Some students come from prominent families, and some are in residence on scholarships or because a parent works for the school.  No one, however, is allowed to challenge the word of the director, the religious prefects, or the teachers.  Within this atmosphere the students themselves set up their own private hierarchies and their own rules and codes of behavior.  As a newcomer in the fifth form, Gina finds difficulty making friends among those who have known each other for years, and she has problems learning to control her sense of independence, which served her so well in Budapest.  The worst part for Gina is that she will not see her father at all during her schooling there, and he will not write to her.  Instead, he will telephone once a week from wherever he is. 
The one mitigating aspect at the school is a set of traditions involving "Abigail," a statue of a young woman holding a stone pitcher, a "miracle worker."  As one student says, "We don't have guardian angels in this place, or carry amulets, nothing of that sort, and you can't be pestering God over every trifle…Abigail is always there for us.  If you're in trouble, serious trouble, she really will help you.  She always does."  Gina, of course, regards all the magic regarding Abigail as silly "fairytales," and reveals by her tone that she is "becoming bored" by stories of the statue, though she admires the "imagination these people have."  She feels even less a part of the group for not believing what they do. "How on earth was she going to be able to put up with the childishness of her companions on top of the black-and-white rules of the fortress?" she wonders.  When she then challenges her companions regarding a long-standing and top secret tradition regarding future marriages, choosing not to participate in one of the activities the others enjoy as part of their free time, she violates the code.  Disciplined by a teacher for her behavior, she, in her fury, reveals "the biggest secret of the school."  When the other students learn of this, they are unforgiving, telling her:  "I don't know who you are.  You are not one of us, you simply don't count.  For us you no longer exist.  You are a nobody." Her only alternative, at this point, she believes, is to run away.
While all this is happening, anti-war messages attached to the Monument to the Sorrows of Hungary, a phone call from her father, and word of an active resistance movement broaden the subject matter, even as the personalities and supposed love lives of teachers and prefects are also revealed, and author Szabo keeps the tension high.  An anonymous, active dissident who works to save families manages to engage Gina in helping, and her own danger increases.  Filling the last seventy pages with dramatic action, plot twists, and surprises, Szabo creates a grand finale which will keep the reader actively involved and cheering for favorite characters.
If Abigail sounds like a Young Adult novel, you are not wrong. The writing is so engaging and so carefully presented, however, that calling this novel "Young Adult fiction" need not be a disadvantage.  In fact, many parents will thoroughly enjoy it and want to share this book with teenage children because of the universality of its messages regarding individualism, responsibility, and the meaning of true love on all levels – not to mention its excitement.  Unlike The Door, which is a powerful and dramatic psychological study on many levels, Abigail uses a more casual point of view here, sometimes masking moments of insight within beautiful and vibrant description, even as very dramatic events are unfolding.  The author keeps the most spectacular revelations at the end from becoming banal by casually revealing some potentially dramatic conclusions during other events in the novel without calling great attention to them.  My only disappointment with this novel is that the two biggest "surprises" of the conclusion could be figured out ahead of time with careful study of details.

ALSO by Szabo:  THE DOOR   and    IZA'S BALLAD
Photos.  The author's photo appears on https://www.whosdatedwho.com
Forgach Manor, a Hungarian boarding school, is from https://www.alamy.com
The dissident hangs political statements around the necks of two famous Hungarian statues, the Monument to the Sorrows of Hungary, https://en.wikipedia.org
and around poet Sandor Petofi's Statue at the military cemetery:  https://www.alamy.com
ABIGAIL

REVIEW. PHOTOS. Coming-of-age, Germany, Historical, Hungary, Literary, Psychological study, Social and Political Issues, Classic.

Written by: Magda Szabo

Published by: New York Review Books

Date Published: 01/21/2020

ISBN: 978-1681374031

Available in: Ebook Paperback