Note:  This debut novel, released on June 6, 2020, was already on the New York Times bestseller list by June 20, 2020.
"The night before, I had been at the railway station, no more than a fifteen-minute walk from my house.  I ought to have seen the men who stole up to the open windows and threw flaming torches into the halted train.  But all I saw were carriages, burning, their doors locked from the outside and dangerously hot.  The fire spread to huts bordering the station…More than a hundred people died."
Be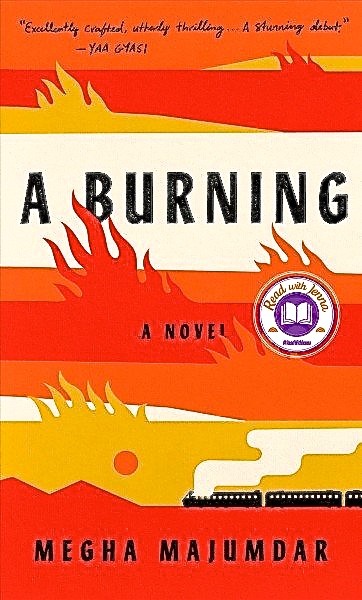 lieve all the good things you see, hear, and read about this dramatic, totally involving, and thematically insightful novel about three young people and their families living in and around Kolkata (formerly Calcutta), India. Author Megha Majumdar's story is so vibrantly alive that she makes the reader care desperately about her main characters as they face crises which they could not have predicted and which they often have little opportunity to resolve on their own.  Her people live in overcrowded conditions and must deal with broken systems, in addition to trying to stay alive, sometimes making the reader feel as helpless as they are. Otherwise kind and generous characters often take advantage of opportunities which can change their own futures and those of their own families for the better, even lifting some of them out of extreme poverty, if they "only" change the facts a little bit when they testify about events they may (or may not) have witnessed.  Honesty becomes a negotiable commodity.  As a result, the novel not only evokes the sympathies of readers, it also creates anger, forcing each reader to question whether compromise is ever justified and whether "the greatest good for the greatest number" and "the greatest good for me" are ever valid approaches to life in a desperate, overcrowded, and uncertain environment.
The huge train fire and its resulting spread to a neighborhood of huts, with over a hundred deaths, described in the opening quotation, is the event around which the novel revolves.  Author Majumdar begins the novel with the first of her three main characters, the sympathetic Jivan, a young woman living in a slum area near the railway station who, according to a witness, "ought to have seen the men who stole up to the open windows and threw flaming torches into the halted train."  All she saw, however, were carriages burning.  Getting more information from Facebook, Jivan also sees video clips, one of a bereft woman who testifies that a jeep full of policemen were there at the time, watching while the woman's husband tried and tried – and failed – to open the locked door of the burning train to save their daughter.  When Jivan shares this post on her own Facebook page, she adds a caption, "Policemen paid by the government watched and did nothing while this innocent woman lost everything."   A fellow reader questions the woman's motives, leading Jivan to comment, "if the police watched them die, doesn't that mean that the government is also a terrorist?"  A few nights later, she is awakened in the middle of the night by a policewoman who grabs and hurries her off to prison in a police van. Significantly, her reaction to how she might get out of her predicament is, "Whom did I know?"
The second main character, Lovely, is a "hijra," a transgender person who is taking acting lessons and drawing applause for her performances in class.  Her "husband" Azad, who is a successful salesman of electronics, is someone she would like to spend her life with, but she is also aware that his family believes she is a witch who has cursed Azad, whom they want to have marry and produce children like a "normal" person.  Lovely lives in the same slum as Jivan, who has been teaching her English in the evening so that she can "move up" and have better chances at acting roles.  The third character, PT Sir, a teacher of physical-training at a girls' school, has been training his students for the annual Students' Parade as part of Republic Day, a national holiday celebrating the country's constitution.  He also knows Jivan because she had been a scholarship student whom he once helped.  He is watching TV when it announces news about Jivan: "This Muslim woman is charged with assisting terrorists who plotted the [train] attack…and she has been booked under a very serious crimes against the nation charge and a sedition charge…[because] she allegedly made contact with a known recruiter for a terrorist cell on Facebook."  Jivan will be in jail until she faces trial in a year for those seditious statements and the fact that she confessed to the crime while being severely beaten in the lockup.
With main characters who are female, male, and transgender, author Majumdar is able to provide broad commentary on the city, its values, the difficulties of finding good work, the lives and decisions made by her acquaintances, and Jivan's own "crime."  As Jivan's lawyer continues to investigate, he draws out more information about Jivan's life, including the "fact" that she has a record of throwing "bombs" at the police.  Teacher PT Sir eventually becomes involved in a political party, "the biggest opposition party in the state," one led by a woman who befriends him after he fixes the microphone in the auditorium so that a movie star can speak.  He goes on to become a witness who testifies in many court cases of interest to the political party – regardless of his ignorance or knowledge.  As for Lovely, she begins to attract attention for her acting talent, and she promises Jivan's mother she will testify in court on Jivan's behalf regarding the contents of the "suspicious" box Jivan was carrying at the scene of the crime.  Lovely's testimony and televised appearance affect her chances with casting directors, however, so she takes matters into her own hands.  Entering Victoria gardens and seeing the crowd, she walks around offering blessings to all the people there, hoping for changes in her own life.  After a full year of delay, the imprisoned Jivan's case ultimately tests the will of everyone involved, raising questions regarding innocence and guilt, honesty vs. expediency, and loyalty vs. betrayal.    
Megha Majumdar writes so efficiently, descriptively, and intelligently, that I cannot imagine a reader not becoming caught up in every aspect of this astonishing novel.  Moving at top speed throughout, A Burning will tempt readers to read it in one sitting, but the thematic development is so thoughtful that many others will prefer a more moderate approach.  With a debut novel like this one, Megha Majumdar will have many fans waiting expectantly for her future novels. 
Photos.  Book cover:  https://www.npr.org
Author photo:  https://www.startribune.com
The Girls' Parade, as part of the Republic Day celebrations, is from  https://www.firstpost.com
The Victoria Memorial Gardens,  where Lovely offers blessings to the patrons as a gift:  https://www.facebook.com/victoriamemorialhall
PT Sir dreams of owning a top floor apartment after all his work for his political party:  https://www.squareyards.com
 

A BURNING

REVIEW. PHOTOS. Book Club Suggestions, India, Literary, Psychological study, Social and Political Issues

Written by: Megha Majumdar

Published by: Knopf

Date Published: 06/02/2020

ISBN: 978-0525658696

Available in: Ebook Hardcover