"She wasn't worthy of finding happiness.  That was what she felt, day after day, while she listlessly carried out her household chores, or played with the children at her part-time job at the children's center.  Like a wound healing – naturally, slowly."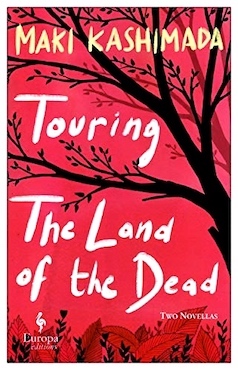 Winner of Japan's prestigious Akutagawa Prize in 2012, "Touring the Land of the Dead," a novella by Maki Kashimada, has now reached a large American audience for the first time. Regarded in Japan as an avant-garde writer, Kashimada rejects many of the cliches we think of when we regard books by Japanese women as quiet, elegant, formal, and "polite."  Here Kashimada, translated by Haydn Trowell, sees the world in realistic terms and does not hesitate to depict what she sees as the sad, meaningless lives some people accept as their "due,"  showing their inner turmoil and even rebellion as they try to improve life for themselves and, often, their immediate families.  "Touring the Land of the Dead," the longer and more emotionally involving of the two novellas in this debut, takes a close look at a one family which, in successive generations, has become less and less successful, reflecting the damage and even bullying imposed on some members of the family by others who take advantage of them.  Taking a close look at Natsuko, the wife of Taichi, a 36-year-old man diagnosed with a neurological disorder a year after their marriage, the author shows her trying to support them both on the salary she earns working part-time at a child care center.
For eight years Natsuko has been Taichi's sole care-giver throughout his seizures, surgeries, hospitalizations, and accidents, to the point that she now believes that she herself "wasn't worthy of finding happiness." She does not believe that there is anything special about living for someone else's sake, "but if it were for anyone else's sake but his, there would be no need for her to exist [at all]."  Natsuko, however, runs a frugal household, and finally saves enough money for a surprise two-day visit for her and Taichi at a formerly elegant hotel which is now offering a "health retreat."  Years ago, she visited that hotel for pleasure with her wealthy grandparents, her parents, and brother, but times and finances have changed dramatically.  She and Taichi are able to survive with careful planning, while her mother and brother, constantly trying to cadge money from her, haughtily ignore Taichi, mocking his background and criticizing Natsuko for marrying him.  Boarding the bullet train for their getaway, Natsuko and Taichi head for the retreat, where Natsuko must deal with memories of all the changes from the past, at the same time that she is trying to create a pleasant memory and change of pace for herself and Taichi.
During their "escape," Taichi is excited by a trip to an art museum and spends much time examining and thoroughly enjoying the paintings.  Time at the beach, which follows, adds more pleasure.  Seeing Taichi's reactions allows Natsuko to start to move out of her broken shell and begin, too, to think about "sharing." A trip to a foot-bath in front of the bus station adds even more delight to Taichi's day, eventually inspiring Natsuko to hope she can do something even more special for him, and giving her some real insights into his life.  When he asks what he can do that would be special to her,  she comes to her biggest realization of all.   This novella captures the deep, sometimes hidden, feelings of characters who become very real here, as author Kashimada alternates the lives of Natsuko and Taichi in the present with elements of the past which have prevented Natsuko from learning to treasure what she has.  The novella has become, in the course of the narrative, a belated coming-of-age story for a good woman who has finally begun to understand who she really is and how she can lead a new kind of life.
"Ninety-Nine Kisses," the second novella here, features a larger cast in which a family of four sisters, all unmarried, face changes in their relationships with each other when a young man named S enters their lives at the Azalea Festival at the Nezu Shrine.  The narrator, Nanako, is the youngest of the four sisters, identified as a college student, but she appears much younger in some scenes and in flashbacks. As the sisters talk, it becomes clear that all three of the older sisters are attracted to S.  One day Nanako sees S at a bus stop, where he is staring at a sign in front of a feminist literary society.  Suddenly, he kisses the sign, and Nanako is the only one who sees him. Confused about why he would do this, she ponders the idea that "If he tried to kiss me, I might not be able to stop myself just with slapping him.  No, I would kiss him back."
All the sisters seem preoccupied with sex, its anatomy, and its graphic details. They ask their mother about what it was like having sex with their father before she broke up with him.  They describe the behavior of one sister displaying her body to a ten-year-old boy who has wandered into the ladies' bathhouse.  The sisters' casual lusting over each other;   the physical, sexual pleasure they get from each other;   and the self-pleasuring they enjoy so much when alone are other aspects celebrated here.  Two of the sisters show that they have had some attention from S, with one, Meiko, receiving a fresh taiyaki  from him.  Later Yoko receives even more attention and contemplates the possibility of marriage.  The effects on the sisters' relationships with each other, soon become dramatic, but they know they will always treasure each other, not some "good-for-nothing man who might one day show up from somewhere far away."
With these two novellas, author Maki Kashimada lives up to her reputation of challenging the status quo and taking an avant-garde approach to writing and, in some ways, to life itself.  "Ninety-Nine Kisses," however, is "thinner," less thoughtful, and less involving than "Touring the Land of the Dead."  Though "Ninety-Nine Kisses"  is supposed to have been modeled on Junichiro Tanizaki's The Makioka Sisters, the overall atmosphere,  mood, and thematic focus remain very different.  I enjoyed Kashimada's thoughtful, beautifully realized, and original approach to "Touring the Land of the Dead," but "Ninety-Nine Kisses" does not compare to anything I have ever read by Tanizaki.
Photos.  The bullet train may be found on https://pixabay.com
A public foot-bath beside a street appears on https://www.kusatsu-onsen.ne.jp
The Azalea Festival at Nezu Shrine is from https://thegate12.com
Taiyaki, a sweet dessert, is shown on https://www.pinterest.com
The author's photo may be found on https://asianreviewofbooks.com
 

TOURING THE LAND OF THE DEAD

REVIEW. PHOTOS. Coming-of-age, Experimental, Japan, Literary, Psychological study, Social and Political Issues

Written by: Maki Kashimada

Published by: Europa

Date Published: 04/06/2021

ISBN: 978-1609456511

Available in: Ebook Paperback