"On that morning of October 3, 1940, Hettie Quin knew she was lucky to be there, at the docks of Belfast, assisting with the elephant's arrival….A young elephant [was] being maneuvered through the air.  A crane and a system of chains and pulleys elevated the animal from the deck of the moored steamship.  The elephant's trunk coiled up and then unfurled like an opening fist."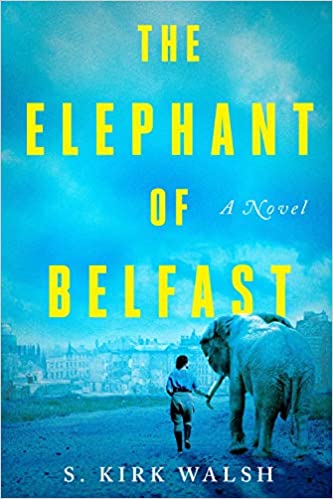 Watching the arrival of Violet, a young, three-year-old elephant from Ceylon, purchased for the Bellevue Zoo in Belfast, Hettie Quin looks forward to getting to know this new star of the zoo.  She "had never seen so many people at the docks: it was as if British royalty or a famous screen actress were among the steamer's passengers arriving that morning."  A twenty-year-old with no interest in pursuing any of the traditional roles for women in 1940, Hettie has set her sights on becoming a zookeeper, and she quickly zeroes in on Violet with her attentions.  The elephant, who is relatively untrained and tense after her long voyage, will need some special help settling in.  Hettie has tended or cared for penguins, bears, a sea lion, polar bears, monkeys, lemurs, camels, and birds, on some level, but Mr. Christie, the owner of the zoo, refuses to consider her for the role of zookeeper for the elephants, or for Violet, in particular.  She is anxious to improve her status at the zoo for several reasons, among them the fact that she is anxious to earn a higher wage so that she can find a room in a boardinghouse downtown and move out of her mother's house.  Her family is breaking apart, with her father gone most of the time and her mother suffering from "the miseries," and Hettie has no interest in becoming involved in all the drama at home.
As author S. Kirk Walsh sets the immediate scene in 1940, she also creates a past history for Hettie, who does not have a boyfriend, though she has many male friends.  At the same time that she also creates a past history for Protestant Belfast.  Hettie's sister Anna, a Protestant, had married a Catholic, Liam Keegan, and Anna had died just three months ago giving birth to their child. Though Hettie has continued to stay in touch with her widowed brother-in-law, his family, and her new niece Maeve, visiting the Catholic neighborhoods is difficult for her, as the IRA, of which Liam is a member, is still active and their hatred of the Protestant British rulers of Northern Ireland is palpable.  With war going on in Europe and the Germans regularly bombing England, shortages of supplies have become noticeable in Belfast, food for the animals in the zoo is becoming scarce, and the possibilities of attacks there are becoming more and more likely.  A few weeks after her arrival, Violet seems scrawnier to Hettie, and Edward, Violet's young zookeeper, has told Hettie that Mr. Wright, the head zookeeper, has told him to reduce Violet's food to only half a bale of hay a day, instead of a whole bale.  Other animals also are having their food reduced.  When the young male zookeepers get drafted for service in the war which threatens to break out in Northern Ireland soon, Hettie eventually gets her full-time assignment as a zookeeper, and it includes care of Violet.
Even with all the political and social complications affecting the lives of the young people of Belfast, they still manage to have some fun.  Dances at the Floral Hall, on the same site as the zoo, and concerts featuring favorite singers there provide some fun and social life.  Naive Hettie soon finds herself sought after by at least two young men, but she has little experience in dating and in judging motives.  And when one date, making unwanted moves in the presence of Violet, finds himself under attack by both Violet and Hettie, all three of them resort to physical confrontation, with Hettie showing her aggression against someone trying to get his own way with her at all costs, Violet actively protecting her zookeeper, and the "suitor" forced to give up the leather crop he'd threatened to use against Violet and resorting to insults against Hettie.
Author Walsh soon expands the focus to the world at large, and the issue of what to do with the dangerous animals at the zoo if the zoo is hit by bombs becomes critical. The owner of the zoo reluctantly instructs the head zookeeper to put down all dangerous animals.  He plans to send Violet to Sweden, if he can organize it.  The onset of the bombing affects all aspects of life in Belfast and lasts for two days with hundreds of people killed, and massive destruction taking place.  Desperate to protect Violet, Hettie takes personal action to protect her by hiding her somewhere in Belfast where she will not be found – at least until the issue of her deportation can be settled. With Belfast now an inferno, the story of the escape of Violet from the zoo to a hidden sanctuary becomes breathtakingly dramatic, and readers will race through these pages to follow the action, which involves one shocking betrayal and one surprising act of support for Hettie and Violet.  Ultimately, author Walsh resolves the action in surprising ways, and readers, some of whom will be symbolically out of breath from the speed of the last fifty pages, will be able to sit back and contemplate the resolutions, signs of hope, dreams of peace, and a recognition of the universal love and connection which can sometimes exist between humans and the animals they love.
As wonderful as this story is as fiction – and author S. Kirk Walsh makes it a gem – it rises to another whole level when one considers the fact that the crux of this story is not fiction.  In the zoo archives in 2009, a researcher found some surprising photos of a woman in her back yard with a young elephant.  Anxious to find out who the "elephant angel" was, researchers began a search to find her identity.  Eventually, she was identified as Denise Weston Austin, who lived in N. Belfast, a woman who had died in 1997.  Like Hettie, she gave the zoo's young elephant (named "Sheila" in real life) a place to stay at night during the war, then walked her back to the zoo in the morning. The story went on to become a BBC special, an opera, and a feature film called "Zoo."  Though the film differs widely from this book, and, perhaps, real life, a link to the trailer is available in the last sentence of  the article in The Zoo, a newsletter from the Belfast Zoological Gardens, the link for which is given at the end of the Photo Credits below.  Additional real-life photos of Sheila the elephant are also shown.  If you liked this book, you will not want to miss them.
PHOTOS.  The entrance to the Belfast Gardens, created as a public park in 1895.  The zoo was added in 1934. http://www.belfastzoo.co.uk
Floral Hall, where the young people could go to concerts and dances.  http://lordbelmontinnorthernireland.blogspot.com
Author S.  Kirk Walsh.  Photo by Erich Schlegel.  https://www.counterpointpress.com
The "real" elephant of Belfast, part of a feature story, about the elephant, Sheila, and her caretaker Denise on nights during the war.  Photos taken at the home of Denise Weston Austin, in Belfast may be found here:  http://www.belfastzoo.co.uk  Scroll to the end of the article for the trailer of a 2018 film based loosely on the story of Violet (Sheila) or click on this link:  http://www.belfastzoo.co.uk/about-us/zoo-history/zoo-the-movie.aspx
THE ELEPHANT OF BELFAST

REVIEW. PHOTOS. Book Club Suggestions, Historical, Ireland and Northern Ireland, Social and Political Issues

Written by: S. Kirk Walsh

Published by: Counterpoint Press

Date Published: 04/06/2021

ISBN: 978-1640094000

Available in: Ebook Hardcover