"[The men at the bar] looked you straight in the eye;  they beat their palms with their fists….They appealed passionately to the laws of logic and honesty.  Life, just for tonight, was miraculously clarified into simple and dramatic issues.  It was the last five minutes of the evening, and they were drunk."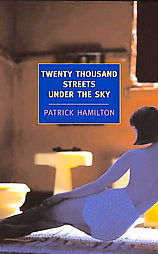 If you have never heard of Patrick Hamilton, you are not alone.  Described by the[London] Daily Telegraph as "a criminally neglected British author," Hamilton wrote nine novels from the 1920s through the early 1950s , along with the famous dramas of Rope and Gaslight.  Almost Dickensian in his sympathetic attention to London's poor and struggling classes, Hamilton's base of devoted admirers includes such notables as  J. B. Priestly, Graham Greene, John Betjeman, Doris Lessing, and most recently Nick Hornby, according to the [UK] Independent.  Now, however, Hamilton may finally be gaining the widespread public recognition he so richly deserves.  Three of his novels have been re-published to wide acclaim in the US since 2006– two of them by the New York Review of Books and one by Europa Editions–and a similar revival has occurred in the UK.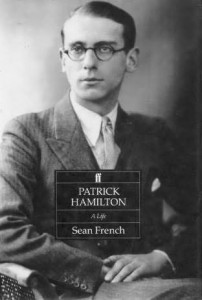 Hamilton is a writer of enormous gifts, and his sense of time, place, and voice bring backstreet London in the 1930s alive with sense impressions.  At the same time, Hamilton creates characters the reader instinctively cares about, even when they are being foolish. Evoking emotions ranging from anger to pity, they are depicted with a kind of dark humor which prevents the action from becoming sentimental and the characters from appearing self-indulgent.  In Twenty Thousand Streets Under the Sky, three overlapping novellas thought to be semi-autobiographical, focus on three different characters associated with a pub called "The Midnight Bell," which is also the title of the first novella, providing a close look at ordinary people living at the margins of society and doing the best they can in often fraught circumstances.
Bob, the bartender, is a young man for whom "Dreams were his life… he worshiped at the shrine of dreams."   Naively, he hopes to become a great writer, though he has not produced any work.  In the meantime, his goal is to "govern his own life, to subdue the terrific disadvantages with which he had been born, and to become eminent amongst men.  Nothing less."  Having inherited forty-seven pounds upon the death of his mother, he has scrimped from his small salary and tips so that he now has eighty pounds, a "princely" sum symbolizing security for him.  The arrival of Jenny Maples, a gorgeous, young prostitute whose pathetic story of needing money inspires his sense of protectiveness (and leads to a "loan,") provides the turning point of this story.  As she plays on his weaknesses, including his penchant for drink, he falls in love with Jenny.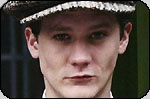 "

The Siege of Pleasure," the second novella, is Jenny's story, detailing her descent into prostitution.  In delightful understatement, the author confirms that "It is doubtful whether Jenny could be said to be the owner of either character or conscience."  Though she has come to London to work—and finds a job as maid to a pair of hilarious old women and their deaf brother, which gives some much-needed comic relief—she soon becomes interested in being a "mannequin" and responds to a meeting with someone she thinks can help her.  The "victim" of a "glass of port" while out with friends, Jenny wakes up the next morning in a strange bed—her very gradual intoxication and equally gradual loss of control depicted with agonizing slowness.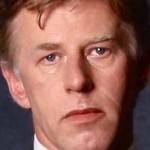 "Plains of Cement," the final novella, concentrates on the homely but loving Ella, the barmaid at The Midnight Bell, a woman in her late twenties who is a "little mother" to the late-at-night patrons.  Hopelessly in love with Bob, who "loved her because she was a good woman and loved the other because she was a bad woman," Ella soon finds herself being courted by Mr. Eccles, a much older man with a healthy bank account.  Though he sometimes suggests that they are engaged, Ella is not sure:  "If [his attention] was a feather in her cap, what a miserable feather!"  Mr. Eccles, both peevish and demanding, soon attempts to take over her life, "superadding Religion to all the other mental thumbscrews and tortures," he has applied.  As Ella tries to find an escape, her plight elicits the greatest of empathy from the reader.

With its ironic title, suggesting that the lives of the denizens of The Midnight Bell are as far "under water" as Captain Nemo was in the Nautilus, this novel explores three desperate characters with sensitivity, care, and genuine emotion.  The overarching problems of alcohol in two of the sections parallel the alcoholism of the author, while the development of the characters and the author's ability to involve the reader are enough to overcome the superficially trite plot lines.  A rediscovered classic of the 1930s.
Notes: The author's photo appears on his biography by Sean French, published by Granta in 1995.
The first pair of thumbnails is of Bob (Bryan Dick) and Jenny (Zoe Tapper)
The second pair is of Mr. Eccles (Phil Davis), and Ella (Sally Hawkins) as they appear in the BBC series based on this novel.  Though this series is available in Blu-Ray format, it is not available as a Region 1 (US) DVD.
YouTube carries sixteen video trailers of up to ten minutes each, the first of which is here:  www.youtube.com This will give all the visual stimulation any reader may need or want to get involved with this terrific book.
ALSO by Patrick Hamilton:  SLAVES OF SOLITUDE and HANGOVER SQUARE