Note: This novel was WINNER of the Commonwealth Writers' Prize in 2002.
Clever, complex, and intriguing
Writing one of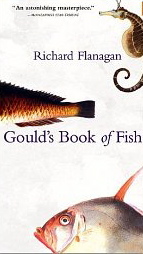 the must unusual and imaginative books I've read in a long time, Tasmania native Richard Flanagan presents a multi-leveled novel which is full of wry, sometimes hilarious, observations about people and history.  At the same time, it is a scathing indictment of colonialism's cruelties and its prison system, in particular. Almost schizophrenic in its approach, the novel jerks the reader back and forth from delighted amusement to horrified revulsion in a series of episodes that clearly parallel the unstable inner life of main character William Buelow Gould, who lives in "a world that demanded reality imitate fiction."
Sentenced to life imprisonment on an island off the coast of Tasmania, Gould cleverly plays the survival game, ingratiating himself with the authorities through his willingness to paint whatever they want–species of fish for the surgeon, fake Constable landscapes for the turnkey Pobjoy, murals for the Commandant's great Mah-jong Hall, and backdrops for his railroad to nowhere. It is through the fish paintings that Gould paints for himself, however, that he tries to hang onto his sanity against overwhelming cruelty, continuing to believe that life has meaning, though "[it] is a mystery…and love the mystery within the mystery."

This is not an easy book. The action, such as it is, is all filtered through Gould's mind, and that is shaky, at best. In a few passages, Gould (and Hammett, the speaker who opens the novel) describe dream-like reactions to events, reflecting their mental states (not magic realism). When the last hundred pages become surreal, the reader is well-prepared to accept the strange events which unfold.
Flanagan's novel is very clever, and his use of specific fish as parallels to the people and events within chapters (especially the serpent eel) is particularly amusing. His characteristically 19th century list of topics at the beginning of each chapter, his duplication of the writing style of the period, his satire, his literary jokes (purple sea urchin ink for "purple prose," jokes about George Keats's brother, a failed poet), and his broad vision of what makes life meaningful are signs of a mature novelist who doesn't hesitate to take chances–5 stars for originality.
ALSO by Richard Flanagan:  WANTING and     THE NARROW ROAD TO THE DEEP NORTH

Notes: Richard Flanagan's photo appears on http://www.abc.net.au