Note: Highly acclaimed Irish author Sebastian Barry, was WINNER of the Costa Award for Days Without End (2017), the predecessor of this novel.  In 2018, Barry was CHOSEN Laureate for Irish Fiction.
"In the minds of the townspeople I was not a human creature but a savage.  Closer to a wolf than a woman.  My mother was killed like a shepherd would kill a wolf.  That's a fact, too.  I guess there were two facts.  I was less than the least of them.  I was less than the whores in the whorehouse….something so less you could do what you wanted to it…." – Winona Cole, Lakota Indian child.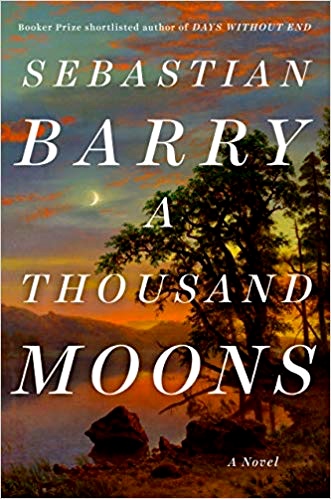 Sebastian Barry's previous novel,  Days Without End, provides the historical background for A Thousand Moons, which features the same characters in a new, later time period. 
Two young, Irish boys, Thomas McNulty and John Cole, stowaways escaping a famine, arrived in the U.S. in the late 1840s and joined an Irish regiment in the US Army, where they participated for several years in the Indian wars throughout the West.  While there, they "adopted" Winona Cole, a six-year-old Lakota Indian child following the death of her mother during those wars.  Moving to Tennessee just before the Civil War, they lived briefly as a family, and during the Civil War, fought on the front against "the Rebs."  The aftermath of that war, which is the subject of A Thousand Moons, shows the re-assembled family settling down on a struggling farm in West Tennessee, along with two new characters, freed slaves named Rosalie Bouguereau and her young brother Tennessee in 1870.  Though they have vastly different historical backgrounds, all the members of this culturally varied group have experienced almost unimaginable horrors in their separate lives.  Living together and sharing as a family, they find solace, and even love, in their lives within the farm, solace they do not find elsewhere with all the racism that remains within the society.
As this novel opens, Winona, now an old woman, is recollecting her past, her job working for a lawyer, "writing and reckoning numbers," and the experiences of the "family" after the war, in which "all the years went by fleet of foot.  Like ponies running across the endless grasses."
Suddenly, the tone of her reminiscences changes:  "That was all before Jas Jonski," Winona notes.  "A boy that never read a book, come to think of it.  Could barely write a letter."  And as Chapter Two begins, the novel is off to an electrifying start, never slowing down as it develops into a non-stop, emotion-filled story which nevertheless deals with big ideas, illustrated by fully developed, repeating characters, and mysteries within mysteries. Old-fashioned, in the best possible ways, the novel is written both to entertain and to reveal the post-civil war period in Tennessee, a border state in which some Irish regiments, hired by the government, ended up being paid to fight each other.  In the aftermath of war, McNulty and Cole are surprised, at first, that the causes of the war and its resulting bloodshed are still alive, that slavery may have been abolished technically, but that in real life nothing much has changed.  Law and order, they find, is personal, as much as it is organizational, as police and government officials, all white men, are also dealing with unregistered militias operating behind the scenes, sometimes at the behest of local governments and sometimes on their own.  Keeping track of allegiances becomes crucial for all of them, as the militias' loyalties sometimes change without warning.  
Jas Jonski, a young clerk in a dry goods store, enters the novel as a potential suitor for the naive Winona, a prospect abhorrent to John Cole, her adoptive father.  When Jonski broaches the subject of marriage to Winona, however, she "could sort of see it,  I had a picture of it in my mind."  The mood becomes more ominous when the style in the next sentence suddenly changes.  "What did I know, nothing…" she notes.  "Way back in my mind was a black painting with blood and screaming in it and blood bursting out."  She has no recollection about some important events in her past, and it is not long before Winona returns to the farm from work one day with a bruised and broken face, unable to stop shaking.  Again, she remembers nothing about who hurt her – and raped her –  and does not know if or how Jas Jonski might have been involved.  She will no longer go to town now, except dressed as a boy, and she uses that same disguise later to seek revenge for her own assault and for another, later assault on Tennessee Bouguereau, the former slave who is part of their "family." 
From its ominous beginning, the novel builds with ever more violence and ironic twists involving all the characters.  The murder of Jas Jonski creates new tension throughout the racially and socially diverse community which gains no closure when a guilty party is not found and convicted.  When the unsolved murder is finally addressed again later, doubts are cast on Winona's own innocence, and the twists and turns in all aspects of her life and the lives around her become ever more complex as Barry winds the tension to break point.
Author Sebastian Barry, a lover of traditional, atmospheric sagas, expands them beyond their generic limits to create stunning characters in action as they develop new knowledge and come to new insights into who they are and what they truly believe.  Barry's sensitivity to language not only helps to create unforgettable scenes and moods – from quiet and romantic, to dramatic and terror-filled – but also to give the reader new awareness of all the aspects of the time and period, not just the images one might normally expect from having studied the history.  He creates real people involved in real problems, and he draws in the reader to share in their problems and their triumphs.  The climax is unforgettable – a true homage to Barry, his characters, and his thematic messages.
NOTE;  It is not necessary to have read Days Without End to be able to enjoy this sequel, but those who have read it will especially enjoy the continued development of these characters and their lives.
ALSO by Barry:    DAYS WITHOUT END    and    ON CANAAN'S SIDE
Photos.  The photo of the young Native American girl was featured in https://www.thetimes.co.uk   A Getty image.
Young boy and his mule, possibly resembling Winona's disguise on her later trips to town.  https://picryl.com
The author photo is from https://thegloss.ie/writers-block-with-sebastian-barry/
A THOUSAND MOONS

REVIEW. PHOTOS. Book Club Suggestions, Historical, Psychological study, Social and Political Issues, United States, US Regional

Written by: Sebastian Barry

Published by: Viking

Date Published: 04/21/2020

ISBN: 978-0735223103

Available in: Ebook Hardcover