Note:  Simon Mawer is WINNER, most recently, of the Walter Scott Prize for Tightrope, in 2016.  He has twice been a FINALIST for the Man Booker Prize for The Glass Room and The Fall.
"Here and not here.  The fleeting nature of presence marked only by shadows on photographic paper and names inked onto the wall of a synagogue….No Germans in the border areas, no Jews in Prague, dissidents dead or in prison or relegated to menial work out of the public eye; a country defined by its absences.  Until the last few months, that is, and these moments of strange frenetic freedoms."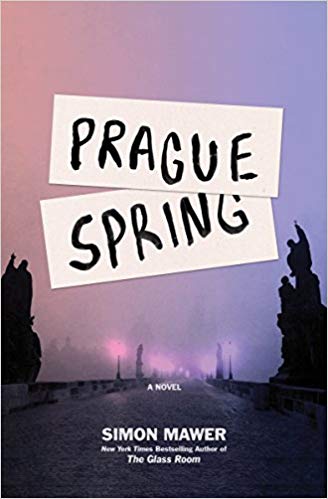 Returning to Prague for the location of this novel, after setting The Glass Room  there in 2009, author Simon Mawer uses his familiarity with Prague, and his obvious love for it, to create this stirring novel of political history and intrigue.  Set during the almost magical Prague Spring of 1968, a time in which Russian influence had waned and a broader view of socialism and some new freedoms were being celebrated by students and political writers in Prague, Mawer focuses on "the fleeting nature of presence" as the Prague Spring is cancelled by the sudden arrival of half a million Warsaw Pact troops led by the Soviet Union, which went on to occupy the country for the next twenty-three years.  A writer who focuses primarily on people and their lives, rather than on politics or cultural movements, Mawer brings the Prague Spring to life by focusing on two couples who come together in Prague, live and love, engage in adventure, and find their lives permanently changed by the arrival of the Soviet-led troops.  The couples represent different backgrounds, and they experience the Prague Spring in different ways.  Each has connections with people from Prague who help them during the danger which evolves, providing a broader picture of the events as they affect all the people of Prague, instead of the more limited focus which might have occurred with fewer main characters.
James Borthwick and Eleanor Pike are students at Oxford University – James, a freshman science major, and Eleanor, a second year English major.  Their backgrounds are different, with Eleanor one of the few women at Oxford at that time, a young woman whose enunciation alone marks her as a member of a higher status than James.  A member of the Oxford Revolutionary Socialist Students, Ellie is also an activist, while James is more reticent, but both of them are interested in theatre, where they meet in a play and soon find common ground when they talk about their upcoming "vac," the long summer vacation from college.  Ellie had planned with a friend to retrace the Sentimental Journey of Laurence Sterne, an 18th century writer James has not heard of, while James had wanted to travel around Europe with a friend visiting battlefields.  In both cases, the people who had planned to go with them changed their minds and decided not to go.  James and Ellie then decide to travel Europe together, sleeping in tents and living "rough." 
In the next section, Mawer presents a whole new demographic.  Sam Wareham is First Secretary at Her Britannic Majesty's Embassy to the Czechoslovak Socialist Republic, living in Prague and working directly under Eric Whittaker, Head of Chancery.  Sam and his girlfriend Stephanie have separated for a while "to gain some perspective on the whole thing" regarding their relationship.  She is about to drive back home to England in Ringo, her Volkswagen, "purchased duty-free when she first came out eighteen months ago [and which is, she says] her real love."  As Steffi leaves, she warns Sam about Madeleine, Eric Whittaker's younger French wife,  not guessing that within hours, Sam will instead be inviting Lenka Koneckova, a Russian woman, for a drink.  Sam specialized in Russian in college, and he speaks good Czech, and he and Lenka quickly fill their time with activities.  Sam is fascinated by the differences between the bold Lenka and the much quieter Stephanie.  Despite his attraction to Lenka, however, he still asks security to check her background to be sure that she is not a spy.
Several sections follow, in which, with alternating points of view, the students, James and Ellie, continue their travels and make friends in Europe, hitchhike everywhere, and go camping.  Their connections with a rock band take them eventually to Prague, just as Sam and Lenka, in the meantime, travel to Munich, taking particular interest in the music and arts of the area.  Their concerns with the Russians and what they might be doing in Prague, with their constant trailing of Sam and others, are not taken as seriously as they might have been, and, in retrospect, should have been, as Mawer describes the tumult that is evolving in Prague with James and Ellie, and Sam and Lenka all living their lives and pursuing their interests and obligations there.  When Lenka decides to write an article in which she reveals her father's full name and fate, a name she has changed for herself for security reasons, the tension begins to peak, and when she confronts Alexander Dubcek, First Secretary of the Communist Party of Czechoslovakia, she says what many intellectuals have also been thinking in the days leading up to the Soviet takeover of Prague.  Before long, five hundred thousand Warsaw Pact troops are occupying the country.
Mawer treads a careful line here as he moves the action through ten different sections, each one about forty pages, devoted to a repeating character or characters who have no connection at all with other groups for much of the novel.  At times, I wondered where Mawer was going with the plot, but as the different threads work their way to a meeting of the characters in Prague as the Soviets arrive with tanks, I was pleased that the author brought all the pieces of his plot and his themes together in such a satisfying way. This is not to say that it all ends with hearts and flowers.  The demands of the themes and the issues of governance and warfare that are the basis of the novel require that the conflicts be effectively resolved, and the best way to do this is to be true to the thematic needs, rather than the hopes of the reader for happy endings.  The author is true to his themes – big themes involving war and peace, cooperation vs personal motivation, principle vs. expediency – as his novel evolves.  Ultimately, history rules, and Mawer's characters respond in ways consistent with the personalities and values they have revealed – or according to the laws of chance.  This is a carefully developed novel, filled with fascinating history and sidelights involving literature, music, and popular culture, a fine addition to Mawer's bibliography.
ALSO by Mawer, reviewed here:  THE GLASS ROOM,     TIGHTROPE,     TRAPEZE
Photos.  The author's photo appears on https://www.amazon.com/
The Castle in Prague, seat of government, and the Charles Bridge were both started in the 14th century and are still in use.  https://commons.wikimedia.org
The ill-fated statue of Josef Stalin, begin in 1955 and demolished in 1962, was the largest statue of Stalin anywhere in the world.  https://www.praguepost.com
The first day of the Prague uprising, 1968, shows young people confronting the Russian and Warsaw Pact troops which arrived en masse.  https://www.theatlantic.com/
The demolition of the Stalin statue was done as secretly as possible, with no publicity.  https://commons.wikimedia.org/wiki/
PRAGUE SPRING

REVIEW. PHOTOS. Book Club Suggestions, Czechoslovakia/Czech Republic, England, Historical, Literary, Russia/Soviet Union, Social and Political Issues

Written by: Simon Mawer

Published by: Other Press

Date Published: 11/13/2018

ISBN: 978-1590519660

Available in: Ebook Paperback Hardcover