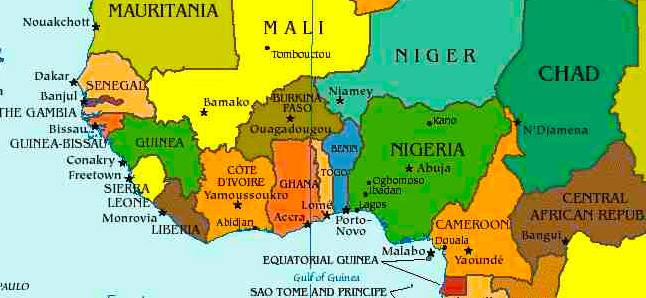 "Children are supposed to learn that life is hard.  It's a parent's duty to teach them that suffering and happiness are twins."
Set in various countries in West Africa, with one sojourn to Ethiopia, Susi Wyss's debut "novel in stories" takes advantage of the more than twenty years that she lived in Africa—three years as a child in the Ivory Coast, two years as a Peace Corps volunteer in the Central African Republic, and fifteen years managing health care programs throughout different countries in West Africa.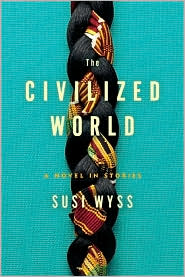 Her sensitivity to place, culture, and people, particularly those who have left their homes for lives elsewhere, and her sense of honesty and forthrightness give a particular poignancy to the lives of the five women who are the subjects of the stories here.  Three of these overlapping stories are set in Ghana, two in the United States, and one each in Malawi, the Central African Republic, and Ethiopia.
"Monday Born" takes place in Abidjan in the Ivory Coast.  Adjoa, a hairdresser from Ghana, has been working there for twelve years to save enough money so she can return to Ghana and build her own salon.  Times have changed since her arrival in the Ivory Coast.  President Bidie, who ruled during the 1990s, suddenly decided that foreigners (like her) were taking jobs from Ivorians, and many foreigners took their investments and left.  The ouster of Bidie by Gen. Robert Guei, gave Adjoa a "bubble of hope" for improvement, but that burst when Bidie was succeeded in 2000 by Laurent Gbagbo, recently in the news after ruling as a strongman for ten years.  Adjoa, however, is not a political person, and she has little to say about these issues, preferring to keep her head down, doing her job and saving for her own salon.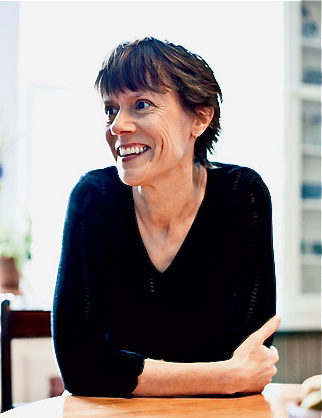 Author Wyss sets the tone of the novel in this first story, focusing almost exclusively on the everyday lives of her characters—two Ghanaian and three American women,  bringing them to life in the context of their dreams and goals, and their need to feel "at home."  Adjoa works full-time as a hairdresser but works once a week as a masseuse for Mme Janice, an American in the health care field.  Adjoa's twin brother Kojo chauffeurs her to Mme Janice's house once a week out of concern for her safety, but Kojo has suddenly become less willing to share his thoughts with Adjoa, and "she couldn't help but wonder: Who is this person next to me?  Where is the brother I used to know as well as I know myself?"  She believes that if they can just get through the next four months, they will be able to return home to Ghana where "Kojo would be his old self again."
Another set of characters appears in the next story, "Names," which takes place in Malawi.  Ophelia, an American foreign service wife, has no job and no children, a fact that she mourns, and she keeps herself busy doing crafts projects, making lists, and collecting unusual names belonging to the people she meets—names like Why, Somebody, and Grief.  Desperately lonely, she finds her husband, on his first posting, to be completely insensitive to the culture and its possible joys, not to mention Ophelia herself.  "A Modern African Woman" introduces Comfort, an older woman (reminiscent of Mma Ramotswe in the Alexander McCall Smith novels) and her white American daughter-in-law Linda, who has just had her first baby.  Comfort will take care of the new baby for a few months so Linda can return to work.  Obviously, this is a fertile field for conflicts, which quickly arise as Comfort treats her granddaughter they way she would if she were in Ghana, and Linda insists that Comfort follow her own instructions.
With the main characters now introduced, Susi Wyss then develops their very human stories, connecting them and providing commentary on intercultural issues.  Ophelia and her husband Philip meet Janice in Addis Ababa, Ethiopia, where they all plan to adopt children.  A trip to a monastery, while they are awaiting the completion of the paperwork proves to be a turning point for Ophelia, as she finds herself unable to cope with a terrible event involving children that they see along the way.   Always fragile, she finds that now "Nothing felt safe to her—not her marriage, not her physical self, not even her sanity," and she wonders how she will be able to care for a child.
Eight years pass, with Linda and Peter, Comfort's son, in the US having a hard time financially after Peter gives up his job, gets a Master's degree, and then can't find work.  Cultural issues regarding a woman's role raise their ugly head here as he expects Linda to behave the way his mother Comfort would.   Janice's job brings her back to Ghana where she unexpectedly sees Adjoa, and both relive a traumatic experience from the Ivory Coast.  Janice's conclusions form the thematic backbone of the novel.
The novel has much charm, less plot, with characters who feel real and with whom the reader will identify.  The places Wyss "visits" are both intriguing and realistic, even including the unexpected violence that appears at some points.  The novel is, however, full of easy and obvious cultural conflicts and contrasts, with themes that often appear as moralizing at the conclusions to the stories.  Complex issues are oversimplified, and some characters who are totally "clueless," are stereotypes who appear to have been created specifically to prove a point the author wants to make.  Some of these characters are so insensitive it is difficult to imagine how or why they would ever have been hired to work in Africa at all.  As the book moves toward its conclusion, however, it becomes a bit more complex, requiring its readers to work a little harder to capture the author's meanings.  The last two stories, in particular, "Calculations of Risk" and "There Are No Accidents," with their more polished and suggestive endings, give hints that the author's next book may be more literary and less dependent on its unusual cultural settings for reader interest.
Photos, in order: The map of West Africa appears here: http://www.solarnavigator.net
The author's photo, by Chris Leaman, is from:  http://www.washingtonian.com
Vicki Houghton, a 47-year-old Ghanaian hairdresser, is the subject of a story here, in which she explains that she sometimes works till 2:00 a.m., as does Adjoa:    http://www.bbc.co.uk
Baka women (pygmies) from Dzanga-Sangha Park in the Central African Republic, are visited by Janice and Bruce in "The Civilized World":  http://www.gettingaway.com
A monk from Bahir Dar in Ethiopia, visited by Janice, Ophelia, and Philip. Photo by Jacob Eliosoff:  http://users.openface.ca
Despite his defeat by Alassane Ouattara in an internationally monitored election in December, 2010,  former Ivory Coast President Laurent Gbagbo refused to cede power.  He is shown above being arrested in the Presidential Palace on April 11, 2011.  The UN is interested in trying him for atrocities.   http://www.lebanco.net