Note: This novel was WINNER of The Norwegian Booksellers' Prize for Best Novel of the Year 2007.
"Harry could feel the adrenalin rush, the trembling that always came when he got first scent of the [murderer].  And after the rush came the Great Obsession.  Which was everything at once: love and intoxication, blindness and clear-sightedness, meaning and madness.  Colleagues spoke now and then about excitement, but this was something else, something special."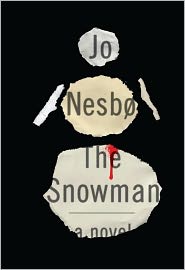 In his fifth novel starring Oslo police inspector Harry Hole and his fellow officers, author Jo Nesbo moves in a new direction.  His first English translation, The Redbreast, is a historically based mystery involving Norway's Nazi past and its neo-Nazi present and was chosen in 2004 by Norwegian book clubs as the Best Norwegian Crime Novel Ever Written.  His next novels, Nemesis, The Devil's Star, and The Redeemer, are unusual "domestic" mysteries, all huge successes, not just in Scandinavia but throughout Europe.  The Snowman, Nesbo's latest release, is a complete surprise with its element of horror and may soon become his most popular novel here in the U.S., a breakthrough novel which may finally put to rest the misperception that the Norwegian Nesbo is some kind of  "successor" to the Swedish Stieg Larsson.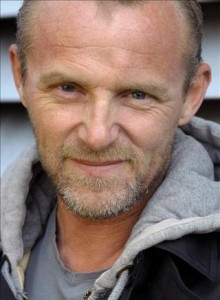 It takes nothing away from Larsson and his terrific Millenium trilogy to say that Nesbo is a more versatile and more polished writer who has now written sixteen novels since 1997, including three children's novels, all of them big successes in Scandinavia.  He has received eight major prizes for his work and four "shortlist" nominations.  If you enjoy tantalizing mysteries in the "Nordic Noir" genre and have not yet discovered Nesbo, I guarantee that when you do, you will not ever compare him to any other Scandinavian writer.
The novel opens dramatically in 1980, as Sara, a young mother with her son in the car, makes a stop at the home of her lover for a last goodbye.  They are shocked to discover that their love-making is observed by a snowman whose face has appeared at the window.  When the mother returns, belatedly, to her car, her young son has locked the doors to keep out the "snowman," fearing that "We're going to die."
Nothing more is heard about this episode, but in 1992, a terrible murder and dismemberment takes place on top of Mt. Ulriken in Bergen.  A snowman is found across the plateau from the mountain, seeming to observe the scene.  Later, in 2004, Birte Becker, mother of young Jonas, disappears from Oslo, her pink scarf eventually discovered around the neck of a backyard snowman.  Evidence gathered by the police suggests that a serial killer may be at large—similar disappearances and murders have taken place on the day of the first snow each year since 1992, and all have had a snowman on the scene, though these were not recognized as part of a pattern until now, 2004.  Police inspector Harry Hole is put in charge in Oslo, with connections to the national Central Investigation Bureau (Kripos).  Harry, an alcoholic who lives alone, is totally dedicated to his work, an undeniably honest man with little patience for paperwork, department egos, and red tape, and he is given only two weeks and four assistants to investigate the series of new disappearances.
Soon he is being taunted by the Snowman—his every move seemingly controlled by the Snowman, whose sole purpose seems to be to deflect suggestions of involvement in the crimes onto innocent people.  As the body count rises and the frustration of Harry Hole and the police increases, the biggest question is how these different disappearances and/or murders are all connected, apart from the snowmen.  The biggest clue is that most of the victims are young mothers with children.  The next question is where are the bodies of the missing women which might give rise to clues?
In the midst of all the turmoil involving the disappearances and the effects on the distraught families, Harry is trying, sometimes unsuccessfully, to stay on the straight and narrow.  His long-time love, Rakel, who broke up with him over his drinking and his continued absences, has found peace with a new lover and is planning a wedding.  She continues to see Harry occasionally or send messages, partly because of her son Oleg, who has adored Harry since the time when they all lived together, but their relationship seems to be over.  Other characters from past novels appear here.  Beate Lonn, an expert on facial recognition, is now caring for her baby son, born after the death of Halvorsen, who was her lover and Harry's partner. Harry still blames himself for Halvorsen's death.  The smarmy Magnus Skarre is still working for the police in Oslo and still making Harry's life miserable.  And a new female recruit, Katrine Bratt, is introduced and impresses Harry with her diligence and intelligence.
It is impossible to describe the complexity and cleverness of this plot without risking spoilers, and the novel is too much fun to read to risk that.  Suffice it to say, the novel is detailed and intelligent, and will keep even the most jaded mystery lover intrigued and wanting to see how it is all resolved.  Medical mysteries run parallel with the murders, old mysteries from the cold case files get dredged up and investigated, characters are not who they appear to be, and who the Snowman is and exactly how he is able to pull off his crimes with the whole country watching keep the reader on tenterhooks.  The coincidences here bear little correspondence to real life, of course, though they make the story fly, but then, again, how many murders have you heard of with a snowman as a possible murderer?  When the last little piece falls into place at the end, every detail at every point in the novel suddenly all makes sense—and provides a satisfying sense of finality to this challenging case.  A non-stop thriller that may very well keep you up reading till the wee hours—and great fun!
Note: Those who have not read any of the previous Harry Hole mysteries should not fear to tackle this one.  Jo Nesbo is a considerate author who provides all the background needed for the characters who repeat.
Also by Nesbo: THE REDBREAST, NEMESIS, THE DEVIL'S STAR, THE REDEEMER, HEADHUNTERS, THE LEOPARD, ,PHANTOM, THE BAT, POLICE, COCKROACHES (1998), THE SON (2014), BLOOD ON SNOW (2015),     THE THIRST (2017),     KNIFE (2019)

Photos, in order: The author 's photo is from: http://www.scandinavianbooks.com
The funicular going up Mt. Ulriken, where a murder occurred, appears here:  http://www.panoramio.com
The curling venue where Dr. Idar Vetlesen and Arve Stop practice for curling matches is on the back of the Villa Grande (pictured here), where Vidkund Quisling once lived.  A politician who seized power in a Nazi-led coup d'etat, Quisling became the pawn of the Nazis during the Norwegian occupation and was executed for high treason after the war.  His house is now a Norwegian Cultural Center housing the Center for Holocaust Studies. http://www.chgs.umn.edu
Harry Hole and Rakel Fauke, the love of his life, have a rare meeting at the Fram Boat Museum. The Fram took Roald Amundsen to Antarctica in 1911, where he beat Robert Falcon Scott in the race to the Pole.   http://www.pbase.com
The Holmenkollen Ski Jump and Skiing Museum is the site of the climactic scene in the novel.  http://www.dezeen.com
Good video interview with Nesbo about this novel here: www.amazon.com
THE SNOWMAN

REVIEW. Mystery, Thriller, Noir, Nordic Noir, Norway, Psychological study

Written by: Jo Nesbo

Published by: Vintage; Reprint edition

Date Published: 04/17/2012

Edition: Harry Hole series, #7

ISBN: 978-0307742995

Available in: Ebook Paperback Hardcover