Note: Toni Morrison was WINNER of the Nobel Prize for Literature in 1993.  In 2000 she was WINNER of the National Humanities Medal given to those who "deepen the nation's understanding of the humanities."
"I don't think God knows who we are. I think He would like us, if He knew us, but I don't think He knows about us… [He made us] but He made the tails of peacocks, too. That must have been harder."
Nobel Prize-winning aut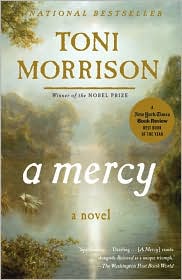 hor Toni Morrison continues her powerful examination of slavery's evil legacy, a focus of her long career, by creating an intense and involving novel set in the Atlantic colonies between 1682 and 1690, when the slave trade from the Portuguese colonies in Africa was a lucrative business for many colonists. Here Morrison examines slavery from its earliest days, concentrating on its short term and long-term effects on society as a whole and the people, especially the women, who were it greatest victims. Slaves were a valuable commodity in the southern colonies; even in New York, where most of this action takes place, slaves were owned, and property laws governing their ownership were respected.
As she does so frequently in her novels, Morrison creates her story through several different points of view while moving back and forth in time, creating unique voices and an impressionistic mood which keeps the suspense high. The primary speaker is Florens, a young black girl, aged sixteen at the outset of the novel, who tells the reader that her narrative is a confession, "full of curiosities," and that she has committed a violent, bloody, once-in-a-lifetime crime which she will never repeat. When Florens was only eight years old, she had been given up, at the suggestion of her own mother, to New York farmer Jacob Vaark by a Maryland planter to settle a debt. Florens has never understood why her mother offered her up to Vaark, thereby forcing her to abandon her family and "home" to travel hundreds of miles to Vaark's farm in cold, upstate New York.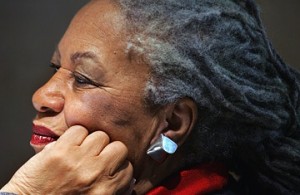 There, outside of Albany, Florens lives and works for the next eight years, part of a small "family" of other enslaved or indentured farm workers and their Master and Mistress, all of whom the reader comes to know. Vaark's wife Rebekkah, who is often alone when Vaark is traveling, also tells her own story of having left England on the six week voyage to New York to be married to a man she has never seen. Vaark, himself an orphan and survivor of the poorhouse, tells of his journeys from New York to Maryland and Virginia, commenting on the role of religion in the culture of the different colonies, along with their attitudes toward slavery.
As Morrison examines the roots of racism going back to the earliest days of slavery in the colonies, she provides glimpses of the various religions being practiced at the time—Presbyterianism, Catholicism, and Church of England, for example— their attitudes toward life and death, and their interpretations of an individual's obligations in relation to God and their fellow man. At the same time she also depicts the spiritual lives of her non-white characters, who follow natural laws, rather than ecclesiastical laws. The ability to "read" signs and portents, to see the future from studying unusual natural phenomena, and to communicate with the spirit world—ghosts and specters—reflect similar hopes for knowledge which traditional (white) society believes it finds in the church.
Throughout the nov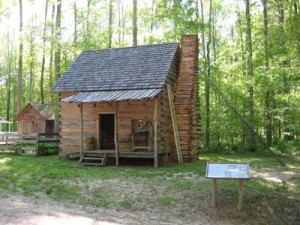 el, women are victimized by the social expectations of the day and, often, by the fact that they have no standing either in the law or in religion. Those who do not follow a set creed, held in common by society, such as the slaves and the practical Rebekkah, are doubly alienated, at the mercy of the legal and ecclesiastical world in which they live.  They have all learned that women are "of and for men," that they are people who "never shape the world, The world shapes us." An intense and thought-provoking look at slavery from its beginnings, this is a novel of epic scope, filled with complex philosophical, Biblical, and feminist issues and symbols. Morrison's themes are clear and unambiguous, and her many admirers will celebrate this novel for its message, even as they may regret its sacrifice of full character development to that message.
Notes: The author's photo by Francois Guillot / AFP / Getty appears on http://10questions.time.com
Typical slave quarters in Maryland: http://www.hearthcook.com, a site designed by Patricia Bixler Reber.