"You are an unmitigated cad!"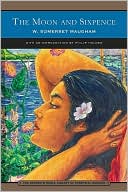 When he first meets Charles Strickland, a London stockbroker, the young narrator of this novel thinks of him as "good, honest, dull, and plain." When Strickland suddenly abandons his wife and children and takes off for Paris, however, the narrator decides he is a cad. Though he has had no training, Strickland has decided to become an artist, a drive so strong that he is willing to sacrifice everything toward that end. Anti-social, and feeling no obligation to observe even the smallest social decencies, Strickland becomes increasingly boorish as he practices his art. Eventually, he makes his way to Tahiti, where he "marries," moves to a remote cottage, and spends the rest of his life devoted to his painting.
Basing the novel loosely on the life of Paul Gauguin, Maugham creates an involving and often exciting story. His narrator is a writer who feels impelled, after Strickland's death and posthumous success, to set down his memories of his early interactions with Strickland in London and Paris. Because the narrator never saw Strickland after he left Paris, he depends on his meetings with a ship captain and a woman in Papeete for information about Strickland after Strickland's arrival in Tahiti.  The ship captain is described as a story-teller who may be spinning tall tales, a constant reminder to the reader that this is fiction, and not a biography of Gauguin.
By depicting Strickland as a "dull, plain" man suddenly gripped by an obsession so overwhelming that nothing else matters to him, Maugham involves the reader in his actions, which even the narrator claims not to understand. The least convincing aspect of Strickland's characterization is the narrator's observation that Strickland is completely indifferent to his wife of seventeen years and his children. No confrontation between Strickland and his wife appears, and one wonders if perhaps Maugham found himself unable to depict such an abandonment realistically. The story moves quickly, however, and whatever is sacrificed in the characterization is more than recouped in the plot and its development.
Straightforward in its story line, the novel is romantic in its depiction of the artist in the grip of an obsession, his subsequent abandonment of civilization and return to nature, his suffering of a long and terminal illness (during which he paints his masterpiece), and the fate of this creation. Good, old-fashioned story-telling at its best, this uncomplicated story, written in 1919, still has broad appeal.
THE MOON AND SIXPENCE
Review. Fictionalized Biography, French Polynesia, Literary, Impressionism, Paul Gauguin
Written by:
W. Somerset Maugham
Published by:
Barnes and Noble
Edition:
Library of Essential Reading
Available in: Paperback