"Sitting at a desk sucks all the oxygen out of you.  That's maybe somebody's idea of policing, but not mine.  I'm good at this city, though.  I would definitely make that claim.  It's because I keep doing my homework….You can do deductive reasoning anywhere, but sometimes an office is the worst place for it, especially with Milligan nipping your napper." – Det. Sgt. Jack Laidlaw.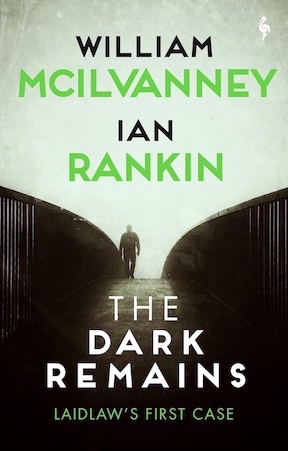 Fans of Scottish author William McIlvanney will rejoice in the publication of The Dark Remains, released six years after McIlvanney's death in 2015.  The father of "Tartan noir," McIlvanney was highly successful in achieving audiences for three thrillers set in seamy Glasgow, all featuring Detective Sergeant Jack Laidaw.  All three novels won major prizes:  Laidlaw won the CrimeWriters Association Macallan Silver Dagger in 1977; The Papers of Tony Veitch won the same award in 1983; and Strange Loyalties won the Glasgow Herald People's Award in 1992. Several of McIlvanney's non-thriller novels also won prizes, even as McIlvanney continued to work as a journalist, poet, screenplay author, essay writer, and literary critic.  It was not until after his death, according to Alison Flood of The Guardian*, that McIlvanney's wife Siobhan Lynch found the manuscript which became The Dark Remains among among his papers.  She showed it to McIlvanney's publisher, Canongate, who then asked Ian Rankin, a huge fan of McIlvanney's work and a successful Scottish crime writer in his own right, if he would be interested in using this unfinished manuscript as the start of a final Laidlaw novel, to be jointly authored with McIlvanney.  Rankin accepted, especially when he discovered that this novel was written to be the prequel for all three of the later Laidlaw novels.
As the novel opens in 1972, Commander Robert Frederick of the Glasgow Crime Squad has just received word that a man called Bobby Carter has disappeared, reported by his family to have been missing for two days.  Bobby is considered a "venally clever lawyer, who didn't so much rub shoulders with criminals as steep in the same polluted bathwater as them."  Commander Frederick knows that Carter has guided "the scum of Frederick's particular patch of earth" as he and his crew have moved dirty money around, "putting it out of reach of the taxman."  Of particular interest – and danger – is the fact that Carter is so well known among the criminal element and is seen as Cam Colvin's right-hand man.  Colvin heads one of the major criminal enterprises in Glasgow, and Frederick fears that "Carter's vanishing act might reverberate far beyond gangland and affect the greater, wholly innocent population."  Cmdr. Frederick's chat with Det. Sgt. Bob Lilley leads to his assignment of Lilley to keep an eye on "the new boy," Det. Jack Laidlaw, who needs careful handling if they are to get the best out of him.  Cmdr. Frederick wants him "inside the tent, as Lyndon Johnson says."
When Lilley chats with Laidlaw, he quickly discovers that Laidlaw knows both Cam Colvin, the gangster for whom the missing Carter worked, and John Rhodes, the leader of a competing Glasgow gang, and when Lilley and Laidlaw later meet with DI Ernie Milligan at a bar,  he adds to the interconnections.  Milligan and Laidlaw began their police work together some years ago, but "one of us has kept climbing the ladder, the other's still at the bottom, petrified of heights," a comment Milligan makes as a deliberate insult to Laidlaw. When Milligan leaves, Laidlaw reveals his own opinion to Lilley:  "[Milligan] would be just as happy in a uniform with a swastika on the sleeve…Sometimes you have to judge a book by its cover."  Laidlaw himself has always been a great reader and has books by Unamuno, Kierkegaard, and Camus on his office desk.  He admits that he would like to see "Socrates patrolling the Gallowgate on an Old Firm night," a broad and sophisticated vision of right and wrong and a broad understanding of the appropriate role of the police.
The discovery of the body of Bobby Carter in a back alley, in gangster John Rhodes's territory, gets the action underway, the undercurrent of gang warfare setting the tone for the action.  Soon the knife used as the murder weapon is discovered in the bushes near Carter's body, and efforts are made to identify it.  At this point, the number of characters involved in the action begins to increase dramatically. The relationships among the various gang members and their women are revealed and also begin to overlap with the investigation of Bobby Carter's death.  These women move among the various characters and sometimes overlap, and as they discuss the Bobby Carter case, they reveal much about themselves and their relationships, both within families and with lovers.  Laidlaw's own fraught relationship with his wife Ena becomes an issue.  Ultimately, the relationships between Laidlaw and various gang leaders reveal much about Laidlaw, too, as some key players begin to learn that  "here was a detective who didn't always take everything to his bosses, a detective capable of keeping secrets.  Maybe a rare cop [a gangster] could trust without money changing hands."
Soon the gangs, their wives, girlfriends, and the police begin to overlap in the action, especially when the gangs appear to be attacking each other.  Even they do not know for sure where and with whom some of the attacks are originating.  Soon the number of characters participating in the action grows so significantly that I decided to keep a "character list," and I am glad I did.  By the end of this 240-page novel, I had a list of forty characters, each of whom had appeared at some point in the novel at least once, some several times in different episodes separated by time and many pages.  As the novel draws to a close, the major murder suspects become rather obvious, primarily because, by process of elimination, there is no one left who qualifies for that role.  The novel is fun to read, and the chance to live through a new Laidlaw experience is something I think most fans of the series will thoroughly enjoy.   Ultimately, most readers will probably agree with Det. Sgt. Bob Lilley, who, when asked about Laidlaw and his role in solving the case, declares, "He's a one-off in a world of mass production.  He's not a copper who happens to be a man.  He's a man who happens to be a copper, and he carries that weight with him everywhere he goes…Mind you, he can be a pain in the bahookie, too, but it's a price worth paying."
*Alison Flood's story, "Ian Rankin to complete William McIlanney's final novel The Dark Remains," was published in The Guardian on Dec. 5, 2020.
Photos. William McIlvanney's photo appears on https://www.dailyrecord.co.uk
Ian Rankin's photo is shown on https://au.rollingstone.com
The Glasgow City Mortuary, to which Bobby Carter's body was taken is from https://www.alamy.com
John Rhodes drove a Jaguar XJ6, shown here:  http://momentcar.com
Late in the novel, Laidlaw comments on Kelvingrove Park and the grand museum located there, mentioning that he had taken his children to the museum and that they and not been "keen" on the Dali Christ shown there.   https://www.triphobo.com
 

THE DARK REMAINS

REVIEW. PHOTOS. Mystery, Thriller, Noir, Psychological study, Scotland, Social and Political Issues

Written by: William McIlvanney & Ian Rankin

Published by: World Noir, Europa Editions

Date Published: 09/07/2021

ISBN: 978-1609457198

Available in: Ebook Paperback Hardcover