Note: Laidlaw was WINNER of the Crime Writers' Association Macallan Silver Dagger Award for 1977.  The Papers of Tony Veitch was WINNER of the same award in 1983.  A skilled writer in numerous genres, the author has also been WINNER of both the Saltire Society "Fletcher of Saltoun Award" for his "outstanding contribution to Scotland's life and culture" in 2013, and WINNER of the Glenfiddich Spirit of Scotland Award for Writing.
"[For Laidlaw] detective work was a delicate symbiosis with the criminal world, a balancing of subtle mutual respects.  You hoped to give small to get back big.  It was a matter of not breaking a fragile web you were both part of, a repeated laying of the senses to different strands of that web to catch what was going, not the axeman cometh."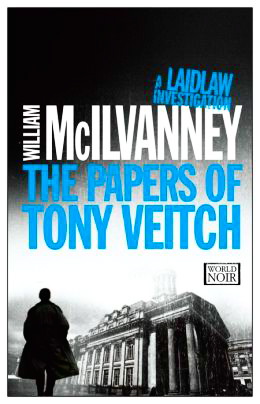 In the second of the three Laidlaw novels, written between 1977 and 1992, author William McIlvanney, considered the "father of Tartan noir," continues a series that is so masterfully written that calling his novels "noir mysteries" underestimates their universal literary power for the reader.  Though few American readers know of these now-classic  novels, Europa Editions has decided to change that by reprinting all of them, and anyone who has ever enjoyed a noir novel or who loves mysteries is in for a rare treat.  McIlvanney's ability to describe, to connect even the homeliest and most ordinary details to the grand themes of literature, to create unique characters who linger in the memory, and to make his plots come alive, often with humor, is rare, if not unparalleled.  A gifted writer of many genres, McIlvanney abandoned the Laidlaw noir mysteries after his third novel, Strange Loyalties, to concentrate instead on his poetry, journalism, screenwriting, and non-fiction, winning prizes in all of these genres.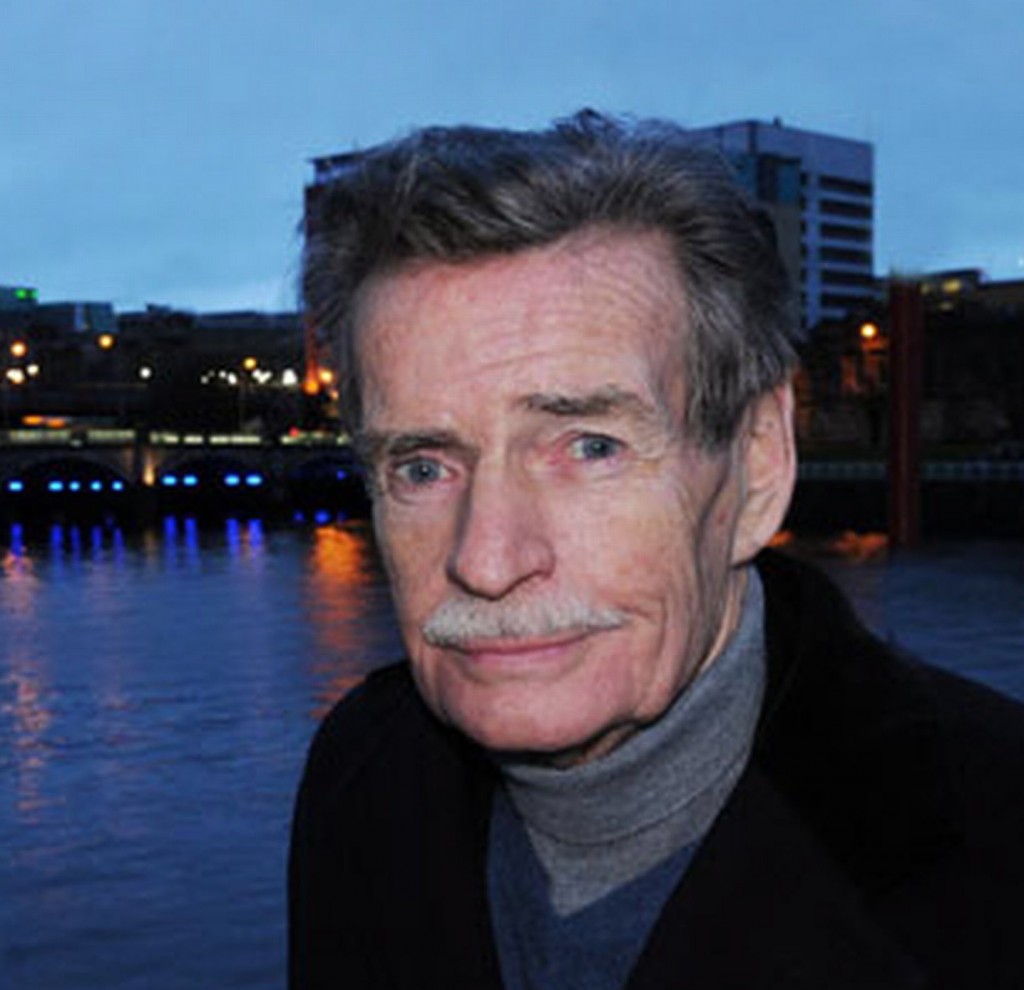 Laidlaw, a Glasgow policeman, like so many noir "heroes," is alienated, unfaithful to his wife, often inebriated in private life, and willing to do whatever is necessary to secure justice for its own sake.  He sees injustice within the "polis" system almost as often as he does in the criminal world, which he investigates tirelessly, never coming to easy conclusions which would end a troublesome case, even when encouraged to do so by his superiors.  His assistant, young Brian Harkness, has
"an almost irresistible compassion for him.  Laidlaw came on hard, could be a bastard, sometimes gave the impression that if God turned up he'd want Him to take a lie-detector test.  But he so obviously cared about people, was so unmistakably hurt by what happened to them, sometimes through his doing, that he would have put a stone under pressure to feel things."
As the novel opens, Mickey Ballater, a "hard man" who has just arrived back in his home town, takes a moment to re-acclimate himself to Glasgow: "The place had the gritty untidiness of belonging to no one, a litter bin for wasted time."  Looking for a man named Paddy Collins, he barges into an apartment, slaps a woman around, and then learns that Paddy is in the Victoria Infirmary, near death.  Laidlaw appears in the next scene, summoned by a reporter who tells him that another old man is hospitalized and wants to see him.  Arriving at the infirmary, Laidlaw thinks about how he copes with the horrifyingly exotic deaths that he sees in his work, "brutality [that] made the Marquis de Sade look like the tourist he was.  Once you knew that's where we live, you had to accept the need to face what you would rather not see."  The old man, barely conscious, is close to death and incoherent, but Laidlaw is able to hear him say that the wine he drank "wisny wine."  A vagrant, the old man, Eck Adamson, is later determined to have died of poisoning.  Laidlaw begins to wonder whether the deaths of Paddy Collins and Eck Adamson are related.
As Laidlaw begins to investigate these two events, the author introduces a wide range of characters – a reporter for the Glasgow Herald;  Laidlaw's wife (with whom he lives some of the time but from whom he is emotionally estranged);  the overlapping social groups which connect through the local bars; the "hard men" who control crime and enforce their wills on the populace; the police department with its rivalries; the prostitutes, college students, and young people experimenting with political philosophies; and the "urban Bedouins," like Eck Adamson, who "shift locations [as though] their vagrancy has trade-routes.  Places are in for a season and then get abandoned, like spas where the springs have dried."  The density of the unique local dialects used by the different groups in their conversations adds to the atmosphere, while occasionally slowing down the action as the reader must "translate" what the characters are saying.  Soon the action is centered on finding Tony Veitch, a smart, educated young man from a "good" family who has also vanished, and everyone, on all levels, seems to be looking for him, wondering how he is connected to the murders of Paddy Collins and Eck Adamson.
As is so often the case with rogue police officers, Laidlaw is being watched by a senior police officer, who insists that Laidlaw inform him of whatever he is investigating.  The senior officer wants to control the investigation, and, more importantly, he wants total credit for any success that might result. When a third murder occurs, Laidlaw confronts Milligan, his superior, who boasts that "I found him.  First.  That's more than you did."  Laidlaw is infuriated by the attitude:  "He's just a corpse to you, isn't he?" and when Milligan begins crowing again about his success in finding him, Laidlaw shows his darkly ironic humor:  "You should get them to give you the [corpse's] head for above your mantelpiece.  A wee housewarming present for your wife."
Lively and atmospheric scenes, filled with unforgettable descriptions, keep the novel on a literary plane rare for mystery writing.  McIlvanney, a former teacher, includes some history, poetry, references to artwork, and song lyrics to add to the mood of the narrative, going beyond the obvious and the ordinary to present a complete picture of life in Glasgow.  The plot of this novel is more complex than it is in the earlier Laidlaw, and the depiction of Laidlaw himself grows here as he refuses to be satisfied with an "approximation of the truth" when he believes the "facts" might have been manipulated. The Papers of Tony Veitch is a top notch noir mystery, a continuation of the series which even newcomers will enjoy on all levels.
ALSO by William McIlvanney:  LAIDLAW and    STRANGE LOYALTIES
Photos, in order: The author's photo accompanies an article on why McIlvanney voted for Scottish independence in the voting this past week:  http://www.dailyrecord.co.uk
The front entrance of the Royal Infirmary appears on http://commons.wikimedia.org The photographer is "Postdlf":  http://commons.wikimedia.org/wiki/User:Postdlf
Stan Balfe greets guests outside the Albany Hotel in 1975.  In the novel, Milligan meets Macey at the Albany Hotel, "a fortress to the good life."  http://www.oldglasgowpubs.co.uk/
Etchings  and prints by Norman Ackroyd "hung round the walls of the [Albany Hotel] lounge like black holes in which whispers of light and shape were conspiring to survive."  http://www.northhousegallery.co.uk/
The Kibble Palace at the Botanical Gardens was a safe place for Laidlaw to meet with an informant:  http://www.attractions.glasgowvant.com/
ARC:  Europa Editions

THE PAPERS OF TONY VEITCH

REVIEW. Literary, Mystery, Thriller, Noir, Scotland, Social and Political Issues

Written by: Wiliam McIlvanney

Published by: Europa Editions

Edition: Reissue Edition, Sold by Penguin Group USA

ISBN: ASIN: B00IIVFAJE

Available in: Ebook Paperback Hardcover