"Death was waiting in the house like a bailiff."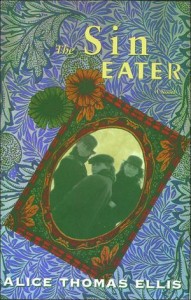 Alice Thomas Ellis (real name: Anna Haycraft) belonged to that brilliant group of twentieth century British women who entertained and enlightened the world with their writing in the 1970s and 1980s.  This group, which also included Beryl Bainbridge, Penelope Lively, Muriel Spark, Jane Gardam, Elizabeth Taylor, and Barbara Pym, wrote darkly humorous, frequently satiric, and psychologically astute novels about women and families facing crises, but Ellis's novels, sometimes set in Wales, have an extra dimension.  Her novels often have spiritual overtones, not in the sense of her religious commitment, though she was a devout Catholic, but in the sense of connection to folk traditions and even, sometimes, to magic.
Ellis's debut novel, The Sin Eater (1977), pays homage to the Welsh tradition of the "sin eater," someone from the rural countryside who would come to the household of a recently deceased person and enact a short ritual in which s/he would "eat" the sins of the deceased so that the recently departed could safely pass on to a happy afterlife. In this novel, the Anglo-Welsh patriarch of an old family is dying in Llanelys, and his children and their spouses gather at the estate to await the end. Rose, the Irish wife of the oldest son Henry, is the sensible mother of twins who has worked to restore the estate and its gardens, make it a home, and, through her cooking, provide a sense of family warmth.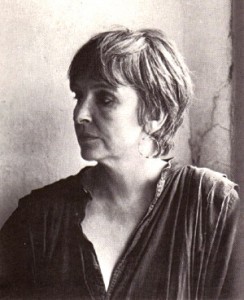 In sardonic contrast to her is Angela, the oh-so-upperclass wife of the second son Michael, who looks down on Rose and everyone else not of the family's "class" and breeding. Arriving sometime later is the only daughter, Ermyn, young, schoolgirlish, and disturbed. Severely repressed and often ignored, she looks for answers in exotic religious expression, and like the sin eater of Welsh legend, believes she can take upon herself the sins of the Captain and the family.
Ellis wields language like a rapier, skewering family members for their caste-conscious concern with their "blood," and showing with mordant humor their deliberate separation from the community. The family is changing, if Rose, daughter of an Irish veterinarian, is any indication, just as Llanelys, now a tourist destination, has changed.
But though the family may deserve to be satirized for its meaningless rituals, the local population is not exempt from Ellis's dissection either. Phyllis, the caretaker for the Captain, saves the best of the family's food to feed her obese grands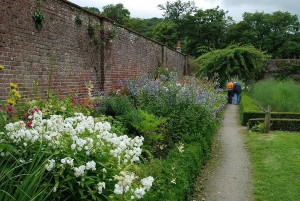 on, and he steals liquor and makes lewd, sexual overtures to Rose and Ermyn. Other townspeople mock the family and even break windows.
Delicious turns of phrase and lively dialogue make the narrative sparkle. The hands of Rose's small twins are described as "so delicate and fine they felt like broken toothpicks in little silk bags," while the sea is "smooth and wrinkle-free, like the face of a saint or a psychopath." References to old Welsh legends connect the family with the past and offer dire portents of the future.
.
Another Ellis novel, one of my all-time favorites,  is PILLARS OF GOLD:
"Barbs went around asking to be murdered."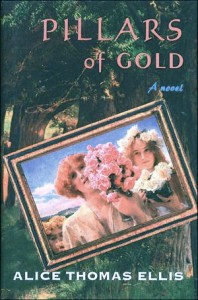 Here Alice Thomas Ellis pokes gentle fun at contemporary working-class society, populating her novel with adults who are pot-smoking ex-hippies, kids who cut school in order to drink and play at being more grownup than their parents, and various friends, including a gypsy who peddles hot merchandise, her unfaithful Turkish lover, and Barbs, a self-conscious and obnoxious do-gooder – who also turns out to be a missing person. Taking pot-shots at the advertising business, the press, psychiatrists, school systems, nuts-and-granola nutritionists, marriage, parent/child conflicts, and the tendency of people to avoid getting involved – Ellis crafts a hilarious tale based on the discovery in a nearby canal of a body which matches the description of the missing neighbor Barbs.
No one is saying who the victim is, and the police, in fact, do not even know that Barbs is missing. Her neighbors have not reported her absence for fear of being wrong–"We do not want to make idiots of ourselves." As days pass and Barbs remains missing, each of the neighbors comes up with reasons for believing that her absence is temporary and that she will return. It is not until the teenage children of the main characters decide to have a dinner party in Barbs's empty house, discovering many clues in the process, that the matter of her absence gains critical importance.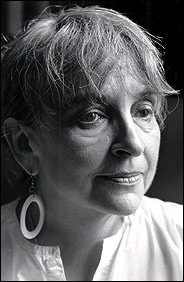 Revealing most of her information about character through their actions and unusually clever dialogue, Ellis presents a series of intimate dramatic scenes, usually between two characters whose conversations and reactions to each other's comments show the author's psychological insights – parents and children miscommunicate, married couples avoid issues, friends tell each other what they want to hear. Not a word is wasted in this very sly and beautifully detailed story filled with irony.
Note: If you have not yet have discovered the clever novels of Alice Thomas Ellis, one of my favorite (and, unfortunately, almost forgotten) authors,  these two books would be good places to start.  She's too good a writer to let  fall through the cracks.
Photos, in order: The author's photo, as seen in the SIN EATER review, appears on http://www.listal.com. The additional author photo, shown in the PILLARS OF GOLD review, is by Mark Gerson/Camera Press in
http://www.nytimes.com.
The Llanerchaeron Garden in Wales, perhaps similar to the garden which Rose restored in The Sin Eater, appears on http://www.gardenvisit.com. Photo by Pete Duxon.