Note:  Aravind Adiga was WINNER  of the Booker Prize in 2008 for WHITE TIGER.
"All of the coastline of Sri Lanka is indented, mysterious and beautiful – but no spot is more mysterious than Batticaloa.  The city is famous for its lagoon, where extraordinary things can happen.  The fish here, for instance, can sing – true.  Absolutely true.  Place a reed to your ear, lean down from your paddle boat, and you will hear the music of the fish of the lagoon.  At midnight, the water's skin breaks, and the kadal kanni, mermaids, emerge out of the lagoon dripping with moonlight."  Dhananjaya Rajaratnam, known as Danny, at his childhood home.
The magical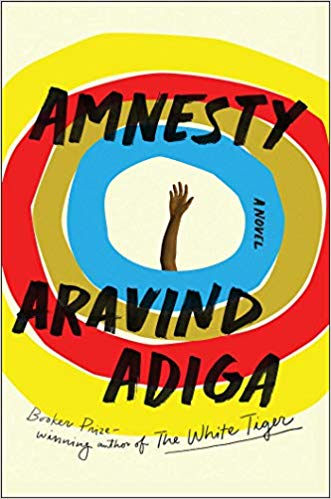 images of Sri Lanka from the opening pages of the introduction reflect Danny Rajaratnam's early childhood memories, a much different life from what he is experiencing in his twenties.
Danny, from a Tamil family, survived years of civil war between the Tamils and the Sinhalese in Sri Lanka in the last part of the twentieth century, ending in 2009.  The genocide against the Tamils and the deaths of 80,000 – 100,000 civilians, along with the devastation and the basic problems of finding food, clothing, and shelter in a country that had been at war for over twenty-five years, left him feeling he had no way out.  His only hope was to join the large number of Tamils leaving the country for new opportunities in other countries.  Danny was "lucky" enough to be accepted into a college in Sydney, Australia, and he arrived in Australia on a student visa, full of hope.  He soon discovered that the college was a "ripoff," taking his hard-earned tuition and failing to present courses that would prepare him for a job. Now his only choice was to drop out in order to support himself, becoming a reluctant "illegal."
Though he has worked hard to learn the English language without accent, along with the cultural expectations in his new city, Danny has been constantly aware that "every police officer, taxation man, and immigration or customs officer has the power to arrest [him] immediately and hold [him] indefinitely unless [he] can show…documents authorizing [his] presence in Australia."  So far, he has lasted four years as an illegal, working independently as a house cleaner at a lower-than-average rate (to avoid attention), using his own equipment, and putting up with assaults on his pride. He quickly learned to divide Sydney and its inhabitants into two kinds of suburbs, "thick bum, where the working classes lived, ate badly, and cleaned for themselves; and thin bum, where the fit and young people ate salads and jogged a lot but almost never cleaned their own houses."  It is this group which forms his clientele.
Author Aravind Adiga, whose Indian family emigrated to Australia during his childhood, is well familiar with Australia's social and economic situations, and with its attitudes toward "brown"people, both legal and illegal. His sensitivity and empathy in his presentation of Danny as a kind, thoughtful, and honest main character make Danny's problems and his lack of options particularly vivid for the reader.  With the author's stunning ability to present Danny's hopes, his memories of beauty from the past, and his fully imagined dreams for the future, which he presents impressionistically, Danny comes fully to life – a real person with a real life and personality – and not simply a character who is illustrating social conditions, themes, and ethical problems.  He has a happily normal life with his Vietnamese girl friend, Sonja, who gives him a broader perspective than he would otherwise have, since his clients, professionals all, are never at home when he arrives to clean. 
Arriving at work one morning, Danny finds a police van parked across the street and learns that there has been a murder across from where he is working – in a house which he himself has cleaned many times over the past two years.  He knows the female owner, Radha, a married woman who is having an affair. Terrified of being watched and becoming somehow involved in a murder case, Danny lets his fear take over, panics, and hastily leaves the house he was to clean, returning home by train.  He needs more information about the murder, but any contact with the police will require presentation of a valid ID and visa. On the train, he sees a newspaper article and, later, a TV story about the murder, with calls going out for anyone who has information to call the police.  Danny, well familiar with the location of the murder, not only knows and works for the victim herself, but also for the person with whom she has been having her affair, Dr. Prakash.  Unfortunately, Dr. Prakash knows that Danny is aware of the killing and that he has some unresolved questions about it – and about him. He knows, too, that Danny is an illegal who has every reason not to help the police, and speculates that Danny might persuaded to help him.
As the day develops, Danny tries to avoid any contact with Dr. Prakash, taking a walk around the city, and remembering people, places, and events from the past.  He dreams of the one special, never-repeated day that a former Prime Minister, Malcolm Fraser, offered amnesty for illegals back in the 1970s.  He thinks about the red-light district in Sydney, located behind the famous Coca Cola sign; a meeting of illegals and a visit to a Gentleman's Club; a Vegas-style hotel; an interrogation back in Sri Lanka, in which he was tortured and burned. Gambling and its addictive powers, Danny's former work in Dubai, his interview for the college which cheated him of his tuition, and the sudden realization that he needs Sonja, his girlfriend, pile up on top of each other in random order, an impressionistic picture of the horrors and rare joy he has experienced in his short life.  Throughout this day of remembrance and reckoning, honest Danny suffers for the guilt he feels for staying quiet and the genuine fear he has of being sent back to Sri Lanka.  The dramatic events in Danny's story overlap as they are presented randomly, adding to a fuller picture of who Danny is, even as the murder plot also unwinds, clearly showing an emphasis on Danny and his battle with his conscience, rather than on "whodunnit."
Aravind Adiga, described as "Indo-Australian," presents his story artistically and without showy "literary flights." Instead, he writes with an honesty which makes Danny more real, his very genuine fears and concluding decision understandable to his readers.  Having worked as International Student Advisor at a college for ten years, I admit that I loved and admired this book – its portrait of a person caught in the ultimate problem with Immigration officials and his heart-rending fears so true to life that no one could possibly doubt their truth. Adiga does not resort to an easy conclusion for an issue which is not easy, nor does he take sides in a political debate.  He creates a young man desperate to become a legal resident of another country – a big decision itself – and makes the reader/resident care.
ALSO  by Aravind Adiga:   WHITE TIGER    and    LAST MAN IN TOWER
Photos.  Batticaloa Lagoon, Sri Lanka, appears on https://en.wikipedia.org/
The Central Railway Station, Sydney, is found on https://commons.wikimedia.org
The famed Coca-Cola sign outside the red-light district in Sydney is from https://www.pinterest.com
Malcolm Fraser, Prime Minister of Australia, 1975 – 1983, offered one-day of amnesty for illegal residents during his term.  https://en.wikipedia.org/
The author's photo may be found on https://www.dinnerpartydownload.org/aravind-adiga/
AMNESTY

REVIEW. PHOTOS. Book Club Suggestions, Experimental, Literary, Psychological study, Social and Political Issues, Australia, Sri Lanka

Written by: Aravind Adiga

Published by: Scribner

Date Published: 02/18/2020

ISBN: 978-1982127244

Available in: Ebook Paperback Hardcover