Note: Indridason was WINNER of the Glass Key Award for Best Nordic Crime Novel in 2002 and 2003, and WINNER of the Gold Dagger Award from the Crime Writers' Association in 2005.
"Tragedies, sorrows and death, all carefully classified in computers.  Family stories and stories of individuals.  Stories about me and you…you can call it up whenever you want.  A Jar City for the whole nation."
Icelandic author Arnald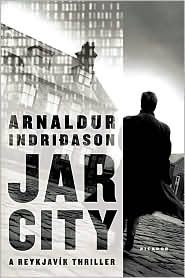 ur Indridason begins his mystery series starring Detective Inspector Erlendur (the Icelandic people do not usually use "last names") of the Reykjavik Police in this dark and engrossing novel, first translated into English in 2004.  Since then, five more novels in the series have been released, all to enormous acclaim.  Erlendur, fiftyish and divorced for twenty years, with almost no contact with his ex-wife, tries to maintain contact with his children, his daughter Eva Lind, an actress and active drug addict, and his son Sindri Snaer, who has recently been released from drug rehab for the third time.  Called to investigate the death of a sixty-nine-year-old man named Holberg, who has been murdered with a crystal ashtray, he has few clues, except for the unusual message left on the body which says, "I am him."
Murders are rare in Iceland, and are always attended by enormous publicity.  Holberg, a truck driver, appears to have been without family, and there are few clues regarding his death.  Erlendur, however, discovers the photograph of the headstone of a four-year-old child, who died in 1968, hidden beneath a drawer in Holberg's apartment.  The child, Audur, died of an unusual brain tumor, and her devastated mother, Kolbrun, committed suicide three years later.  Who took the photo and what, if any, connection it might have had with Holberg is unknown.  Erlendur contacts Elin, the aunt of the dead child, who blames the Reykjavik police for their inaction as a cause of the death of her sister.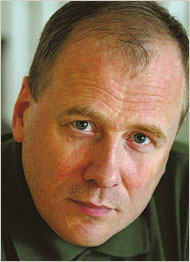 As Erlendur investigates, he discovers that the child, Audur, was the product of a rape.  All evidence points to Holberg as the rapist.  Though Kolbrun had reported the rape a few days after it happened, the policeman to whom she reported it, and who interrogated her, led her to believe that he did not believe a word of her report.  Nothing ever came of her agonized testimony.  Additional investigation leads Erlendur to believe that there was at least one other rape by Holberg, and possibly another child, and that there may have been some genetic problem which led to the deaths of these children.
Indridason, despite his personal difficulties, is an investigator who cares, and his study of the possible reasons for Holberg's death is engrossing.  The murder becomes a study of genetics and of who might have benefitted especially from Holberg's death.  His assistants, also conscientious, investigate with the same sense of purpose as Erlendur, and as they report their findings, much is made of the extent to which these findings represent the "typical" Icelandic murder, described at various points as "clumsy," "not complicated," "squalid, pointless and committed without any attempt to hide it,"  and as generally not leaving "anything behind but mess."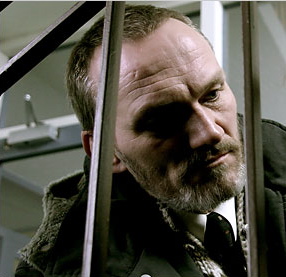 This mystery contains many fascinating twists and turns, and ultimately provides a satisfying ending.  As it progresses, the author reveals a very dark and sometimes bizarre sense of humor (at least I think is supposed to be humor, though it does not conform to the definition of humor as I have known it).  While this presents no problem with the novel, since the reader is allowed to interpret as s/he will, it is a different story when this novel is converted to the screen, as this one has,  for a more universal audience.  The ambivalence of the novel, with its possible weird ironies, become, on screen, quite different, the subtlety sacrificed in favor of shock value.
Both the novel and the film have won innumerable prizes.  The novel has won the Glass Key Award as Best Nordic Crime Novel.  The film, entitled Myrin, won the Grand Prix Award as Best Film at The International Film Festival in Valenciennes, France (2008), while the Director Baltasar Kormákur won for Best Director, and lead actor Ingvar E. Sigurdsson won as Best Actor in Leading Role.  It also won the 2008 Audience Award at the Festival du Film Policiers in Liege, Belgium.   Providing many dark and gloomy visions of life in Iceland, the film is a classic of noir writing, and its film adaptation matches that mood.  The four successors to this novel continue this tone and atmosphere.
Notes: Also reviewed here:  Indridason's  THE DRAINING LAKE,     HYPOTHERMIA,     VOICES,        OPERATION NAPOLEON,     REYKJAVIK NIGHTS,     INTO OBLIVION (2017)
The author's photo by Einar Falur Ingolfsson appears on http://www.nytimes.com as part of an article by Marilyn Stasio.
Erlendur is played in in the film by Ingvar E. Sigurdsson, the photo is from Bergsteinn Björgúlfsson/IFC Films, reprinted in a review in the New York Times:  http://movies.nytimes.com
The trailer for the Icelandic film of Jar City, released in the US with English subtitles, is here: