Note: Jane Gardam is the only woman in history to have been WINNER of  two Whitbread Awards for Best Novel of the Year.
Edward:  "I think she may accept me.  Seems quite fond of me.  She hasn't actually said–"

Albert:  "I'm glad that she seems fond of you. It is the usual thing."
E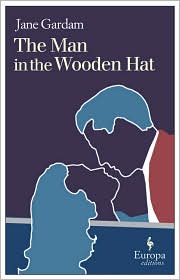 steemed novelist Jane Gardam follows up on the success of OLD FILTH, her highly successful 2005 novel about the life of Sir Edward Feathers, with the companion story of Sir Edward's wife, Betty.  Each novel benefits from the other, and together they are a stunning study of a marriage–not ideal, but "workable."  Reading OLD FILTH first allows the reader to set the story and see the marriage from the point of view of Sir Edward. That novel is sophisticated and subtle, much like Sir Edward himself, with a sly sense of humor which allows the reader to feel part of the scene.  His extreme insecurity and fear of being left, however, inspire the reader's empathy, even as s/he may want to throttle the man for not paying attention or refusing to take a stand!
Feathers grew up unloved in Hong Kong, where his father was stationed.  A Raj orphan by the age of six, he is sent back to England alone, goes to school, begins a law career, and lives up to the old adage: "Failed in London, Tried Hong Kong," hence his nickname, "FILTH."  He never knew what it was like to be loved and cherished for being who he was, and he always felt that he was an "outsider."  His one condition to Betty when he proposes is that she never leave him.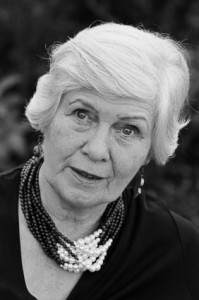 Betty, someone we really see for the first time in this novel, is also a product of the same time, place, and class.  Living in Hong Kong, she sees Edward as "So pure…[but] there's something missing."  More importantly, however, she believes, "He's very nice.  And he needs me."  Her friends all argue against her engagement to him, and even Betty has some doubts–"It will not be romantic, but who wants that," a compromise which she believes will result in an overall improvement in her life.
Despite not being in love when they marry, Betty, often called Elisabeth here, and Edward manage to form a good relationship and strong bond, considering the limitations of each.  Betty demands a great deal of freedom within the marriage to pursue interests of her own, and Edward is so busy with his career that he hardly misses her–or the opportunities for happiness that have vanished from their lives with her absence.  They continue their separate lives even after retirement.
Though this nov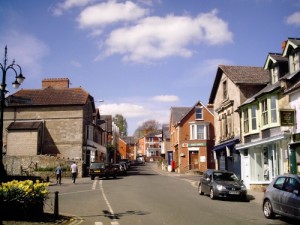 el focuses on Betty/Elisabeth, Gardam also uses the novel to provide more insights into Edward.  At the end of OLD FILTH, Edward describes himself as someone who has never known love, but we see here that, in fact, he has known love, at least to the extent that he can ever know love.  The parallels between the end of the British Empire, with its withdrawal from Hong Kong, and issues in the marriage between Edward and Elisabeth are obvious, with the novel's old-fashioned style consistent with the attitudes of Betty and Edward.
The sophisticated and subtle style of OLD FILTH, appropriate for a novel about Edward, yields in this novel to a more down-to-earth and overtly romantic style, more typical of Elisabeth, with coincidence and romantic intervention playing a part.  Edward's friend Albert Ross, jokingly referred to throughout as "Albatross," symbolizes the stunted love and the guilt Edward feels about his life and inability to love fully.  The use of the supernatural, signs, and portents broaden the scope, while Elisabeth's firm grounding in reality put these other-worldly motifs into perspective.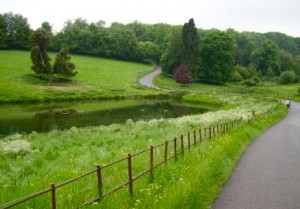 The often hilarious (and ironic) dialogue combines with a wry satiric sense to produce a conclusion which is everything that such a novel deserves.  Gardam's brilliance is best seen if this novel is read following OLD FILTH, a novel which, itself, becomes more "human" if it is read as the prequel to THE MAN WITH THE WOODEN HAT.  Surely, there is no one else but Betty who could possibly get away with saying, "Oh, stuff it, Edward."
ALSO by Jane Gardam:  The Old Filth Trilogy, including OLD FILTH, THE MAN WITH THE WOODEN HAT,  and  LAST FRIENDS.

Separate novels reviewed here:  THE PEOPLE OF PRIVILEGE HILL,      THE QUEEN OF THE TAMBOURINE ,   GOD ON THE ROCKS ,     CRUSOE'S DAUGHTER,      A LONG WAY FROM VERONA,     THE FLIGHTS OF THE MAIDENS

Photos, in order: Jane Gardam's photo appears on LibraryThing: http://www.librarything.com
Elisabeth goes to Tisbury to relax in a cottage in the countryside:  http://www.picturesofengland.com. Many of the photos taken on this site are by Peter Rowley.
The Tisbury countryside was photographed by Krupler2 on http://www.tripadvisor.com