Note: Jane Gardam is WINNER of the Heywood Hill Literary Prize for a lifetime's contribution to the enjoyment of literature. She is also the only author to have been a two-time WINNER of the Whitbread (now Costa) Award.
"If there is anyone here this afternoon whom I have convinced that books are meant to be enjoyed, that English is nothing to do with duty, that it has nothing to do with school..then I am a happy man…To hell with school. English is what matters. ENGLISH IS LIFE."–ARNOLD HANGER, author/speaker.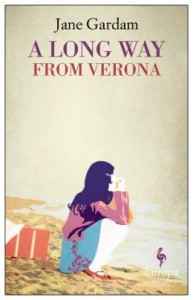 This week I read A Long Way from Verona, newly released by Europa Editions, having previously read and loved seven other Jane Gardam novels, and I was puzzled as I read this one because it seemed unusual, and while not out of character, a lot less sophisticated in terms of structure than her usual. Though I knew from its description that it was a "coming of age" novel, it was not until I finished both the book and my review that I discovered, to my great surprise, that A Long Way from Verona was also Jane Gardam's first novel, originally published in 1971. Here, the as-yet-unpublished author examines the growth of a writer from her days as a thirteen-year-old schoolchild in a small British village during World War II, to the publication of her first poem, providing insights into the "mania" of writing, what impels it, and the frequent agonies which accompany it, especially when the writer is an enthusiastic adolescent.
Like many other debut novels, it is often sparkling and insightful, and though it may not completely satisfy every reader, especially those who are fans of her later, more mature and successful novels, it becomes especially significant when one recognizes just how much of the realistic adolescent angst of this novel must be autobiographical. Jessica Vye, the richly described main character, tells her own story, filled with the confusions of a thirteen-year-old who is trying to figure out who she is. "I am not, I am glad to say, mad," she informs us, but she does see herself as set apart from other girls her age as a result of an experience she had when she was nine. "A man came to our school…to talk to us about becoming writers." During the assembly, she is overcome with a fit of giggles and nearly has to leave the room, "and I suppose my whole life would have been different if I had," she says, drily. Instead, she finds that the speaker, Arnold Hanger, to her surprise, is "absolutely marvelous." With readings from many classic books, and also poems, stories, conversations, and bits of plays, all in different voices, Hanger is mesmerizing, and Jessica,,who loves to write, decides to dedicate her life to writing, as Arnold Hanger has done.
Dividing the novel into three parts – "The Maniac," "The Boy," and "The Poem" – Jane Gardam tells Jessica Vye's story, emphasizing the three most important influences in Jessica's life during that one emotionally volatile year when she was thirteen. While Jessica is in many ways typical of young teens, with their mood swings, teary outbursts, and difficulties with peers and parents, she also has little guidance. Her father, a busy pastor and writer of philosophical essays, is always with his books, his parishioners, and his writing, and her mother, overwhelmed with the responsibilities of Jessica's much younger brother, also seems to be responsible for virtually everything at her husband's church, except the sermons. With a war on, and so many of the community's men away fighting in Europe, many of the young people, like Jessica, are on their own when the school day ends, and their issues and confusions become even more emotionally fraught when they have no one to talk with.
Though Gardam's depictions of her characters from several generations ago ring true, most of these characters are teenagers interpreting life as teenagers, and some readers may find this wearisome. At the halfway mark, however, the action becomes far more dramatic and far more typical of some of the themes – alienation, religious doubt, and the need for empathy with those less fortunate – which Gardam explores in her later novels. Romantic and gullible, Jessica faces two crises, though one will resonate more fully with the reader. First, she finds herself attracted to a particularly handsome fourteen-year-old boy who seems as alienated as she is, and who, remarkably (in her opinion), seems attracted to her. He is, however, a long-time fan of her father's writing and prefers spending as much time as possible talking with her father when he visits. An avowed communist at the age of fourteen, the young man takes it upon himself to show Jessica "real life" around the slums and docks, and that revelation does not reflect the glories which her church suggests comes to all who love God. The odd characters she meets there evoke much sympathy in their plights, and represent some of the best writing of the novel, but disaster strikes while Jessica and her young man are visiting, and no one is the same afterward.
Jessica grows noticeably in knowledge about herself and others, and in the final section of the novel, "The Poem," she works around the clock, putting all she has learned and felt into a poem, one which she feels is so strong and heartfelt that for the first time she regards it as completely "finished." She has grown in sophistication in her reading and in her appreciation of literature during the year, and she believes that this poem "says it all" – for her, at least. The poem, called "The Maniac" connects the end of the novel with the first part in many ironic ways.
Throughout the novel, Jane Gardam shows her now well known-wit and her ability to choose exactly the right words and images to convey Jessica's feelings and her seemingly psychic insights into the people around her. In the later part of the novel, Gardam creates strong feelings within the reader for the insights she gives into the creative process. Younger readers (even Young Adult readers) may especially relate to Jessica's personal quandaries and her learning curve, while older readers will appreciate Gardam's style and her insights into the many genres and moods of the writing discussed here, from the bleakness of Thomas Hardy to the more romantic efforts of Arnold Hanger himself.
ALSO by Jane Gardam:  CRUSOE'S DAUGHTER,     GOD ON THE ROCKS (my personal favorite),     LAST FRIENDS,    THE MAN IN THE WOODEN HAT,     OLD FILTH,     THE PEOPLE ON PRIVILEGE HILL,    QUEEN OF THE TAMBOURINE,     THE FLIGHTS OF THE MAIDENS

Photos, in order: The author's photo, by Eamonn McCabe/Rex/Christopher Thomond, appears on http://www.theguardian.com/
The painting of Henry James is from http://biography13.com/
The bomb damage at North Shields, on the Tyne near where Jessica lives, is part of a photo essay on   http://news.bbc.co.uk/
World War I poet Rupert Brooke, whom Jessica believes her boy friend resembles, is depicted on http://theyearzero.org. According to Wikipedia, Brooke died after a mosquito bite became infected.
The cover for Jude the Obscure is from an early Dell edition of the Hardy novel:
http://chesscomicsandcrosswords.blogspot.com
ARC: Europa Editions